As health experts reveal there are now 1.5 billion overweight people around the world and that Australia has one of the world's fastest growth rates for childhood obesity, Australian cinemas prepare to screen FAST FOOD NATION, a searing new film examining the health risks involved in the fast food industry and its environmental and social consequences.
Directed by Richard Linklater (Slacker, Before Sunrise, Before Sunset) FAST FOOD NATION premiered at this year's Cannes Film Festival and will screen nationally in Australian cinemas from October 26.
It is a fictionalised adaptation of the best selling book of the same name and features an impressive ensemble cast including Bruce Willis, Greg Kinnear, Ethan Hawke, Patricia Arquette, Kris Kristofferson, Avril Lavigne and Oscar nominee Catalina Sandino Moreno.
Written by Eric Schlosser,
Fast Food Nation
, published in 2001, was an incendiary nonfiction exploration of the fast food industry and sold more than 1.4 million copies, spending more than a year on the New York Times bestseller list.
Schlosser will be in Australia at the end of the month promoting the theatrical release of the film. In May this year, he co-authored a children's book titled "Chew On This." The book, along with the increasing international profile for the film FAST FOOD NATION, resulted in food industry associations launching the www.bestfoodnation.com website as part of a major public relations campaign to rebut the allegations in the film that fast-food chains contribute to the nation's obesity epidemic and other problems.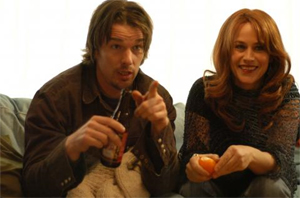 The Wall Street Journal reported on May 18 2006 that "McDonald's also was criticized after the 2004 documentary, "Super Size Me," chronicled filmmaker Morgan Spurlock's deteriorating health when he went on an all-McDonald's diet for a month. Around that film's debut, McDonald's removed the super-size option from its menu although it said the decision wasn't prompted by the film. This time, McDonald's planned well in advance on how to respond to Mr. Schlosser's new film and book. In a memo to franchisees, the fast-food chain said it was considering dispatching what it called a "truth squad" to get out the message that McDonald's offers a healthy menu and provides good jobs as part of a full-scale media campaign to "set the record straight.". "
View the FAST FOOD NATION trailer online:
www.fastfoodnation-movie.com/trailer.php