A New Face for Globe
How do you take a well loved institution and make it fresh, new and current, retaining the aura built over time yet renew the space completely? Ben and Olivia Buxton of Globe Cafe will show you how.
For 18 years, Globe has long been one of Chapel Street's trademark cafés. Globe is so intrinsic to the streetscape, it can go almost unnoticed.Recently purchased by Ben Buxton and his wife Olivia, Globe was re-launched late 2008 with a new visual identity. Marcus D'Amico from Platform Studios redesigned the interior fitout to match the more contemporary vision for Globe.
By respecting the institution, yet recognising it's a brand new concept, the new Globe is literally infused with unique, modern and thoughtful design from the front to back. Importantly, it has become a beautiful space to visit and dine.
"We saw the opportunity to revitalise the iconic visual identity of Globe without losing its original appeal and bring a more contemporary, design-oriented feel to it. Essentially its high quality food in the trademark Globe relaxed atmosphere," says owner Ben Buxton.
More than a café, the entire Globe operation is now a lot more professional, from the appointment of chef Daryl Morris to the spacious and airy function rooms at the top of the stairs - Globe is set to impress.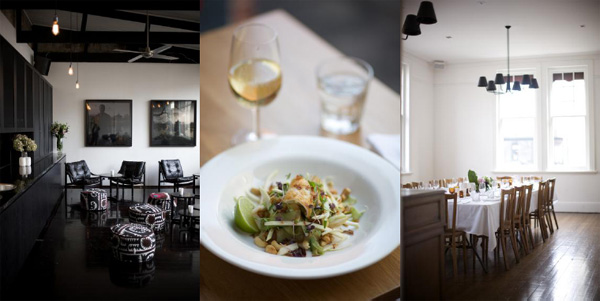 Daryl Morris has created a menu of contemporary Australian food infused in European tradition developing a new approach to the menu - which is seasonal, fresh, satisfying and high quality. It's fine food but in an easy going environment where everyone can feel like a "regular".
Rotating the menu on a regular basis, utilizing seasonal produce, current Globe signature dishes include confit duck and white bean jaffle, grilled calamari and green paw-paw salad, braised beef cheek and herbed gnocchi.
The Globe tradition of amazing cakes lives on, but Daryl has shrunk them all down to a 'mini-me' size - and the Globe counter now groans under an array of delicious cup cakes and small edible treats.
Notably, Globe serves freshly roasted St Ali artisan coffee and is looking forward to retailing take-home packs of beans, freshly ground to order.Not all the action is going on at the ground level either. Upstairs, are two airy and stylish function areas ideal for private parties, corporate lunches, boutique weddings, and celebrations of all kinds, seating 60 people each or 120 when combined.
The menu for each occasion will be crafted to suit the requirements of the function. There's even the "back room" function space for those who like to stay connected to the café and downstairs atmosphere.
To add to the theatre of the cafe, the walls of Globe are adorned with artwork from noted artists such as Brenda Croft, Andrew Brown, David Griggs, Bill Henson, James Rosetsky, Sangeeta Sandrasega and Simon Strong.
Globe is a Chapel Street institution, and now boasts a smarter, fresher face - some things have changed, but the best parts remain the same.Opening Hours: Monday to Sunday 7am til late
Globe Cafe: 218 Chapel Street, Prahran, VIC, 3181
www.globecafe.com.au