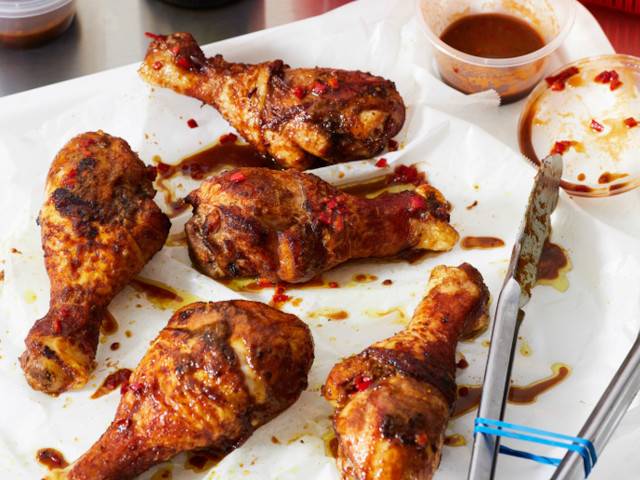 Nyonya-Style Fried Chicken – Inche Kabin
This popular Nyonya-style fried chicken was invented long ago by the Hainanese cooks for Peranakan and English households based in Penang during British colonial rule. The chicken is marinated in spices and coconut milk to give more depth of flavour than the typical Malaysian-style fried chicken, and the Worcestershire sauce in the dipping sauce clearly shows the English influence at the time of invention.

Serves 4

Ingredients
8 chicken drumsticks
vegetable oil, for deep-frying

Spice paste
2 red shallots, roughly chopped
1 teaspoon chilli powder
2 teaspoons ground coriander
1/2 teaspoon ground cumin
1/2 teaspoon ground fennel
1/8 teaspoon ground cloves
1/4 teaspoon ground cinnamon
1/2 teaspoon ground turmeric
1/2 teaspoon freshly ground
black pepper
1 teaspoon salt
2 teaspoons sugar
21/2 tablespoons coconut milk

Worcestershire dipping sauce
2 teaspoons mustard powder
1½ tablespoons Worcestershire sauce
1 teaspoon sugar
1 teaspoon lime juice
1/2 teaspoon light soy sauce
1 red chilli, finely sliced

Method
To make the spice paste, place all the ingredients in a blender or food processor and blitz to a smooth paste.

Place the chicken in a glass or ceramic bowl, add the spice paste and turn to coat well. Cover and marinate in the fridge for at least 3 hours, or overnight if time permits.

To make the dipping sauce, whisk together all the ingredients in a bowl.

Heat the oil for deep-frying in a wok or heavy-based saucepan over medium heat until hot and a little smoky. Add the marinated chicken, in batches if necessary, and cook for 3–4 minutes or until cooked and lightly golden in colour. Remove and drain on paper towel.

When you are ready to serve, reheat the oil over medium–high heat and deep-fry the chicken for another 1–2 minutes until golden brown. Remove and drain on paper towel, then serve immediately with the dipping sauce.

Extracted from Penang Local by Aim Aris & Ahmad Salim, out now from Smith Street Books, RRP $39.99.