The Victorian State Schools Spectacular Interview
The 2019 Victorian State Schools Spectacular (VSSS) will bring together 3000 young performers from more than 200 government schools across Victoria, for two shows on Saturday 14 September at Melbourne Arena. Students dedicate many hours across many months preparing for the three-hour, live Spectacular. This opportunity of a lifetime gives them the chance to perform to an audience of around 12,000 people at Melbourne Arena and a TV audience later in the year on Network Seven.

The theme for this year's Spectacular is 'Made of Stars'. With a talented 80-piece orchestra and some of the best vocalists and dancers from Victorian state schools, the show will feature a galaxy of out-of-this-world performances from a top musical line-up of songs from artists including, Justin Timberlake and Madonna, David Bowie, Lady Gaga, Daft Punk, Blur, Bruno Mars and Rhianna to Imagine Dragons, Stevie Wonder, Yothu Yindi, Sheppard, Paul McCartney and Eric Clapton.

Expect to see athleticism at its finest when for the first time the Spectacular meets the X Games at Melbourne Arena with dare-devil BMX riders, skaters and scooter riders. And the audience will get a front row seat at a fashion parade inspired dance featuring glitterati – a fun take on a tongue-in-cheek look at the world of fashion featuring dancers dressed as paparazzi and multiple Anna Wintour's all trying to get on to the red carpet to be seen by the TV cameras!

Following on from their mesmerising debut last year, the Pasifika Choir returns, and a specially commissioned Haka titled 'Wikitoria' (Victoria in Maori) which speaks of living together on this land created by Maori Haka Teacher Luke Hiki (from Narre Warren South P-12 College).

Since its inception in 1995, the Victorian State Schools Spectacular has been helping students to get hands-on training and mentoring both on stage – as singers, dancers and performers – and behind the scenes in audio, lighting, video production, stage management, costume, hair and make-up.

Rehearsals are underway across metropolitan Melbourne and Victorian regional centres. Participating primary and secondary school students have the unique opportunity to work with industry professionals including Creative Director Neill Gladwin, Musical Director Chong Lim AM, Dance Director Deon Nuku, (Scooby Doo, Happy Feet, Moulin Rouge), Associate Dancer Director Yvette Lee, (Dancing with the Stars, X-Factor Australia, So You Think You Can Dance), PRG for lighting and rigging, Mediatec for cameras and Norwest Group for Audio.

The Spectacular contributes towards a key Education State target of improving critical and creative thinking, and of more Victorian students achieving the highest levels of achievement in the arts by 2025.

"Creativity is such an important part of any child's education, and I'm proud that the Victorian State Schools Spectacular helps students to gain valuable, hands-on experience in the creative arts." "To all of the Victorian students in rehearsals for the Spectacular – as singers, dancers, performers and behind the scenes - best of luck. I hope you make your school community proud and enjoy the journey along the way."

Presented by the State Government of Victoria, the 2019 Victorian State Schools Spectacular – 'Made of Stars', is a not-to-be-missed event.

The Victorian State Schools Spectacular – 'Made Of Stars'
Venue: Melbourne Arena
Date: Saturday 14 September
Time: 1pm & 6:30pm
Adult: $40.00 + BF
Concession: $30.00 + BF
Junior (U15): $20.00 + BF
Buy 10 tickets and get one adult ticket free (for group bookings please call 1300 364 001)
Bookings: Ticketek: www.ticketek.com.au/spectacular or call 132 849.


Interview with Jemma Gonzalez, Principal dancer from Epping Secondary College
Jemma started dancing when she was just two years old. Currently in Year 10, she dances at Patricks Studios Australia in all genres of dance. 2019 will be her sixth year performing in the Spectacular. An ensemble dancer for three years; 'Made of Stars' will be her third year as a principal dancer. Jemma is a crew leader of Pantheon Dance Crew and recently took part in the Boss Generation program, has trained at the LOcREaDO dance company and been involved in other musical productions. The Spectacular has been a big part of Jemma's life and she loves being able to participate year after year.

Question: Can you tell us about your role in the Victorian State Schools Spectacular?

Jemma Gonzalez: I am one of the 20 principal dancers in this year's Victorian State Schools Spectacular show- Made of Stars, amongst an amazing cast of vocalist and orchestra.


Question: How long have you been preparing and rehearsing for this role?

Jemma Gonzalez: We began rehearsals at the start of March this year and rehearse almost every Sunday, as well as two full intensive weeks (Monday-Friday) on the term holidays and the week leading up to the show in the Arena.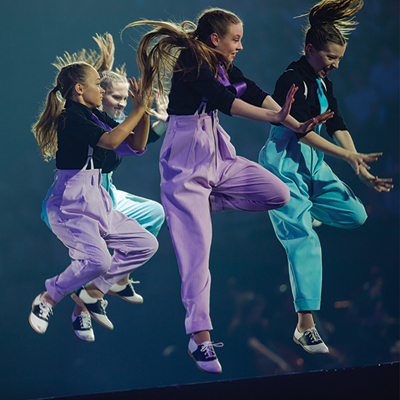 Question: How difficult is it to rehearse independent of the other performers?

Jemma Gonzalez: It can be a challenge at first, not rehearsing numbers with the vocalists or the orchestra playing the songs until the Arena rehearsals, but once the cast all combine, everyone is well prepared and adapt quickly.


Question: Can you talk us through this year's theme, Made Of Stars?

Jemma Gonzalez: This year's theme relates to the stars of the galaxy as well as the stars of the show.


Question: Can you share with us any of the songs featured in Made of Stars?

Jemma Gonzalez: We kick off the show with 'Believer by Imagine Dragons' and the show concludes with a very current, well know song 'September'. There is also an appearance of an Astronaut that features in the song 'Save the World'. My favourite dance this year is probably 'Finesse'.


Question: This is your sixth Victorian State Schools Spectacular – what do you love most about the production?

Jemma Gonzalez: What I love most about being involved in the Victorian State Schools Spectacular and why I keep coming back year after year is because it's so amazing to be surrounded by such supportive and incredible mentors and build friendships that last a lifetime. It is such an unforgettable experience and definitely a highlight in my life so far.


Interview by Brooke Hunter
Image credit: Timothy Burgess, Image Play