Jonathan Massaad Sugar High Desserts Interview
At just 17, Jonathan Massaad is creating hundreds of desserts a week while balancing the demands of his HSC. The in-demand school boy, who founded Sugar High Desserts in 2014, already has a four month waiting list for his unique sweets from personalised cakes, delicate tarts, scrumptious cup desserts and his signature -Fudge Pops'.

Jonathan uses his wizardry to transform popular confectionary into masterpieces like his famous Nutella Cheesecake cups, Milo Panacotta topped with Maltesers, Rafaello Cheesecake cups and S'mores cups topped with toasted Marshmellows. His latest creation, the -Extreme Range', is inspired by his childhood, with pretzels, doughnuts and popcorn topping his desserts while his -Galaxy' cake is inspired by spheres, domes, irregular shapes and colour contrast.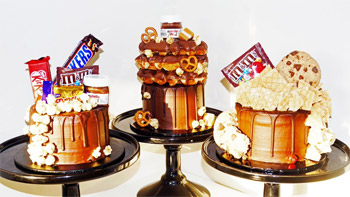 Jonathon started his baking hobby through a Betty Crocker cake mix packet and now has over 60 delicious creations in his dessert collection. 'I started baking cakes at home for family events and picked up my baking skills by watching Donna Hay and Cake Boss. I really love the whole art of designing cakes and being able to show off your creations to the world. I always dreamed I would be like Adriano Zumbo or Heston Blumenthol", says Jonathan.

'I think to be successful in such a competitive industry, it is essential to have a passion for what you're doing and to also have unique, innovative ideas. It's always great to gain inspiration from others, but building on something more than that will get you noticed."

Despite his busy schooling schedule, Jonathan still manages to fit in hundreds of dessert orders on weekends. 'Being organised, committed and driven is so important in being able to balance both school and business life." Once Jonathan graduates, his plan is to study a hospitality degree and open his own patisserie chain.

Sugar High Desserts' cakes start from $200, Fudge Pops at $5.50 each, Dessert Cups at $5.50 each and tarts for $4.00 each.

Sugar High Desserts is sold exclusively through www.sugarhighdesserts.com.au and on Instagram @sugarhighdesserts.



Interview with Jonathan Massaad
Question: What inspired your love of baking?

Jonathan Massaad: I have always been inspired in the kitchen even at a young age when I would always ask to help my mum cook dinner, then when I was around 11 years old I started experimenting with supermarket cake mixes and confectionary to decorate.


Question: How did you develop Sugar High Desserts?

Jonathan Massaad: Well initially Sugar High Desserts was only a personal page in which I would share all my latest creations in the kitchen, then I was constantly receiving enquiries for orders and that was when I decided to develop into a business.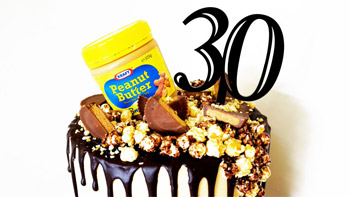 Question: How do you balance baking with school?

Jonathan Massaad: I admit, it is very tough to balance both year 12 and my business but it is manageable with a lot of hard work. I now, being in year 12, have been taking a lighter work load during busy weeks full of assignments and exams but always attempt to complete all my homework before I get home whether it is at lunch time or study periods so I can focus on my business when I do get home! I even try to squeeze in some study whilst im waiting for a cake to cook in the oven. Any free time is always taken advantage of!


Question: Can you tell us how it feels to have a four month waiting list?

Jonathan Massaad: Well, I am completely astounded and overwhelmed with joy that I have a four month waiting list but it is very unfortunate because I really do wish that I could take a heavier work load for more customers who enquire at later dates, though with balancing my school work and business I really do have to limit myself.


Question: What are Fudge Pops?

Jonathan Massaad: Fudge Pops are Sugar High's signature dessert which is made up of our secret recipe fudge that has been tested various times to match a perfect flavour and texture. This fudge slice then placed onto a popsicle stick then is dipped in white chocolate and decorated with some fun toppings! They are possibly one of the most popular items of dessert from our menu!


Question: Can you tell us about your latest creation, the Extreme Range?

Jonathan Massaad: The Sugar High Extreme Range is a range that embodies the idea of transforming iconic supermarket ingredients or confectionaries and using these items to create a signature dessert of a different form. Some examples are the Golden Gaytime Fudge Pops, Milo Pannacotta and Snickers cup.


Question: What are your goals, for once you finish HSC?

Jonathan Massaad: Once I complete my HSC, I do hope to study a business degree within university. I would also like to open up my own patisserie/cafe within my final years of university or possibly have some pop up stores across Sydney!


Question: What are your favourite ingredients?



Jonathan Massaad: This is such a tough one but I definitely love to work with Doughnuts, Chocolate Bars, Popcorn, Pretzels, Nutella, Toffee Apples, Lindt Balls, Ferrero Rocher, Liquorice Allsorts and Waffles! At least 3 of these confectionaries are always featured on my cakes/desserts!


Question: What is your number one baking advice for new bakers?

Jonathan Massaad: I would say that you should always push yourself forward by creating a new style of cakes or desserts. You should always take inspiration from the latest trends but find a way to transform your inspirations to create your own style and your own trends!


Interview by Brooke Hunter