Your friend has decided to take the plunge. You now have to find the right wedding gift that is useful but not tacky, cool but still celebrates this romantic time for her. Justweddings have a range of matching singlets & bottoms, swimwear and other gifts that are perfect for today's übercool bride and groom.

Justweddings' range of wedding products for a bride that is more likely to wear sass & bide than an apron (unless it is a customised s & b apron of course) includes singlets with 'bride', 'just married', 'Boss Lady' and the unashamedly romantic 'I miss you when I'm sleeping'. There is also a range of men's boxers with 'taken' and 'lucky man' written on the back.

Former art director and designer Anna Maria Stillone has plenty of experience in design including work on Colors, The United Colours of Benetton magazine, and with Tashen publishing.

The idea for justweddings was born when one of Stillone's friends asked her to custom design a 'just married' t-shirt and bikini. The end result was so popular that Stillone found herself inundated with similar requests - she had obviously struck a chord with today's brides so she decided to make her idea commercial.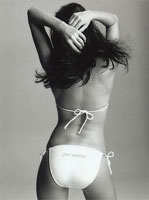 "Falling in love is when a girl lives a fairy tale and weddings are when she becomes princess for a day. I guess the reason why justweddings is so popular is because our products help newly weds prolong the post-wedding glow," says Stillone.

With online purchasing, very reasonable price points, a range of sizes and colours and a global delivery area, justweddings have made buying the perfect gift just too easy.

There are also loads of new products in the pipeline, including an expanded men's range.

For more information on justweddings visit www.justweddings.net.au