For many of us, adjustment to new Working From Home lifestyles have created unwanted body aches and pains, leaving even the most reluctant of us keen to get moving again.

We caught up with Co-Founder and Director of Yoga at Flow Athletic, Kate Kendall, to discuss Yoga, the importance of daily activity and staying well from home during these times. Read on below for some of Kate's insights into staying active during lockdown and beyond!
Interview with Kate Kendall
Question: How has these past few months impacted your life?

Kate Kendall : Isolation has required me, like everyone else, to adapt in creative ways. I'm used to managing a schedule between being at the studio, Flow Athletic in Paddington, and coming home to family life. Lately the two have been somewhat blended. It's meant that I've managed to find ways to connect with the Flow Community online whilst nesting.

I'm keeping in touch with our community through Instagram, sharing videos of my practice which anyone can do from home. Doing our part to make sure that our community is looked after goes a long way to keeping morale strong and our spirits high.


Question: How important is it to stay active?

Kate Kendall : Staying active isn't the only way to stay healthy, but it's an important release for your mind. Taking time in each day to do a Moving Meditation can be enormously useful in helping us set our 'restart' button and take on the mindset we want to have.

We can place a lot of pressure on ourselves to stay physically active, but the ultimate goal is wellness for mind and spirit as well.


Question: What tips do you have to start moving our bodies again after isolation?

Kate Kendall : As a collective, we're all feeling a bit weary. People can certainly feel like they should give into the pressure to become more active, but my advice would be to be gentle on yourself. The most important thing to remember is that we are human, and to take each day as it comes.

Try and focus on low-stress and low-weight bearing exercise - think walking, swimming or cycling. Yoga is a great option for a mix of muscle toning, flexibility and meditation. Slower practices such as Hatha and Yin are a great gentle support and the concentrated poses can be really restorative for people who spend a lot of time sitting hunched over desks. The slower practices may not seem so 'productive' but think of them as grounding and calming and it's from this place that we make better food and lifestyle choices.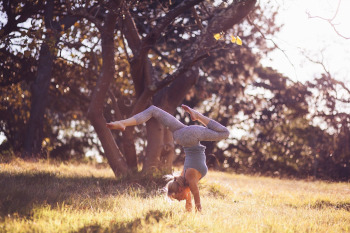 Question: How can we join your Live Sessions?

Kate Kendall : I'm really proud to be a part of the Comvita 'Wellness from Home' Live Sessions. The initiative from Comvita to improve our health mentally and physically from home is a great step in the right direction for many of us right now.

My next session with Comvita Wellness from Home is Tuesday 2nd June at 5:30pm, it will be a playful session looking at five fun yoga poses. Yoga doesn't always have to be so serious!


Question: Do you have tips for Yoga beginners?

Kate Kendall : Yoga is a lot more accessible than people think. A lot of people feel overwhelmed by poses like headstands, but no experience is required to practice!

The other great part about Yoga is that there are so many different practices, some slow (which are great for beginners) and others that are a little more dynamic. All in all, if I were to keep it simple, I'd say that the best advice I can give is to respect and listen to your body when practicing. There's so much intelligence in there – you've just got to lean in and listen.

There's always time to improve, and the most important part is to make sure that you're enjoying it for the sake of it. Be kind to yourself - If you're feeling overwhelmed, breathe and remember just how incredible your body is to be able to breathe and walk and dance and do all the amazing things it does.


Question: How can we learn to meditate?

Kate Kendall : Listening pulls truths and essentially when we meditate we're fine tuning our listening skills. It gives us a tool for becoming familiar with ourselves – the tone or quality of our thoughts and how we're really feeling emotionally, physically and energetically – all those things we tend to skim over in our 'busy-ness'.

For beginners, I don't want you to quit just because you can't stop your thoughts! The truth is that many of us (even the spiritually enlightened) can't stop thoughts during meditation. The idea is to become less attached to them. Once we realise that they are just thoughts, it's easier to detach ourselves and recognise these 'thoughts' for what they are. You're better able to see truth.

Try and breathe - breathing is like medicine. You'll find it has a calming effect on the mind and the body.


Question: What is a typical day like?

Kate Kendall : I try and wake up at 6am, meditate for 20 minutes and aim for a run or a Yoga flow. Each day I try and fit three vital things: meditation, belly laughs and contributing in any way I can!

Routine is a big part of my day, and I always try and apply that to my meals and exercise. Whatever happens during my day, I always try and finish it off with mindfulness practice.


Question: What's next for you?

Kate Kendall : This period of time has just built our resilience as a business at Flow Athletic so we have some exciting projects that we'll be launching in the coming months plus we look forward to re-opening very soon. It will be nice to teach to people in the flesh as well as continuing to do it online. Plus it's really important to me to be a present parent. I want to show up as best I can for our little girl so as much love as I can contributing to home life, I can. This is just as important to me as setting and kicking goals at work.

I'm also really excited about being asked by Comvita to lead some of their 'Wellness from Home' sessions on their instagram live, you can join me there on Tuesday.


Interview by Gwen van Montfort