Kenneth To USANA Health Sciences Ambassador Athlete Interview
Originally terrified of the water, Hong Kong born Kenneth To started swimming at the age of 5 at his local pool, and by the age of 12, he was noticing surprising and rapid improvement in his abilities. To's acceptance into the NSW School Sport team in 2003 was a catalyst for his growing passion when he was introduced to the joy of making friends through sport and being part of a team. As To's abilities developed so did his passion for swimming. He came to love the combination of speed, endurance and finesse demanded by the sport and was compelled by the hundredths of a second that can result in a win or lose.

To first came into the swimming spotlight in 2009, when he beat Australian sporting legend Ian Thorpe's 10 year Australian record in the 16 years 200m individual medley at the New South Wales Championships. Fast becoming the -one to watch', Kenneth cemented his nickname -To-pedo' when he burst on to the international scene at the 2011 FINA World Championships in Shanghai. To made himself well known to the Australian public by qualifying for the 200m Individual Medley Final. The pocket rocket of the Australian swim team, who claimed third fastest for semi-finals, clocking 1:59.02, showed the world he is well on his way to more International success for the future.

To seemed prepared to make a leap towards the medals at the 2012 London Olympics before fate intervened, seeing the swimmer miss selection for the Australian Olympic team, just seven weeks after an operation to remove his appendix. But despite the bitter disappointment of missing selection for his first Games, To refused to let the setback define his year. He instead regrouped and demonstrated immeasurable performance at the 2012 world championships in Istanbul, where he only fell a touch short of dethroning American superstar Ryan Lochte in the 100m individual medley.

At only the age of 20, To has already competed against his swimming heroes Michael Phelps and Ryan Lochte and sets his sights on the Rio 2016 Games. Having just competed at the Australian Swimming Championships this April/May, To has officially qualified for the 2013 World Swimming Championships team:
1. Men's 200m IM, 1:58.72 2nd place, qualified onto World Championships team.
2. Men's 100m Freestyle, 48.58. 2nd rank after heats, selection onto 4x100m Freestyle Relay team.
3. Men's 100m Breaststroke and Butterfly. 3rd and 4th place finishes respectively.


Interview with Australian Athlete and World Cup Series Champion Swimmer, Kenneth To
Question: How does it feel to qualify for the 2013 World Swimming Championships team?

Kenneth To: I feel quite lucky and relieved, to be honest. I missed out narrowly on representing Australia at the Olympics last year and the selection process for this years' team was even tougher. I put a lot of hard work into this season, particularly in training and in my day-to-day choices, so it was great to see it paid off. Being able to represent the country in the pool is an absolute honour!


Question: What has been your biggest achievement in your swimming career, to date?

Kenneth To: Toward the end of 2012 I won the overall male point score of our Swimming World Cup. It's an international competition circuit that stops at 8 major cities of the world each year, that I had the opportunity to compete in. It's definitely a highlight in my career and the most fun I have had travelling the world as a swimmer.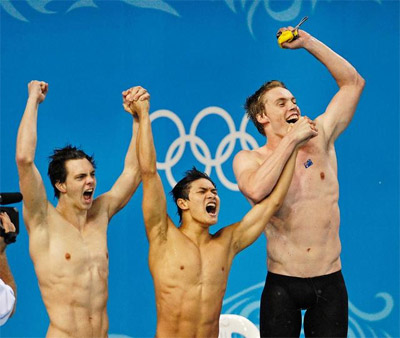 Question: What's a typical day like for you?

Kenneth To: Training for swimming is gruelling but rewarding. I wake up at 5am each morning to start a 2 hour training session at 5:30am in the pool. That's followed by a 1-1.5 hour gym/ core session that will take me until about midday. After that I will take time to recover before another 2 hour swim in the afternoon session till 7pm. That's my typical Monday to Friday, weekends we take to recover!


Question: Can you tell us what's involved in a typical training session?

Kenneth To: Our training regime reflects what stage of the season we are in. But typically, we do a dry-land activation routine then swim an average of 6 kilometres over 2 hours. We warm up in the pool, do some technique drills, focus a large section of time on working on speed, endurance and fitness, and then warm down.


Question: How important is your diet to your training?

Kenneth To: My diet is integral in enabling me to get up for, and recover during, the stressful training cycle. I need to ensure I am always adequately fuelled with good food choices and always have my shake supplement - USANA Nutrimeal - post-training to kick start the recovery process. The sooner I replace lost energy the better for my body.


Question: What originally inspired you to begin swimming?

Kenneth To: Swimming was a sport that I caught onto quickly but also one that has a rich Olympic and Australian history. I started swimming because I enjoyed it - and still do - but it's the dream of representing Australia in a sport they love, and competing toe-to-toe with the rest of the world is what inspires me.


Question: What do you enjoy most about swimming?

Kenneth To: The sport of swimming is full of people passionate for the sport and it's meeting, working with, and travelling with these people that I enjoy most. Being an elite athlete also opens doors to travel and see the world, and being able to do that whilst competing and achieving your goals is an amazing experience.


Question: Do you enjoy the competitiveness of the sport?

Kenneth To: All swimmers are competitive, we race each other not just the clock, but that for me is not the most important thing. I enjoy most the challenge the sport brings to an individual, to be your best, to swim faster, and to achieve your personal best time is the best feeling ever. It's almost like I am competing against myself, and all the training and sacrifices I put in reward themselves.


Question: What are your hopes for the coming year?

Kenneth To: My hope for the coming year it simply to perform well as a representative on the World Championship team. I hope to swim some personal best times and hopefully win a medal for Australia in Barcelona. As a whole I think the Australian Swim Team has made big changes this year, so I hope our performance at Worlds will reflect that too.


Question: What advice do you have for aspiring athletes?

Kenneth To: Dream big, work hard, take nothing for granted, and enjoy yourself.


Interview by Brooke Hunter