Laetisha Scanlan Health On Target Interview
With the 2016 Rio Olympic Games all wrapped up, now is the opportune time to learn from an Olympian about how to maintain a balanced lifestyle and keep your mental and physical health on target.

For our Olympians, being in peak physical and mental shape is essential for performance which is why Australian Olympic Trap Shooter, Laetisha Scanlan, has shared her advice on how she stays fit, healthy and positive and how her health insurer, Defence Health, helps her achieve this.

Work-Life Balance

My sport is largely my job and like many, it comes with highs and lows. I believe maintaining a healthy work-life balance is vital for your wellbeing especially when you're faced with adversity in your life. For example, if I were to become injured and unable to train, it is essential that I have other things on the go to stay sane.

As an athlete being singularly focused is an easy trap to fall into – you start saying no to people and to opportunities that you think conflict with your goal to be the best. Your determination can become your greatest demise and an unhealthy and isolating one at that. You become at risk of overtraining, burn out or even depression when things go wrong. I would advise that to achieve your goal it is necessary to have other goals and be involved in other commitments. I've slowly learnt that there is more to life than competition.

My recent Olympic experience is a case-in-point example. I still cannot to this day describe in words the feeling of heart wrenching disappointment that ran through my veins on the day of my competition. It had never felt so right and yet gone so wrong. I take great pride in representing my country, my family and my support networks and knowing I didn't achieve what I was expected was crushing. However, having a fantastic support network and work-life balance allowed me to recognise that great lessons can be taken from things that bring you pain. That same day my teammate won the gold medal for Australia. As I ran up to hug her my disappointment faded and I was filled with joy for her, knowing she had achieved greatness and positioned our sport in a positive light. It was in that moment of embracing her that I realised there is much more to sport than medals.

During the Olympics I lived with 11,000 athletes from 207 nations all wanting the same result as I did. My feelings of unworthiness and disappointment were not just experienced by me but by many. What I learnt was that -it is your response to winning or losing that makes you a winner or a loser' and while it is great to succeed in your sport it is even greater to excel in character.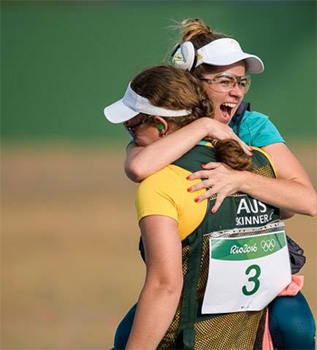 Look after yourself

I'm a Trap Shooter, a sport that's 80 per cent mental and 20 per cent physical. Whilst you might think this means aerobic fitness is unnecessary, you're wrong. Quality of life requires you to have a healthy mind and body; this is assisted through maintaining a balanced lifestyle, as well as getting regular exercise and adequate nutrition. I'd advise that anyone wanting to enhance their quality of life to simply take a little time everyday to get out, walk to work, ride a bike, take a stroll during lunch, take the stairs – it doesn't have to be rigorous exercise, just a little walk here and there can go a long way. As well as my shooting practice I do regular cardio and Pilates and get dietary advice from a nutritionist. This enables me to continue training and performing at my best. As an elite athlete, I also get regular remedial massage to reduce the risk of injury and soreness.

All of these services do not come without financial burden, a burden that is largely subsidised by my Top Extras health cover with Defence Health. To keep exercising for years to come, maintenance is necessary. It's worth seeing what you are covered for to assist you in staying healthy so you can keep doing what you love.

Peace of mind

Being healthy is more than just staying in shape. Health encompasses both physical and mental aspects and there are many things in life that cause stress. Preparing for an exam, facing a review or even doing a presentation is like leading into a competition; pressurised. For me, the best way to calm my nerves is by following a strict routine. By focusing on following all the steps that lead up to the actual event rather than the event itself, I feel more relaxed.

Athletes need to be mentally fit and it's not unusual to see a sports psychologist for strategies. I've learnt that mindfulness activities help me most. I don't travel without my adult colouring book. I feel oddly -at peace' when all my focus is simply on staying in between the lines. I would recommend one of these books to anyone who struggles to disconnect. Furthermore, my health insurance covers certain psychology and mental health services and given how important your mental health is and its possible expense, I'd encourage you to see if yours does the same.

As well as the ease of financial burden, my health cover also provides me with peace of mind. This is not only vital for an athlete but for everyone as you cannot control getting hurt or sick but you can control if and how well you are cared for and at what expense. Private health insurance is a key factor in taking care of yourself for those unexpected moments.

For example, 40 days prior to me competing at the Olympic Games I needed my wisdom teeth removed. As my teeth were becoming increasingly painful the operation couldn't wait, they had to come out! Unfortunately, as is often the case, the wounds from the operation became infected and I had to return to the surgeon and get the infection addressed just four days before departing for Rio de Janeiro. Fortunately by having health insurance the cost of my dental work was significantly reduced and the care was top notch meaning I could fully focus on my recovery without any added or unnecessary stress.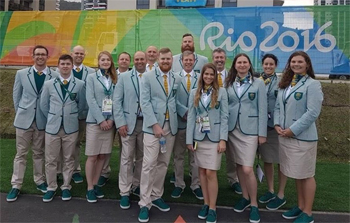 As an athlete I take my health very seriously but this is something that every Australian family should prioritise. A healthy, balanced lifestyle to me means exercising both physically and mentally and ensuring I have a balanced diet. This is supported by my health cover that makes health and wellbeing services more affordable. If I could teach you anything it would be to make health a priority; it will enhance your quality of life no matter what your profession.

Defence Health is a not-for-profit health fund that has been caring for Australians in the Defence community for more than 60 years.

Defence Health also sponsors several Defence community groups. Defence Health is concerned with people, not profit.

Many Australians are unaware that they are eligible to join Defence Health. The Defence community is far reaching and Defence Health offers cover to the following communities:
ADF members and their families, kids and partners
Those connected to Defence through work, past service or family

To see if you're eligible visit www.defencehealth.com.au



Interview with Laetisha Scanlan
Question: How can we better our physical and mental well-being heading into Spring?

Laetisha Scanlan: The great outdoors is the perfect way to stay fit and improve mental wellbeing.

It has been scientifically proven that exercise is one of the most effective ways to improve mental health. It relieves stress, boosts your mood by releasing endorphins and helps you sleep better. Spring is a great time to be active due to the weather constantly improving. Whether it be taking the dog for a walk or kicking a footy at the oval, every bit of exercise will only effect you in a positive manner.


Question: How does exercise enhance your quality of life?

Laetisha Scanlan: Exercise is important for your overall well-being. Obesity is an epidemic in Australia and being overweight can lead to various health problems both current and later on in life. However this can be significantly reduced through regular exercise. It is important to do at least 30mins of exercise a day.


Question: What does -healthy' mean to you?

Laetisha Scanlan: Being healthy to me means everything in moderation.
A balanced diet followed with regular activity.
I'm a big believer in healthy body, healthy mind.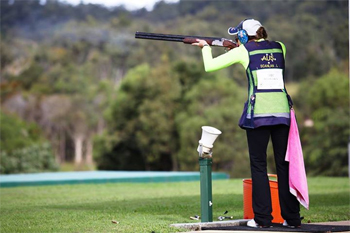 Question: Can you talk us through how you stay fit?

Laetisha Scanlan: I stay fit by trying to constantly change my workout routine.

I have a gym membership which I predominately use for all my weights workout sessions. If I feel like a cardio session I generally join one of the many group fitness classes on offer.

I also have a personal trainer that I use twice a week. This includes 30 minutes of clinical Pilates and 30 mins of high intensity circuit training at another facility. I find personal training very beneficial because you are being pushed and encouraged by someone other than yourself.

I think it's important to constantly change your exercise to ensure you don't become bored or lose motivation. I also like to stay fit by talking long walks or hikes.


Question: What's a typical weeks exercise like, for you?

Laetisha Scanlan: Monday/ Wednesday/ Friday: Weights training at the gym, targeting different muscle groups.
Tuesday/ Thursday: Personal training which involves Pilates and cardio
Saturday: Walk or Run
Sunday: Rest day


Question: How do you ensure your lifestyle is balanced?

Laetisha Scanlan: The key is not burning yourself out. When you work hard you also need some relaxation time as well. Reward yourself when you feel like you have deserved it. I balance my constant travel and training by relaxing and hanging out with friends and family when I return home. I feel if you focus on your work fully and have no down time, it can become consuming and you ultimately end up not enjoying it or becoming unnecessarily stressed. A balanced lifestyle is a happy lifestyle.


Question: Why have you chosen Defence Health to support your health?

Laetisha Scanlan: I was lucky to fall into Defence Health through my parents choosing it as their number one health insurance provider. I have been extremely happy with the service they provide. With 60 years of experience they know what their customers want and need. Their family first attitude and friendly community vibe is a great asset to the company.


Question: What would we find in your gym bag?

Laetisha Scanlan: 1litre bottle of water, FitBit, towel, foam roller and wireless headphones


Question: What five foods can you not live without?

Laetisha Scanlan: Pasta, Chicken, broccoli, mangos and Tim Tams


Interview by Brooke Hunter