Laura Dundovic Vaalia and We Are Handsome Leggings Interview
Globally renowned Australian fashion label, We Are Handsome, together with Vaalia yogurt, has today unveiled an exclusive new active wear legging, Babylon, to help women of all types express their vitality.

Inspired by the fresh vibrancy of Vaalia with its unique trio of probiotics, this garment takes its cues from the Hanging Gardens of Babylon, which were once the focal point of the largest and most vibrant city in the world.

We Are Handsome's, Jeremy Somers, who flew to Sydney from Los Angeles with wife and creative partner Katinka for the launch, says that the design captures the feeling of vitality which Vaalia aims to achieve, helping you feel energised from the morning onwards.

'Fresh, floral, vibrant and dynamic were the key design themes we wanted to capture with Babylon. Everything women want their active wear to be so they can feel confident wearing it. We are really proud of this collaboration, especially given that the sale of the limited edition legging supports such a great cause," explains Jeremy.

All proceeds from the sale of Babylon are being donated to Look Good, Feel Better, a free community service program which supports women with cancer. Look Good, Feel Better helps women to manage their appearance when dealing with the side effects of cancer treatment, empowering them to face their cancer diagnosis with confidence.

'We're thrilled to be the beneficiaries of this incredible partnership between Vaalia and We Are Handsome. The Look Good Feel Better program plays a pivotal role in providing women with the tips and tricks they need to face their cancer with confidence. With the proceeds of every sale of Babylon, Look Good Feel Better will be able to extend its support to even more Australian cancer patients," says Carol Kavurma National Manager of Look Good Feel Better.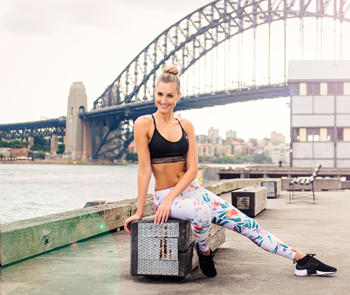 The limited edition Babylon design is available exclusively online at www.wearehandsome.com/vaalia for $129 until the end of February 2017 or until stocks last.

Vaalia yoghurt contains a unique trio of probiotics and delicious dairy goodness which leaves you feeling great inside and out, giving you more vitality to maximise your day.



Interview with Laura Dundovic
Question: Why did you decide to help Vaalia and We Are Handsome launch these leggings?

Laura Dundovic: Vitality is basically a new take on modern wellbeing. For me, it isn't only about keeping fit and eating well, it's about feeling strong mentally and physically, having energy and confidence to achieve the things I want to do. The collaboration between Vaalia and We Are Handsome is an expression of this, they're taking the foods that make you feel great on the inside (literally, the probiotics in the yoghurt) and sharing how that's inspired the ultimate symbol of vitality – active wear, to help woman express it for themselves and feel confident to get up in the mornings, have a healthy breakfast and start the day right through fitness. The fact that the proceeds from the leggings is going to a great cause too with Look Good Feel Better is amazing, everything the program stands for is close to my heart.


Question: How can we get ourselves a pair of the leggings?

Laura Dundovic: The limited edition Vaalia and We Are Handsome leggings called Babylon are available from www.wearehandsome.com/vaalia . RRP $129 with all proceeds going to community program Look Good Feel Better


Question: Can you tell us about the Look Good Feel Better community program?

Laura Dundovic: Look Good Feel Better (LGFB) is a free community service program dedicated to teaching cancer patients how to manage the appearance-related side-effects caused by cancer treatment leaving them empowered and ready to face their cancer diagnosis with confidence. Women participate in practical workshops focusing on tips and tricks to help them overcome temporary changes to their appearance. Each participant also receives a confidence kit, including an information booklet, skincare and cosmetic products and tools for application to take home.


Question: Why is it important for you to support causes, such as Look Good Feel Better?

Laura Dundovic: There are so many different charities that are worthwhile to support, but LGFB specifically is a program I'm happy to support as someone close to me has been affected by ovarian cancer. There are not a lot of charities who consider what those post treatment effects of sufferers can be so it's great to provide them with access to these types of workshops which really help with the personal side of things too, and inspire confidence for those people.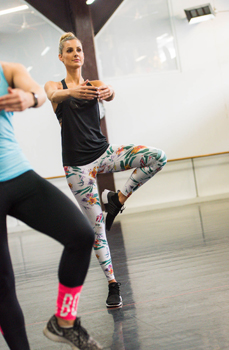 Question: How do you express your vitality?

Laura Dundovic: My fashion style is quite chic, but I love to play with bolder unique colours in statement pieces all the way through to my casual or gym wear to express my vitality – which is another reason I love the Vaalia and We Are Handsome collaboration. Something else that I feel is really important is just having fun and being grateful. I love to keep active and socialise with my friends so that's an important way I find I express my vitality too.


Question: What advice do you have for Australians to feel more vitalised?

Laura Dundovic: Look after your body from the inside out, make sure you get enough sleep too. Every hour before midnight counts for twice as much after that time. Routine is really important, starting the day right with a healthy breakfast and a healthy mindset. I make sure to wake up on the right foot and be grateful for life. I think of three things every day that I'm grateful for as you often forget. Drink lots of water!


Question: Can you talk us through a typical day's fitness and food?

Laura Dundovic: I start every day with a glass of lemon water, apple cider vinegar, ginger and honey. Breakfast is varied, from boiled eggs to a probiotic yoghurt like Vaalia and almonds, or oats and berries. I try to go to the gym at least 3 times a week and I train with Base Body Babes which is really fun, so usually in the morning. Lunch is typically chicken salad and dinner sweet potato, broccoli and some form or meat! I eat a lot, I've a healthy appetite and that's what motivates me to make sure I work out too! I'm an active person, and try not to put pressure on myself when it comes to fitness for example if I -miss' a session. I just enjoy it, so I aim to just be active with friends and family too, especially if I'm busy.


Question: What's your go-to snack?

Laura Dundovic: Yoghurt and berries, crushed almonds a little bit of honey. Also homemade chocolate, as well as organic peanut butter and cacao bars.


Question: What would we find in your gym bag?

Laura Dundovic: Natural Instinct softening hand and nail cream. I don't wear gloves when doing gym workouts so I need it after a workout. Water, a 2 liter and bottle. It depends where I'm going onto afterwards as well. I've got these awesome Nike yoga shoes that are always in there and my Nike apple watch I use for all my runs too.


Interview by Brooke Hunter