Lincoln Lewis Scores New Dream Role
Lincoln Lewis is about to become an eco-warrior with his new ambassador role with Daydream Island. Born and raised in Brisbane, the Australian actor will be one of the first to explore the new Daydream Island when it opens in April 2019 with sustainability and the conservation of marine wildlife at the forefront of his Island journey.

As a regular visitor to the Whitsundays region, Lewis is excited to explore all that Daydream has to offer from snorkelling, riding jet skis, stand-up paddle boarding and helicopter tours - he'll take it upon himself to test drive the experiences guests can explore while visiting Daydream Island.

"I love everything about the ocean, so I am excited to explore Daydream Island. The clarity of snorkelling on the Great Barrier Reef is incredible and I want to learn more about Daydream Island's Living Reef and sustainability programs," said Lewis.

Lewis explained his father, the football great Wally Lewis, had visited Daydream Island previously. "My parents have been before and Dad first went on an end of season footy trip in the late 70's. Now it's time to pass the torch and I'll be sure to send the family photos from paradise!"

When asked about his role with Daydream Island, Lewis said, "I'm stoked to be working with an such an iconic Australian holiday destination, really being able to explore the very best of the Whitsundays region. Daydream Island is the perfect destination for an action-packed adventure, developing your knowledge about the local marine life through their Living Reef or just lounging by the pool taking in the view – I can't wait to do it all!"

Lewis is a dedicated advocate for sustainability and the conservation of marine wildlife and the environment. With a soft spot for the ocean, Lincoln will immerse himself with the team of resident marine biologists at Daydream Island's Living Reef to help spread the word on marine life and reef conservation.



Most well-known for his roles in Home and Away, Underbelly and House Husbands, he was appointed a Tourism Australia ambassador in 2017, leading their Aussie News Today campaign targeting youth travellers. An avid photographer and videographer, Lincoln enjoys capturing stunning Australian vistas, particularly beaches and coastal scenes.

Daydream Island is currently taking bookings from April 10, to book please contact the reservations team at daydreamisland.com.


Interview with Lincoln Lewis
Question: How does it feel to be a Daydream Island ambassador?

Lincoln Lewis: To be an ambassador is a pretty special honour, but to be asked to be ambassador in my home state of an incredibly beautiful island in the Whitsundays... I'm pretty bloody stroked to be honest!


Question: Have you been to Daydream Island, before?

Lincoln Lewis: I actually have never been to Daydream Island! My parents went there when we were kids and used to tell us we might get to see it when we're a bit older but in all the times I've been up to the Whitsundays in the past couple of years (post Cyclone) we never got to see it in its glory.


Question: What can you tell us about the new Daydream Island?

Lincoln Lewis: From what I've seen in the latest pictures and been told from the Daydream team and its resident marine biologist Johnny Gaskell, the island resort has returned more spectacular, modern and eco-friendly than they had even imagined when first planning the rebuild! Welcoming guests from April – it's sporting 277 rooms, three new signature restaurants, an outdoor cinema, snorkelling and diving tours, helicopter tours around the island and the Great Barrier Reef, as well as my favourite - jet ski hire! What I'm most excited about it is to see their newly rebuilt "Living Reef" within the resort itself, spanning 200m through the middle of the resort with an underwater viewing platform 4m below the surface to see everything happening.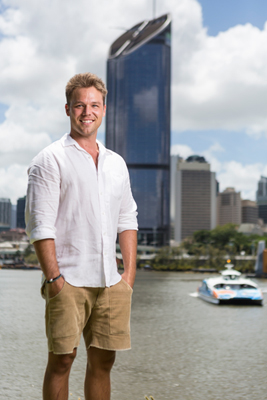 Question: Why is it so important, to you, to work with an island who understands the importance of sustainability and the conservation of marine wildlife?

Lincoln Lewis: It's important to me because whenever I have kids, I want them to see the same beauty as what I've grown up seeing. To be able to swim in a clear ocean with marine life swimming around them - like I was able to experience when I went to the Great Barrier Reef. Working with an island that's situated right on the doorstep of the reef and committed to not only limiting their footprint but teaching those who come to visit about our impacts now and in the future is of paramount importance. I'm thankful not only that Daydream Island are doing it but that I can also learn as much as I can and share it through my channels to communicate the message to as many people as possible.


Question: What activities will you be doing when you explore Daydream Island in April?

Lincoln Lewis: I'm most looking forward to checking out the Living Reef, spending time with the marine biologists learning about the Great Barrier Reef and its current state and then to go diving for the first time there! Not to mention after a Jet Ski sesh, just sitting on the sand looking out and taking in the moment of where I am and how lucky I am to be there.


Question: What's next, for you?

Lincoln Lewis: At the moment I'm currently auditioning and looking forward to getting back on set soon. I had a small role on a war film called "Danger Close" due to be released later this year but as soon as you get off one set you're going nuts to get onto another one! I'm also stoked to be an ambassador for Mazda and to be travelling around with Tourism Australia promoting all things beautiful about this amazing country.


Interview by Brooke Hunter