Billy Elliot the Musical
Presented by Universal Theatrical Group, Working Title Films, Greene Light Stage, Michael Coppel Entertainments and Louise Withers Presents, the 10th Anniversary Australian tour just completed a successful Sydney season and now moves to the Festival Theatre, Adelaide Festival Centre from December 29 2019 before then heading to Melbourne at the Regent Theatre from February 20 2020.

Featuring music by the legendary Elton John, book and lyrics by Lee Hall, choreography by Peter Darling and direction by Stephen Daldry, Billy Elliot the Musical has been seen by over 12 million people worldwide.

Acclaimed by audiences and critics alike, it is the recipient of 85 awards internationally, including 10 Tony Awards, 5 Olivier Awards and 8 Helpmann Awards.

Sharing the celebrated lead role are Omar Abiad (12, from Brisbane), River Mardesic (11, from Melbourne), Wade Neilsen (13, from Newcastle) and Jamie Rogers (13, from Canberra). The boys were cast following extensive auditions, and after months of intensive rehearsals will alternate in the role of Billy in the Australian tour of Billy Elliot the Musical. All four boys are making their professional debut playing this most extraordinary and inspiring role.

Starring alongside these talented boys as the tough but supportive ballet teacher Mrs Wilkinson is Lisa Sontag.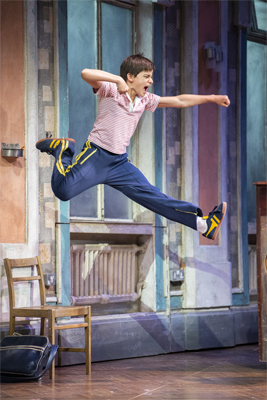 She made her professional debut in the original cast of The Boy From Oz before graduating from WAAPA and going on to productions including Guys and Dolls, The Boy From Oz and as Zelda Zanders in Singin' in the Rain.

Most recently, Lisa performed in and understudied multiple lead roles in MAMMA MIA! The Musical, The Producers, Hayes Theatre's Sweet Charity, Mary Poppins, Les Misérables, The Addams Family, Dirty Rotten Scoundrels and she won a Green Room Award for Best Supporting Actress in Grease – The Arena Spectacular.


Amongst other film and TV work Lisa is an accomplished dance teacher and choreographer also running her own Music and Movement Programs for Preschools.

Justin Smith joins the cast in the role of Dad, Billy's stoic father. Justin is an acclaimed theatre and screen actor with musical credits including Jesus Christ Superstar and Rent. Most poignantly he also starred as Tony, Billy's older brother in the original Australian production of Billy Elliot the Musical so it will be very special to see Justin take the generational leap and take on the role of the Dad in this heart-warming story.

Playing Billy's eccentric Grandma is actress Vivien Davies. Her extensive career has seen her perform in musicals including Les Misérables, Menopause the Musical, Buddy and Dusty as well in many and varied productions with the Melbourne Theatre Company.

Billy's hot-headed brother Tony is Drew Livingston. Drew's stage work has seen him work extensively since graduating from WAAPA in 2010 including productions for the Sydney Theatre Company and in the acclaimed Australian production of the National Theatre's War Horse.

Award winning actor Robert Grubb stars as George, a miner and the town's boxing coach. Robert is one of Australia's most versatile actors having worked extensively on stage and screen starring in many and varied television and film roles including Flying Doctors, Mad Max, and Gallipoli. Robert's musical theatre credits including MAMMA MIA! the Musical, Sunset Boulevard, We Will Rock You, which earnt him a Helpmann Award and most recently Priscilla Queen of the Desert.

Other adult cast members forming this outstanding company include Dean Vince (Mr Braithwaite), Danielle Everett (Dead Mum), Aaron Smyth (Older Billy), Damien Bermingham (Big Davy) and (in alphabetical order) Justin Anderson, Jordana Beatty, Dion Bilios, Rachel Cole, Josh Gardiner, Isabel Hawthorne, Matt Heyward, Barbara Hughes, Caroline Kaspar, Alexander 'Zan' Kermond, Zoë Komazec, Sarah Kate Landy, Michael Lindner, Jayme-Jo Massoud, Joe Miller, Joshua Russell, David Sirianni, Lisa Sontag, Tahlia Traecey, Darren Tyler and Paul Whiteley.

The incredible children's cast includes Mason Kidd, Hamish Monger, Oscar Mulcahy, James Sonnemann (Michael), Chanel Charles, Gabrielle Daggar, Ella Tebbutt (Debbie) and in alphabetical order Sienna Balewai, Tiarne Evans, Mia Jonson, Jamie Kelly, Melody Kurniawan, Tahlia McGregor, Sienna Miroforidis, Mica Santos, Indianna Thompson and Zoe Tsang.

The hugely successful West End musical premiered in Australia in 2007 as the first international production outside of the UK, prior to its Broadway premiere. With the first Australian tour concluding in Melbourne in 2009, this new 10th Anniversary Tour kicks off in 2019, ten years after the curtain came down in Australia. Billy enjoyed huge critical acclaim with Sydney and Melbourne audiences flocking to the theatre, however the physical design was so complex at the time, that touring beyond those two cities was not possible. Now with some clever adjustments, the Producers are delighted that this incredible stage production is able to tour to other capital cities. Now all of Australia can experience the magic and fall in love with Billy Elliot the Musical.

Based on the film of the same name, Billy Elliot the Musical is a funny, gritty, heart-warming and feel- good celebration following the journey of a young boy raised in a small British mining town. Set against the backdrop of the 1984/'85 miners' strike, Billy's journey takes him out of the boxing ring and into a ballet class where he discovers a passion for dance that inspires his family, the whole community and changes his life forever.

Billy Elliot the Musical premiered in London in 2005 and since then has been seen across five continents, winning numerous awards and millions of fans along the way. After winning five Olivier Awards including Best Actor in a Musical for the three Billys and Best Musical, the first international production opened in Sydney in 2007 which garnered eight Helpmann Awards including Best Musical and Best Actor in a Musical for the four boys who shared the role of Billy in 2008. This was followed by an incredibly successful Broadway run which had the extraordinary honour of winning ten Tony Awards in 2009, including Best Musical, Best Direction of a Musical and Best Male Actor in a Musical for the three boys that shared the role of Billy. Productions have been staged all over the world including the West End, Australia, Broadway, North American tour, Chicago, Toronto, The Netherlands, UK & Ireland Tour, Hamburg, Tokyo and Seoul.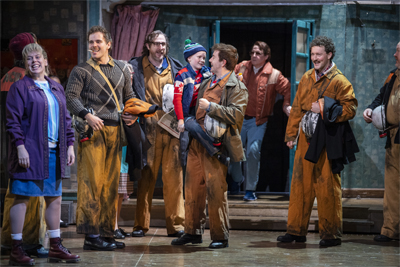 Billy Elliot the Musical was brought to the stage by the multiple award-winning creative team behind the film including writer Lee Hall (book and lyrics), director Stephen Daldry and choreographer Peter Darling, joined by Elton John who composed the show's score. The production features scenic design by Ian MacNeil, costume design by Nicky Gillibrand, lighting design by Rick Fisher and sound design by Paul Arditti. Musical supervision and orchestrations are by Martin Koch.

Adelaide – Festival Theatre From December 29th, 2019
Melbourne – Regent Theatre From February 20th, 2020
https://billyelliotthemusical.com.au


Interview with Lisa Sontag
As a graduate of the Diploma in Dance at Dance World 301, Lisa made her professional debut in the original cast of The Boy From Oz. Lisa then went on to complete a BA in Music Theatre at the Western Australia Academy of Performing Arts (WAAPA). Continuing her professional career, she went on to work with the Production Company in Call Me Madam, Guys and Dolls, The Boy from Oz and as Zelda Zanders in Singing in the Rain.

Most recently, Lisa performed in and understudied multiple lead roles in MAMMA MIA! The Musical, The Producers, Respect-the Musical, Mary Poppins, The Addams Family (Dance Captain), Dirty Rotten Scoundrels and played the role of Frenchy in Grease -The Arena Spectacular, opposite John Farnham, for which she won a Green Room Award for Best Supporting Actress. Lisa played the role of Helene in the premiere production at the Hayes Theatre's Sweet Charity and The Madame in the Australian tour of Les Misérables.

Lisa's theatre credits include Tanya in Love by Patricia Cornelius (Hothouse/Malthouse Production). Lisa's screen credits range from the Australian feature film Wil, to various film clips and televised variety performances. Lisa is an accomplished dance teacher and choreographer. Lisa runs her own Music and Movement Programs for Preschools around Sydney (Jam N Jive Juniors).

Question: Can you tell us about Billy Elliot the Musical?

Lisa Sontag: Billy Elliot the Musical is set in a little county in Northern England called County Durham in 1984 (you can imagine the hairstyles and costumes) during the miners' strike when Maggie Thatcher was in power, she was one-by-one closing all the mining pits, around the country causing the miners' in certain areas to go on strike to protest the pit closures. During this time we follow Billy Elliot's family as both his Dad and brother are miners on strike, Billy Elliot is a schoolchild who after doing a boxing class that he hates accidently stumbles upon a ballet class that he loves. At this ballet class he meets Mrs Wilkinson (my character), Billy's ballet teacher, and we form a special bond. Billy Elliot becomes Mrs Wilkinson's project as she sees amazing potential in him and asks him to audition for the Royal Ballet School providing him with the ticket out of the generational circle of mining work. Of course, Billy doing ballet is completely perverted to his father and brother as a boy doing ballet is incomprehensible. It's a beautiful story of a community banding together, acceptance and gender-identity, together, in a beautifully written story.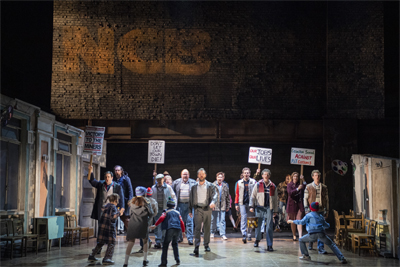 Question: You play Mrs Wilkinson, Billy's ballet teacher, can you tell us about how you prepared for your role?

Lisa Sontag: I worked really hard on the Geordie accent for Mrs Wilkinson as it is a very thick accent that can become a tongue-twister. I have been a dance teacher my whole life, so I was able to use that experience in the role as Billy's ballet teacher. I watched a lot of documentaries on the time to understand what the miners, their wives and families went through and what their roles were in society. I practiced very hard at learning to tap dance and skip on a skipping rope, at the same time (laughs)!


Question: What's your favourite part about Billy Elliot the Musical?

Lisa Sontag: For me, my favourite part is that Mrs Wilkinson is such a strong female character and she really stands up for herself when bullied by the male characters, in the play. It has been a very great character to play as she has inner-strength and life experience in standing up to strong male characters. I thoroughly enjoy the strong connection Mrs Wilkinson has with Billy, too.


Question: What's it like working with such a large cast of children?

Lisa Sontag: The kids are looked after so well and they all have chaperones; the only time I get to connect with the younger cast is right before we walk onto stage and I try to do that, every night. I make sure I speak to my Billy, before we go onto stage – it's important to form the connection. The cast of children are so funny and brave; it is amazing to watch them approach the stage fearless every time, it reminds me that what we do as actors is such a way of life and who you are, it's beautiful to watch.

There are four Billy's and there have been no challenges; what I love most is that every performance I have a different Billy and they deliver their lines slightly differently or with slightly different emotion and reaction and my job, as an actor, is to react to what they give me. I feel as if we're providing a fresh show, every night, it keeps me on my toes which is very enjoyable.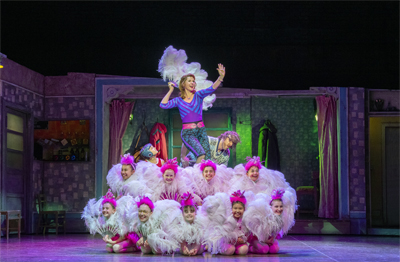 Question: How do you prepare ahead of a show?

Lisa Sontag: We do a vocal and dance warm-up on stage and then I go and have my full-80's makeup and hair done which really gets me into character. I like to do a quick line run of my big scenes, to get my tongue around the accent as it is fast dialogue and I like to get my mouth moving. I also go through my first dance number as the very first time I appear on stage it is in a song and dance number and I like to go through that, every night, to ensure it is fresh in my body and gets me into character. As I work with the kids, a lot on stage, I then go and connect with them, before we go onstage and I yell at them, as their dance teacher (laughs).


Question: What's a week like, when touring with Billy Elliot the Musical?

Lisa Sontag: We have Monday and Tuesday's off to recover as it is an intense performing week with two shows Wednesday, then Thursday and Friday night, with two shows on Saturday and Sunday. A lot of the cast have understudies who we have to rehearse with on Thursday and Fridays. It is an intense week for the cast and we really do love our Monday and Tuesday's off to rest, rejuvenate and rest our voices.


Interview by Brooke Hunter