Who runs the world? GIRLS!
Macinley Butson, is a super smart, young 17 year old Scientist and NSW Young Australian Of The Year - who is getting very vocal about the important of STEM learning (Science, Technology, Engineering, Maths) in schools.

She believes that the current school system is woefully lacking and not keeping up with the current times and rapid advance of technology in society.

Macinley is also a Ted Talker and an ambassador for Nintendo Labo which encourages young people to problem solve through logical thinking and play.



Interview with Macinley Butson
Question: How did it feel to be named the NSW Young Australian of the Year?

Macinley Butson: This was honestly one of the most humbling awards I was very honoured to receive. I hope that I will be able to use this award to speak out more about ideas which I am passionate about, inspiring young people to become more involved in STEM and fostering their curiosity. I was shocked at first as it wasn't something I had ever expected, but I now see it as an opportunity to advocate for young people and what we can bring to the table.


Question: Could you tell us about STEM learning?

Macinley Butson: STEM learning encompasses science, technology, engineering and mathematics, and is taught through an interdisciplinary and integrated approach in authentic contexts. Through this teaching it not only deepens our knowledge and understanding, but develops critical analysing skills and encourages creative thinking, important in today's society.


Question: Why is this form of learning so important in schools?

Macinley Butson: STEM learning in schools encourages the development of critical thinking and through inquiry or project based learning, deepens student knowledge and understanding, offering concepts which young people find fascinating.

I believe that prior to school, children are naturally curious learners and that during primary school we should continue to foster the curiosity, ever present in young children - encouraging them to constantly explore and question the world around them. Through inquiry based learning we can allow children to question the simple aspects of life, whilst guiding them to find answers and enabling them to build their own conclusions.

I believe once high-school is reached, we should strive to continue this learning. STEM based subjects are integral in the real world and high school should equip students to enter into this world, which will require them to be critical thinkers whilst being creative and innovative with information. Many students avoid these subjects because they perceive them as -too hard'. I believe students shouldn't fear them, but instead become excited at the prospects of exploring and finding answers to real world problems.


Question: How can schools begin to incorporate STEM learning into the current system?

Macinley Butson: I think this is a very difficult question to answer. The current schooling system is definitely improving and integrating STEM learning into schools. This can be seen in the example of the new Extension Science course being offered this year in the NSW HSC, a research and practical based subject, which encourages deeper thinking and exploration.

We are living in the information age, a time where we have grown up with the world at our fingertips. This generation has been able to source information, consume it even, without limits, and we now need to be able to use this valuable resource to shape the future. But it is not access to information that will change the world; it is our ability to be creative and innovative in using it. We do not gain experience from reading about action: we gain experience from being active; by doing. We can begin by giving students time out of the classroom to network with industry, such as what will happen in the NSW HSC Science Extension course - a paradigm shift in our approach to learning. Science, Technology, Engineering and Mathematics, in my opinion, provide the fundamental skills and insights that will solve global issues. People are looking to STEM to provide answers, whether addressing climate change, curing diseases or providing the next must-have-gadget. We have already started to become dependent on STEM for our advancement and now more than ever is the best time to be involved.

If we can connect students to industry and universities whilst they are still in school we can flood communities with new ideas which aren't constrained by limitations or boundaries, and better prepare and equip them for the future.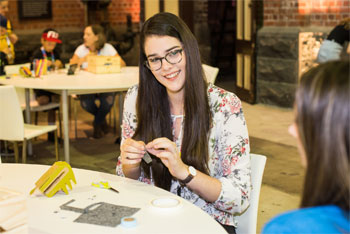 Question: How can parents ensure their children are up-to-date with rapid advance of technology in society?

Macinley Butson: I think it is important to be up to date with technology, but this can be very expensive and out of reach for many families so focussing on critical thinking skills and logic are imperative for student development. Technology is incredibly important in the learning process, and parents can ensure that children are learning through fun play and through discovery with products such as the Nintendo Labo.


Question: Why are you such a big fan of the Nintendo Labo?

Macinley Butson: I think that the Nintendo Labo is a fantastic example of creative advancement in technology, which is able to assist in STEM learning, whilst maintaining the idea of fun and play. I have personally played with this device, and I loved it! It is able to be adapted for all ages, with the -Make' aspect being perfect for younger children, developing their tactile and fine motor skills, whilst the -Play' and -Discover' sections allows users to delve deeper into how the programming works. This device is incredibly versatile, allowing people of all ages to use the Nintendo Switch to learn coding and create their own programs - a very rewarding process.


Question: How does Nintendo Labo encourage problem solving through logical thinking and play?

Macinley Butson: I believe the -Discover' part of Nintendo Labo is a new concept in technologies, and allows users to develop a deeper understanding of the device and its function. It encourages children to code, and use the product for different purposes, which they create and determine for themselves! It encourages problem solving and logical thinking by constantly having to think ahead to design and create your own game, all the while doing it in a fun , -play' environment.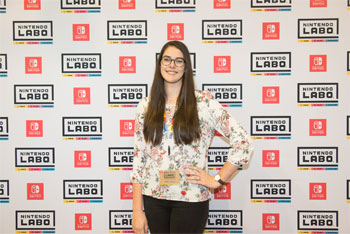 Question: Can you talk us through your goals, for the year ahead?

Macinley Butson: At the moment, I am completing my final year of school, which takes up most of my time. However, (when I'm not studying) I will be working on getting my device, the SMART Armour, into hospitals. The SMART Armour (Scale Maille Armour for Radiation therapy) is a device for breast cancer patients undergoing radiation therapy. It has been approved by the Therapeutic Goods Administration (TGA) for Australia and is currently undergoing a pilot study at the Chris Obrien Lifehouse in Sydney.

I am also hoping to use my award to speak to more people to, spread the word about the importance young people play in our society, and aiming to inspire teenagers to explore areas of STEM and where it can take us in the future.


Interview by Brooke Hunter