Matt LeGrand spent his infant years in France and at the age of seven years old, his family relocated to Chicago. As he grew older he found himself exploring the wide variety of musical inspirations that the windy city had to offer. The exploration didn't stop there, he found himself actively learning a wide variety of instruments, from the guitar to the drums, even dabbling with songwriting; it didn't take much for him to completely fall in love with music.

Eventually, Matt found his own sound, a powerful, energetic mix of soulful grooves and hard hitting pop hooks which caught the attention of the music industry, and later landed him a nomination for MTVU's The Freshman Video contest. In 2017, Matt released his summer hit single "All Good" which debuted with highly-acclaimed reviews from the Huffington Post saying "Matt LeGrand demonstrates he has the vocal chops, personal charisma and musical awareness to produce a superb pop song."

Since then, Matt released his singles "12:00am" and "I've Been Watching You (feat. Mestiza)" which landed him a feature Billboard Magazine's "Emerging Artist" Category in December 2019. Matt's single "I've Been Watching You" featuring Venezuelan hip hop artist, Mestiza, has over 1.3 Million Streams. The pair performed the song live for iHeart Radio and the song has been featured on many Spotify playlists including, the "Netlifx and Chill" Playlist and "Sex Songs" Playlist.

Matt plans to release his very first EP in November 2020. Needless to say, this is only the beginning for Chicago's Prince of Pop.


Interview with Matt LeGrand
Question: How would you describe your music?

Matt LeGrand: I'd describe it as constantly evolving. One thing I pride myself upon is my versatility. I've never been good at just doing one thing. Every time I release something, I make sure that it makes me feel something so I know it has the best possibility of making you feel something. We as artists have the wonderful opportunity to make people feel, dance, cry, think, smile and laugh. I can guarantee at least one of those when turning on my music!


Question: Can you tell us about Crazy Bout Cha?

Matt LeGrand: Crazy Bout Cha is such a fun song! My manager Bryant Reid had the idea of bringing a familiar sound from a different time. Giving the song a major throwback feel. A sample ended up getting used that is originally from the song "Jungle Jazz" by Kool and the Gang! It was used again in "Don't Walk Away" by Jade. I give Mr. Reid so many props for this direction. I knew this song was going to have a more urban/RnB feel which was so different for me. I was a bit nervous to give it a try to be honest! I was able to pull it off and now it's out! It's really cool how songs come together. The song was wonderfully produced by Dave Jam and Ray Rush! Roll your windows down and go bump this hit! Mr. Reid played the entire EP for 4 college focus groups and they all predominantly chose Crazy Bout Cha as the single.


Question: What inspired the music video?

Matt LeGrand: The music video is directed by Randy Marshall and his eye is so great! Honestly, the perfect person to bring the visual to this song. This song screams Atlanta and ATL is where this song was formed. From Bryant Reid to Dave Hall to Randy Marshall, I'm blessed to be surrounded with icons that know what's up. I'd say that the city of Atlanta helped inspire not only the video but everything this song is. I'm from Chicago but have been working in Atlanta for the past 4 years and I've loved the energy of this city! I've been hearing the word Hitlanta lately. I like that word!


Question: Is there a particular message you hope listeners take from your music?

Matt LeGrand: Yeah definitely! I hope that people can be reminded about the positivity and may I say "goofiness" of life. For example, with my song All Good, I hope that people can tune into loving themselves and replace fear with hope. With Crazy Bout Cha, I hope people can dance and channel the confidence to go up and tell that person you're crazy about them!


Question: Has growing up in France influenced your music?

Matt LeGrand: Good question! You know it's starting to as I get older. I grew up there at a very young age, from 1 to 6 years old. Even though I came to the USA not knowing any English, I feel much more American than I do French. With that said, as I am getting older I am starting to go back to my roots a bit more and have definitely thought about writing music in French. I can't wait and I already know that the demand is there!


Question: Do you prefer performing live or recording?

Matt LeGrand: I enjoy both so much. They're so incredibly different. With recording you have an opportunity to try a lot of different things and take your time. I like that you can collaborate with so many different people and it's all so moveable. I think I'll have to say that I prefer live performance though! There really is nothing like performing in front of people. Every performance is different and no one will ever get the same exact performance. That's exciting to me!


Question: Which is your favourite song to perform live and why?

Matt LeGrand: My favorite to perform live is my musical intro leading into my song All Good. It's like a prayer for me. It sets the mood for the whole show as I make sure that my performances are all about self-love and people having a safe space to be fully themselves.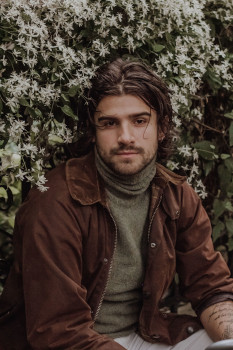 Question: What motivates you most when writing music?

Matt LeGrand: To be honest, heartbreak motivates me the most. It's very powerful and healing to put an experience into writing, especially painful ones. It's weird but I love to write about healing and moving on from past relationships.


Question: What or who was your inspiration to go into the music industry?

Matt LeGrand: My brother was a big inspiration to not only start playing music but to pursue it. He is an outstanding musician that will always inspire me. Blink-182 and Green Day also had a great effect on my decision to pursue music as a career. I wanted to be Tré Cool so badly! I dressed like him and decked out my drum set just like his.


Question: If you could collaborate with another artist, who would it be?

Matt LeGrand: I would collaborate with Harry Styles. He just seems like one of the coolest guys to be around! I was also a big One Direction fan and I say that proudly.


Question: What is the biggest challenge you have faced along the way to your musical success?

Matt LeGrand: The biggest challenge I have faced and still do is being a front man performer. I started in bands where I was a drummer first and then a guitarist. Singing didn't happen until it wasn't working out with the singer of my first band. I was asked to step up to sing and I very nervously accepted. I eventually decided to go solo and really learn how to sing. Along with that I needed to learn how to move like a performer. I started watching a lot of Justin Timberlake and began dance classes which I battled with for a moment. I didn't like dancing at first but it's been one of those things that has kind of stolen my heart. It's been a long road since then and it's now starting to click nicely! I've been in artist development the past 4 years now and I look forward to being in it for the rest of my career as I believe that we are always a work in progress.


Question: What's a typical day like?

Matt LeGrand: Typical day for me always starts with a coffee and a meditation reading to think about. I'll then look at all the things I have to do that day. I'm pretty much doing something with music every single day, whether it's for my career or producing music for somebody else's. When I'm home and off though, I'll usually see friends, workout, eat wonderful food, and relax. When I'm traveling it's a bit nonstop as I am usually either recording, shooting music videos, doing photo shoots, press work, and appearances!


Question: What has been your favourite part of becoming a music artist?

Matt LeGrand: My favorite part is simply doing what I love and seeing people enjoy it. The freedom to create is also so incredibly special. The opportunity to use my voice to hopefully help someone turn a bad day into a good one and a good day into a great one. To have a career in the arts is not simple and I'm blessed to be at the start of one!


Question: What's next, for you?

Matt LeGrand: Well we had quite a bit planned for this year and as you can guess the pandemic stopped a lot of it. We hope to accomplish as much as we can in 2021! This year is not done though as I have another single out, called "All Good TaTo Bien Remix" it's featuring the Latin Reggaeton group ERRE XI leading up to my debut EP on Black Friday November 27th, 2020. We will be keeping our ears peeled on if tours are coming back in 2021 because you may just see me on one!


Question: Can you share your socials? (links please)

Matt LeGrand: Yes sure!
Text me +1 312-584-2661
Instagram
Twitter
Facebook


Interview by Gwen van Montfort