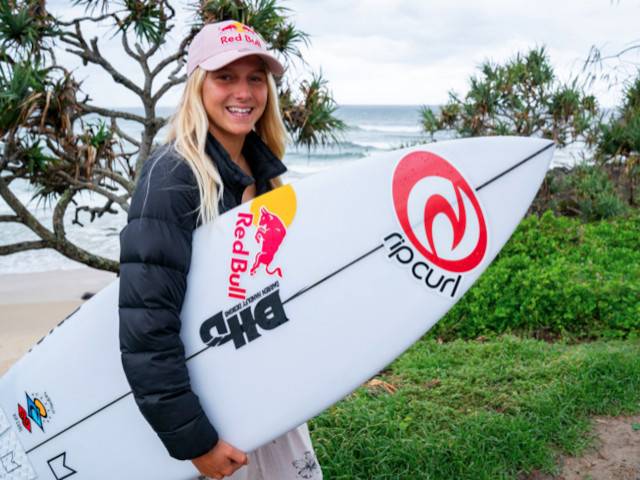 In an official welcome capacity, Molly paddled out in her first Red Bull sponsored board with world renowned surfer Mick Fanning to catch waves in Tweeds Head.
There are few surfers that have garnered as much recognition as Molly Picklum has over the last few years, and for good reason. At 18 years old Molly has two back-to-back Australian Championship Titles to her name (U/16, U/18), she won the Australian Pro Junior in 2019, and was also named Female Rising Star at the Australian Surfing Awards in 2020.

When she's not in the water winning heats, you can find Molly in the lineup at her local beach break on the Central Coast of New South Wales, Australia. It's in those punchy beach breaks north of Sydney that this star on the rise has spent hours in the water honing her technique both above and below the lip.

"I am so excited to be part of the Red Bull family. The support Red Bull gives me makes a huge difference to my performance. I am only early days in my surfing journey but the Red Bull team go above and beyond to help me achieve my goals.

Getting my hat from Mick and having a surf together today was pretty special…I feel lucky to be on a team with incredible athletes like Mick." Said Molly Picklum.

Molly is currently competing in the WSL qualifying series and is the wild card for Bells.

About Molly:
Meet Molly Picklum, the talented young surfer tipped to follow in the footsteps of Australian legends Stephanie Gilmore and Layne Beachley.

At just 18 years of age, Molly is making waves both locally and internationally. Regarded as Australia's most promising junior surfer, she is currently competing in the WSL Qualifying Series and is poised to join the WSL Championship Tour in the coming years.

Born in Gosford NSW and now residing in Shelly Beach NSW, Molly's surfing talent was apparent early. Her impressive resume already gives a glimpse to her exciting future in the sport, while her down to earth nature and bubbly, outgoing personality have already made her a favourite on the tour.

Molly has high aspirations – her goal is to be one of the best surfers in the world, winning World Tour events, Titles and Gold medals while earning respect and inspiring people throughout her career.