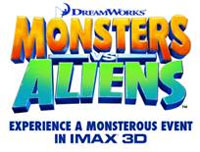 Oooze gonna save us?
The Monsters vs. Aliens battle hits the world?s most monstrous 3D movie screen on April 2.

Adjust your IMAX 3D glasses for some eye-popping fun and monstrous laughs as a ragtag bunch of hilarious, larger than life monsters fight to save the world from an alien invasion in Monsters vs. Aliens: The IMAX 3D Experience which premieres on April 2 to coincide with the nationwide 35mm release from DreamWorks Animation and Paramount Pictures.

In the animated comedy Monsters v. Aliens, Reese Witherspoon voices the character of Susan Murphy, a woman who is unwittingly clobbered by a meteor full of outer space gunk on her wedding day. The accident causes Murphy to grow into a five-storey monster, nicknamed Ginorniica.

Alerted to the threat of this new Monster, the military immediately jumps into action and Susan is captured and secreted away to a covert government compound where she meets a ragtag group of incarcerated monsters who have been rounded up over the years. The out-of-this-world ensemble includes the brilliant but insect-headed Dr. Cockroach, Ph.D. (voiced by Hugh Laurie) the macho half-ape, half-fish, The Missing Link (Will Arnett) the gelatinous and indestructible B.O.B. (Seth Rogen) and the 350-foot overgrown grub called Insectosaurus.

Their confinement is cut short, however, when a mysterious alien robot lands on Earth and begins storming the country. In a moment of desperation, The President (Stephen Colbert) is persuaded by General W.R. Monger to enlist the motley crew of Monsters to combat the Alien Robot and save the world from imminent destruction.

Directed by Rob Letterman ("Shark Tale") and Conrad Vernon ("Shrek 2"), produced by Lisa Stewart ("I Think I Love My Wife") and co-produced by Jill Hopper and Latifa Ouaou, the film marks the theatrical debut of DreamWorks Animation's InTru3D, wholly conceived, developed and authored in 3D.

The film has been digitally re-mastered into the unparalleled image and sound quality of The IMAX Experience through IMAX DMRa (Digital Re-mastering) technology. With crystal clear, larger than life images and state-of-the-art digital surround sound, IMAX puts audiences in the movie. Audiences will EXPERIENCE A MONSTROUS EVENT IN IMAX 3D? - the most immersive cinematic experience around.