Despite the challenges presented by the global pandemic, the jewellery market has continued to shine in recent years.

As our buying habits shifted to digital, online shopping grew in confidence in 2020 with digital jewellery sales almost doubling. This, combined with consumers prioritising small-luxuries and timeless purchases, means spending has continued to grow, with the global jewellery market expected to be worth US$518 billion by 2030.
Enter
Narvi
"
an
Australian
-
based
,
expertly
-
curated,
multi
-
brand designer e
-
tailer
cater
ing
to our
craving for more objects of desire.

From strikingly simple everyday pieces to statement jewellery and bridal designs, Narvi offers a selection of ready-to-wear jewellery in more than 1,000 styles from a rollcall of established and emerging designers, making it easier than ever for modern consumers to meet their jewellery match.
F
ounded
by Miranda Gillespie and Hannah Bowden,
the
virtual boutique
offers a platform to
a
growing number of independent designers
while also making the search for
unique
fashion
jewellery
online
less overwhelming.
"We were finding it increasingly frustrating to wade through mass market pieces in search of truly
distinct designs, so we wanted to bring
independent designers
together in one easy
-
to
-
shop
platform,"
Gillespie
says.

"Independent fashion jewellers have transformed the jewellery landscape in the last decade, bringing a cool, contemporary aesthetic to the once-traditional world of precious metals and diamonds, opening up fashion jewellery as an attainable option for all" says Bowden.

From Paris to Istanbul; Israel to the US, Narvi has uncovered the most unique and beautiful pieces from emerging brands, along with designs from cult-jewellery labels including Deepa Gurnani, Elizabeth Cole and Emily in Paris favourite Ottoman Hands.

"We want this exclusive edit to give consumers the passion and confidence to buy, wear, collect and most importantly, truly enjoy jewellery," says Gillespie.

"We found there wasn't anywhere online that gave consumers all of their jewellery needs in one place – and now there is with Narvi. Our mission has been to curate a collection of unique and hard-to-find pieces unlike anywhere in the world, while also providing a seamless shopping experience."

Gillespie, who also founded renowned, pre-loved, re-commerce destination Luxe.It.Fwd " and is fast becoming one of the country's most intriguing young fashion entrepreneurs " says Narvi also offers conscious consumers style, that doesn't compromise the planet.

"We are proud to partner with designers who engage in ethical sourcing and practices, champion women-led businesses and drive sustainability changes within the industry," she says.

"Further to that, we are seeing a growing shift in consumer sentiments away from the onslaught of new-season products and a desire for more meaningful luxury against the backdrop of the climate crisis. This has seen a growing number of treasure seekers turn towards beautiful, keepsake pieces," she says.



Review: Exquisite range of jewellery to sparkle and make a statement at any event or outing. Above featured Throne Earrings are absolutely stunning and are my new favourite giving a wow factor to any outfit and uplifting my mood.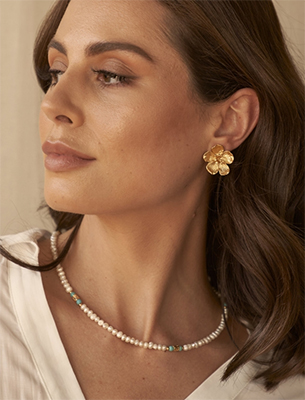 Throne Earrings $109.00
Buttercup Flower Studs $99.00
Narvi.com.au @Narvi.Jewellery #narvijewellery