Natalie Tink Miss Monogram Interview
Natalie Tink has launched her newest business, Miss Monogram.

Natalie Tink is a Sunshine Coast Young Business Woman of the year. She runs Coast to Coast Media, My Real Estate Voice and the incredibly successful Mrs Tink blog which reaches thousands of women a week. She was also a finalist in Sunshine Coast Style Awards for 2016.


facebook.com/missmonogramofficial
instagram.com/missmonogramofficial
Interview with Natalie Tink
Question: What is Miss Monogram?

Natalie Tink: Miss Monogram is an online store specialising in bespoke monogrammed pieces that are as individual as you.


Question: What inspired the creation of Miss Monogram?

Natalie Tink: I saw a gap in the marketplace. Being surrounded by so many dynamic and inspiring women on the Sunshine Coast, I knew that all these women like myself have incredible pride in their name and I wanted to create a brand that would let them incorporate that into their everyday style.


Question: How long have you been working on Miss Monogram?

Natalie Tink: Twelve months.


Question: Can you tell us about the current collection?

Natalie Tink: Yes, it is fun and designed to be versatile for both day and night. It is made from quality leather and hardware and not only is it fabulous but also practical as each bag comes with card holders and enough space for all your daily essentials.


Question: How do you continue to create fresh content for your Mrs Tink blog?

Natalie Tink: By keeping it real because it is my life. Listening to my readers and not overthinking it, the second I overthink I lose people.


Question: What advice do you have for women wanting to create a successful blog?

Natalie Tink: For longevity you have to be true to who you are, have a passion for it and think outside the box. You have to be open to collaboration with your readers and know it is not about you. It is incredibly important to reply to every reader that comments. I cannot put myself on a pedestal because without my readers I am no one.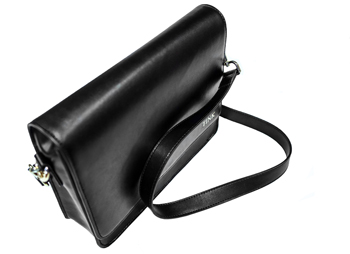 Question: What's a typical day like, for you?

Natalie Tink: I own and operate a national publication and digital marketing company. I am married to Brad and have two children aged seven and two. I write a daily blog and have recently launched Miss Monogram. I am juggling more balls than a circus clown. I have to do 45 minutes of exercise six days a weeks and home work with my seven year old. I also make sure that if I am not there for bedtime I am always there when they wake up in the morning. I also always make lunch for my children every day. If I can't do anything else I make sure they are eating well.


Question: What's next, for you?

Natalie Tink: Growing Miss Monogram, it is something I am very passionate about and taking that to a national level. Continuing to keep all the balls in the air with my family and other businesses. I would like to grow my blog further and do more business mentoring and hopefully some overseas travel.


Interview by Brooke Hunter
Jason Hay Photography