Back to School and Work
The silly season is over, the suitcase has been emptied and contents packed away. Now all thoughts turn towards going back to work and getting the kids ready for the new school year ahead. Cheer yourself up and get motivated with some smart new home office furniture for you and a neat study zone for the kids.
Here, Craig Evans, national visual merchandiser, Fantastic Furniture shares his top tips to help you get organised for the New Year ahead:
Work/Play Zone – if your children have space in their room, set them up with their own desk where they can have time away from the busy-ness of the house to do some quiet study or enjoy some down time with art and craft. Having their own -quiet zone' can create the conditions required for concentration and independent work - important skills for young students to foster.
Desk Style – if you are setting up a work station in your home, then ensure the style of desk will co-ordinate with your existing furniture. If you have a modern home, then opt for something light and lovely in fresh white that is sleek and slimline and won't overcrowd, such as Fantastic Furniture's Hayman desk. It features a discreet, handy drawer to keep stationery neatly stored and the desk top clutter-free, price $249. If you prefer a more traditional look, then opt for solid timber with a sturdy design style.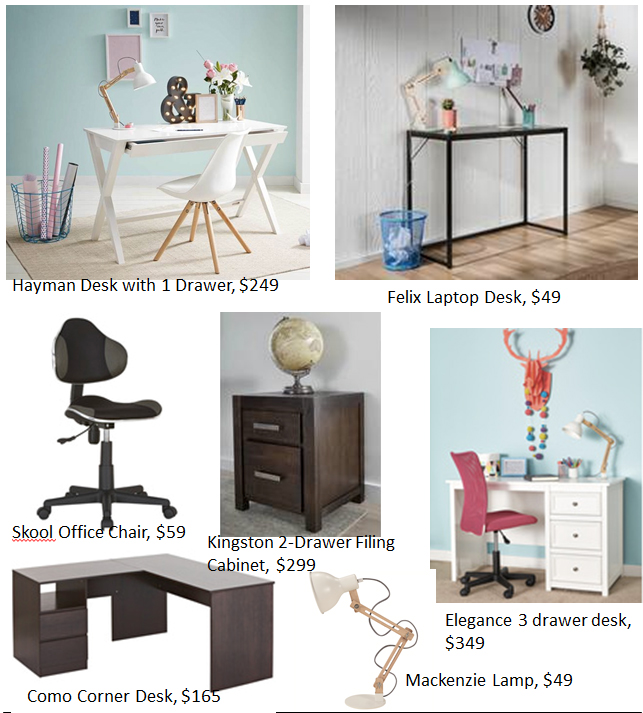 For young children, just having a small work surface upon which to balance a laptop or notepad or place an exercise book and elbow, such as the Felix Laptop Desk, price $49, might be enough. For older children whose study needs are more complex or time consuming, it's worth opting for a more substantial desk with enough surface space to spread books and equipment around.
Size – if you work from home, then you will need to have a sizeable desk to spread out to keep everything on hand. There is nothing more inconvenient or untidy than stationery and paper hanging off the edge of a desk to house a laptop, printer and all the other necessary items needed to keep you working smoothly. A corner desk, such as the Como Corner Desk, price $165, is a great home office option. It can fit snug up to the corner of a wall, which is a fantastic space saver, especially if you don't have the luxury of a separate room to work in.
Storage – having a place for everything and keeping everything in its place, is the key to organisational success. Even if you just need to pay the bills on time every month, knowing where they are and then having a place to file them away, will ensure you can keep on track with household expenses. Opt for a desk with built-in drawers and keep pens, pencils and stationery items to hand. A filing cabinet is also a great option. Many can be purchased as part of the desk set for a co-ordinated look. Organise your files per person or subject matter and you're on top of your game!
Neat Seat – if you and your family spend any amount of time sitting at your desk, then a comfortable chair is important. Opt for a gas lift so you can adjust your height and go for a swivel back so you can have full range of movement across the length of your desk without having to stretch and strain your back. Wheels also help posture, allowing you the freedom to move around and stay comfortable. The Skool Office Chair, price $59 is a great choice for both home workers and kids. It is comfortable and stylish and comes in a choice of liquorice or red racing stripes.
Lighting – ensure your child has optimum lighting to view texts and see their work. With the increase of computer use, it's also important to avoid glare from overhead lights which can obstruct vision. An angle poised lamp, such as the Mackenzie Lamp, price $49, is the perfect lighting solution, allowing students to move it to suit. This lamp also comes in a choice of three versatile colours to suit your interior style.