Potent, haunting and lyrical, Night Blue is a debut novel like no other, a narrative largely told in the voice of the painting Blue Poles. It is a truly original and absorbing approach to revisiting Jackson Pollock and his wife Lee Krasner as artists and people, as well as realigning our ideas around the cultural legacy of Whitlam's purchase of Blue Poles in 1973.

It is also the story of Alyssa, and a contemporary relationship, in which Angela O'Keeffe immerses us in the essential power of art to change our personal lives and, by turns, a nation.

Moving between New York and Australia with fluid ease, Night Blue is intimate and tender, yet surprisingly dramatic. It is a glorious exploration of how art must never be undervalued.

About the author:
Angela O'Keeffe grew up on a farm in South East Queensland and now lives in Sydney. She completed a Master of Arts in Writing at UTS and has had short stories published in literary journals. Night Blue is her first book.

Night Blue
Angela O'Keeffe
Transit Lounge
ISBN: 9781925760675
RRP: $ 27.99


Interview with Angela O'Keeffe
Question: What originally inspired the idea of Night Blue?

Angela O'Keeffe: I've always remembered how my parents, like many others, were appalled by the purchase of Blue Poles in 1973. How they went on about it at the kitchen table. Looking back, it seemed such a revolutionary thing to have happened-- that the whole country was talking about a painting.


Question: How much of your inspiration comes from real life and real people?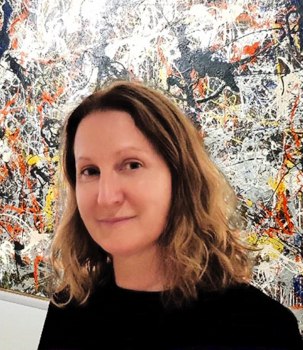 Angela O'Keeffe: Some of the characters in Night Blue are taken from real life, obviously. Jackson Pollock, Lee Krasner, Gough Whitlam and some others. But for these "real life" characters to live on the page they have to be imagined just as completely as the fictional characters, such as my other narrator, Alyssa. So I would say I was very much inspired by real life events, and people, but then you have to do something with it, you have to give it all life on the page.


Question: Is there a message you hope readers take from Night Blue?

Angela O'Keeffe: No. I don't think it's my role to assign a message. In fact, it goes against what I believe the act of reading to be about – discovery. If I hope for anything it's that the reader feels or experiences something new through reading this book, that reading it sort of widens their inner world.


Question: What research did you do, prior to writing Night Blue?

Angela O'Keeffe: I researched as I went along. When the voice of Blue Poles first came to me--I'd probably written ten or so pages--I hopped in the car and headed to Canberra to see the work. I stayed a couple of days and kept going back; that laid some of the groundwork. I wasn't sure what I was looking for. I was just looking. I read a lot, watched videos of Pollock painting, etc. Eventually I visited the Barn on Long Island, New York, where Blue Poles began.


Question: Which character is your favourite?

Angela O'Keeffe: Well normally I would say Blue Poles, but right now I am drawn to Alyssa, my other narrator. She's insightful, impulsive, clumsy"she's one of those people who thinks they might be a failure at life and doesn't know how to change that; she's filled with these half formed hopes that she can't help but be led by; to me she's charming and funny and deeply perceptive.


Question: What advice do you have for aspiring writers or artists?

Angela O'Keeffe: Read a lot. Find the books that move you. That stop you in your tracks. And learn to read them closely, like a writer.


Question: What or who inspired your love of reading/writing?

Angela O'Keeffe: The sound of my mother's voice reading me fairytales will always be with me.


Question: What's next, for you?

Angela O'Keeffe: Another novel. This one has art in it too. And gum trees.


Interview by Gwen van Montfort