New York glamour has jetted into Novo Shoes with the arrival of Nina for Novo's new range of stylish stilettos and heels. Perfect for any bride-to-be these beautiful shoes will shine as brightly as you do on your big day. No attention to detail has been spared, with the collection showcasing diamante embellishments, satin finishes and delicate bow detail.

With the new collection of Nina for Novo shoes you can be sure to put your best footforward. Whether walking down the aisle or kicking up your heels during your firstwedding waltz, Nina for Novo will carry you effortlessly through the day.

The Nina for Novo range has something for every bride and members of the bridal party.From vintage-inspired fashions to modern classics, Nina for Novo has the perfect heel forevery occasion. Available in beautiful gold and silver hues as well as deep red, black,coral, raspberry and champagne, the collection allows every woman to look - and feel -like a star on her wedding day.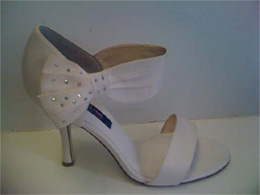 Nina for Novo heels come in a variety of heights ensuring a smooth transition fromwedding to reception. Be it a kitten heel or stiletto, the collection has the perfect shoe foryour happily ever after.

Nina for Novo shoes range $119.95 to $179.95 so you can step out in style and into bridalbliss without breaking your budget. The Nina for Novo range is available at select NovoShoes stores, which are located around Australia and New Zealand.

www.novoshoes.com.au
Novo stockist number (03) 9315 1666