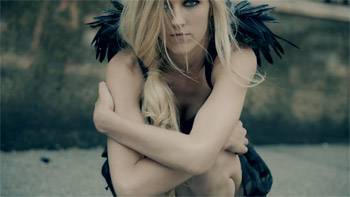 Penelope Austin Trigger Interview
Penelope Austin was born in the Southern Highlands of New South Wales and moved to her spiritual home, New York City in 2006 with a guitar and a hundred and fifty dollars in her jeans.

Austin wrote her first song at fifteen with a guitar stolen from her high school.

It was the year her mother passed and the young singer went to America for the first time. Finding herself in the desolate and alien landscapes of Oklahoma, travel marked the years that followed and she continued to compose, her guitar rambling with her throughout the world and even backstage on tour with the Rolling Stones through South America.

A true nomad at heart, this ethereal sense of Other begins with her voice. Delicate and raw, vulnerable and passionate, Austin's vocal stretches into an invented landscape populated by elemental images: fire, flames, clouds and water.

Austin has just put the finishing touches on her debut album, produced by long time collaborator and writing partner, Robert Conley. The album was mixed by award-winning and renowned UK mix engineer, Cenzo Townshend (Florence and The Machine, George Ezra, Snow Patrol), due for release late 2015. Her intro single -Dynamite' featuring up-and-coming rapper Baro stirred blog attention, with a bright, glittery video clip shot in LA introducing her natural swagger. -Trigger' is the next taste of what's to come, an addictive single written and shot in NYC with a seductive lyric that just keeps on coming…

The video for -Trigger' was shot with a low budget in NYC directed by A-list commercial and video director, Caitlin Felton and edited by her husband, Whitehouse post editor, Barney Miller. Caitlin is a renowned TV commercial director, who started her career as a director for MTV in New York. Barney is an MTV award nominated director and editor. Barney has worked on videos for artists and directors as far ranging as Kanye West, Fat Boy Slim, Elvis Costello and The Yeah Yeah Yeahs. Watch the video here.

Following the release of her single Dynamite featuring Baro, Penelope Austin was invited to showcase at the 2015 APRA Music Awards where she performed on stage with Thief and M-Phazes, covering Kasey Chambers and Bernard Fanning's -Bittersweet' to critical acclaim.



Interview with Penelope Austin
Question: How would you describe your music?

Penelope Austin: My music is a creative interpretation of my life. The high's are high and the lows are low down. Im not only referring to lyrics - the music itself is quite extreme in the same context. But there's also a playfulness to the album. I guess its all sorts of dark, sexy, raw and real.


Question: Can you tell us about the video for Trigger?

Penelope Austin: It was a massive dream to shoot Trigger in New York City. I used to sit on my apartment stoop wondering how I was to make it in the industry and now I had the opportunity to return and shoot.. We tried to capture a kind of bad girl gone good in the visual narrative - with the overriding theme being that of running back into the arms of a lover. In the end of the clip there's a shot where I'm hanging up feathers from the wings I had worn previously.. Symbolizing the transition of the thrill of lust to the purity of love.


Question: Do you write your own songs? What's your inspiration?

Penelope Austin: Yes. I write all of my own music and also for other artists under an alias name. I draw inspiration on the world going on around me. Love Power Passion Sex Heartache Loss. They're always a great starting point! Generally though I can click into a hypothetical scenario and try feel something. This something then turns into a first line and almost before it even started I've written the last word.


Question: What music/artists do you listen to when you are not playing your own?

Penelope Austin: I love how music creates a sensation. It can transport you back in time to particular feelings or memories being treasured or tortured. A lot of the music I listen to comes from the music my mother once blast. I love Bruce Springsteen, Annie Lennox, Elton John, Whitney Housten, Simon and Garfunkal to name a few. I also love Florence Welsh.. Lyrically she's a poet. I tend to like music which tells a story. That's emotive.


Question: What's next? Tour/Album/Single?

Penelope Austin: We've just released Trigger. It's really exciting to see this come to life. I've recorded my entire album that's due out later this year called "Catherdral Parkway" and you'll be sure to see me on a stage near you soon.


Question: Was there a moment you contemplated throwing in the towel?

Penelope Austin: I was in NYC working pretty tirelessly to survive. I had my guitar and that was about it. I wrote a lot throughout this period however I had no means to record or reach out to a label with any substance other than my word and voice and a not so great understanding of even myself. I didn't know how to reach out. I was exhausted and felt a little hopeless. I now see that this period in time had to happen for me to truly appreciate that this part of my life was part of the journey to this point right now.


Question: Do you prefer performing live or recording?

Penelope Austin: My first reaction to this is recording. I love being in the studio and exploring sounds musically and vocally. However.. After my initial jump of the gun... The stage is such a thrill. I was once scared of this space but now it's my sanctuary. I feel that now I have recorded the album and been through that process - performing has become a natural progression. I feel more at home on the stage then I do when I'm left to myself!


Question: What/who was your inspiration to go into the music industry?

Penelope Austin: My mother and Sarah McGlaughlan. When I lost her as a teenager I came across Sarah's live album Mirrorball and that music was my saving grace. Her words really helped me through a really dark place. I recorded 'In The Arms Of An Angel' at my high school for no one really other than myself... Before I knew it the scratchy recording had been passed through many hands until one day I got a call from a producer who lived at Jimmy Barnes home in the Southern Highlands. Boom. My life had a purpose. Sarah MaGlaughlan is still a huge part of my heart and I truly believe that my mum is pulling all kinds of strings from beyond the horizon. They are what inspired me.


Question: What is the biggest challenge you have faced along the way to your musical success?

Penelope Austin: You work so hard at your craft usually juggling several jobs at once to survive. You spend your last cent on a plane ticket to jump ship in the hope a writing session may work out or the crowd in London like you. Sometimes it's hard to see people around you work less for more but that's the beauty of it. At the end of the day it teaches you that money and beautiful things are just that. Doing something you love. Following your bliss. Living your passion is the truest accomplishment. There've been many times people turn their backs. Tell you to perhaps give up. It's a hard pill to swallow. But it's moments like these in the release of my debut album I'm so thrilled I stayed true to myself.


Question: What's a typical day like?

Penelope Austin: I'm very habitual! Excersise is important whether it be weights or yoga. I love to cook so I do spend a lot of time thinking about my next meal and I WRITE, everyday. There's no such thing as a typical day anymore - I wake up in a lot of different cities either here in Australia or overseas to record and collaborate with many different kinds of people. I spend a lot of time on the road... But the biggest constant... IS GOOD COFFEE! I'll admit it. I'm a massive snob when it come to a good brew. If I can't find a great place or I burn my tongue on the first sip... I'm so bummed.


Question: What has been your favourite part of becoming a music artist?

Penelope Austin: Growing into myself as a human being and being able to express my thoughts life feelings love through art. It's an amazing ride the music industry… Even though there are moments that a hard I look around me and realise the music industry brings excitement to my life. It's unlike anything I've ever known. Or those close to me would understand.


Question: If you could collaborate with another artist, who would it be?

Penelope Austin: Right now Hozier because I admire how he challenges listeners with his lyrics. There is also a new guy I've come across on my recent trip to Coechella called Stromae... Aside from a very unique sound his stage show is out of this world. The visual effects he uses is really mind opening and I'd love to explore that kind of thing with an artist like that!


Question: Can you tell us five things required for a happy healthy and enjoyable life?

Penelope Austin: Love and be loved. Eat well. Laugh hard. Travel. And be good to people.


Interview by Brooke Hunter