Meet The Aussie Swim Connoisseur That Earns Over $7 Million Annually
FRANKII SWIM burst into our world a short five years ago and quickly became a brand synonymous with smooth, sleek swimwear cut to absolute precision. The label quickly transformed into an international household name thanks to its celebrity clientele (Kylie Jenner, Bella Hadid and Rhianna are just a few of the superstar fans) and first-to-market social media strategies.

Founded by bikini connoisseur and fashion fanatic Rebecca Klodinsky, FRANKII SWIM'S luxurious textiles and classic cuts have attracted a cult following. By meticulously re-engineering the basic bikini, the label has single-handedly created a legion of loyal followers, with an undeniable need for high quality, well-structured swimwear.


Interview with Rebecca Klodinsky
Question: Can you tell us about FRANKII SWIM?

Rebecca Klodinsky: Sun-drenched, endless summers; Frankii Swim is renowned for luxurious textiles, classic cuts and meticulously re-engineering the basic bikini. Since launching in 2013, we've curated a legion of loyal fans and customers that come back time-and-time again with an undeniable need for high quality, well-structured swimwear. I'm tremendously proud of the brand and all it's become in the six years we've been operating.


Question: Were you always interested in fashion and design as a teenager?

Rebecca Klodinsky: Fashion and style have always played a significant role in my life. I believe the ability to self-express through what you wear on a day-to-day basis is connected to a person's happiness – if they look good, they feel good!

However in terms of fashion design or envisioning it as a full-time career, no. I did a bit of retail work growing up however actually studied a double degree in psych and forensic psych at University! Understanding the human mind was extremely fascinating to me. Fast-track to where I am now, I couldn't imagine doing anything else.


Question: What advice would you give your teenage-self?

Rebecca Klodinsky: Follow your dreams, stay in your lane, do what makes YOU happy….and start a savings account!

In today's world there is so much noise and distraction, I believe it's paramount we teach young men and women the power of focus and attention to detail.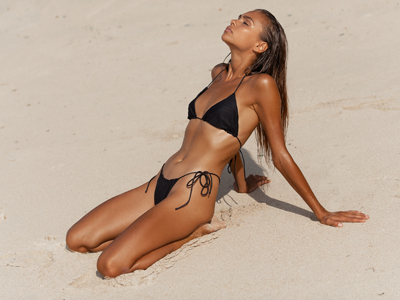 Question: How did you go about starting FRANKII SWIM?

Rebecca Klodinsky: It was 2013 and summer was just around the corner. I was at home on a weekend afternoon watching my younger sister show-off her latest purchases. It was when she was proudly showing me her new bikini, which she had picked-up off lay-buy, that I had the light bulb moment to start Frankii Swim. If my sister was lay-buying a bikini, surely there were thousands of other girls out there doing it too. In between my part-time job and university studies I did the research and groundwork, there was a gap in the market for great swim at happy prices. This is when Frankii was born.

I started Frankii Swim completely on my own, and didn't have any financial help or investors – I used my own savings of just $2,000 and kept a casual job. At the time social media wasn't a thing, and people were still spending hours in shopping malls not online. However, determination and hard-word pay off!


Question: How did you know it was the right time to make the step from side-hustle to full-time business?

Rebecca Klodinsky: It got to the point where I simply had to dedicate myself to the business full-time and get serious. I had been running Frankii from my bedroom, picking and packing orders between classes. However things were taking off and orders were coming through consistently, it was clear the future was bright for the business.

The decision to stop university to peruse Frankii full-time was one I didn't take lightly, however I knew that if I didn't jump then and there, the opportunity would pass. Transforming Frankii Swim to what it is today, a household name and powerhouse Aussie brand couldn't have happened if I wasn't a million percent in the business.


Question: When did you first realise FRANKII SWIM was a success?

Rebecca Klodinsky: In the early stages I was honestly so busy it was hard to stop and realise Frankii was a success story in the making. However that all changed the minute I saw Kylie Jenner's name pop-up in the system. She had just purchased a black bikini online HERSELF. It was this moment I stopped and realised what I was doing was working, in a big way!


Question: How has Instagram changed FRANKII SWIM and your marketing strategy?

Rebecca Klodinsky: We are purely an e-commerce business and our products are available to purchase from frankiiswim.comonly. So Instagram is the backbone to the Frankii Swim marketing strategy!

From the get-go, Frankii has dominated the IG space, amassing a large community organically. We currently have 233,000 loyal followers, which is a number that grows steadily year-on-year.

Curating user generated content, implementing an Instagram shop and having a clear, measurable strategy have all been fundamental in the success Frankii has had in the social space.


Question: What's the most difficult part about designing swimwear?

Rebecca Klodinsky: Frankii Swim is renowned for the basic bikini – we have and will always keep giving our customers what they want: great swim and happy prices.

However in the early stages, understanding fit, fabrications and how a garment can hold you in all the right places with support was fundamental in the design process. There was lots of fit model session, production meetings, wet and dry testing and so much more. However once we mastered the shapes, it was just about updating the palettes and textures.

As new trends arise I may incorporate them into a design, however my most important piece of advice is to go for what is most commercially sound.

For Frankii that's stylish, simple bikinis in block colours. Our SS20 Collection is actually just offered in black and white, a new season monochrome mood that our customers can't get enough of!



Interview by Brooke Hunter