Rebecca Stoneman Equitana Interview
The world of horses returns to the Melbourne Showgrounds for Equitana, a fourâday spectacular that celebrates all things equestrian. From elite competition to the ultimate equine shopping spree, Equitana offers a dawn-tillâdusk program filled with education seminars, entertainment, trade and elite competition.
Equitana will host over 23 elite competitions, from world cup level dressage and show jumping through to the high octane exhibition eventing as Australia's elite vie for global contention. Cowboys and cowgirls will stop, slide and spin as they partake in the Australian Open reining, cutting and barrel racing; Breeds will battle it out in the Best of Breeds Showcase; Miniature Horses will partake in MiniTana and enormous Clydesdales will challenge the Heavy Horse Showcase.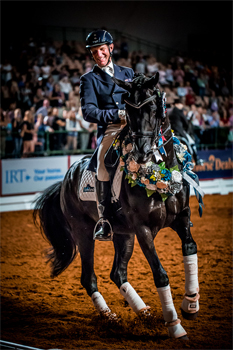 Horsemanship is high on the agenda with the -Australian Brumby Challenge' and -The way of the Horse' showcasing new, intelligent and gentle methods to start horses under saddle that dispel the old -rough and tumble' approaches. Racing Victoria will present one show horse and one show jumping class for retired racehorses, showing the diverse life-after-racing opportunities for Australian Thoroughbreds.
Equitana will offer the ultimate Christmas shopping destination for horse lovers. From saddles to stables, transport to top boots, Equitana's shopping mecca will have you covered from nose to hooves.
The education program offers over 30 unique sessions per day with 13 internationally lauded equine experts covering diverse topics from rider fitness, sports psychology through to animal telepathy. Headliner guests are Captain Mark Phillips and superstar Swede Patrik Kittel.
For horse crazy tots, tweens and teens, Equitana's kids program will include canter classes, meetâand-greets with Olympic and World Cup Riders and intimate sessions with 24 horse breeds including miniature instaâfamous horse, -CrunchTime'.
Entertainment acts include New Zealand TV superstars, the Wilson Sisters, Double Dan's of Australia's Got Talent fame, dressage freestyle to music, and David Manchon and his Rooftop Express show, complete with bulls, bikes and more.
An event for all ages, Equitana offers a unique preview into the lifestyle encompassing the horse.
Equitana
Thursday 17th – Sunday 20th November
9.00am – 10.00pm
Melbourne Showgrounds. Epsom Road, Ascot Vale VIC
Prices start from $48 for an adult and $129 for a family of five general admission. Free metropolitan public transport is included with all preâpurchased tickets at www.equitana.com.au or at the gate.



Interview with Rebecca Stoneman, EQUITANA Ambassador

Question: What should families expect from EQUITANA?

Rebecca Stoneman: Over the four days of EQUITANA there is so much going on. If you're a family who knows horses or doesn't, there is so much to see and do. It's perfect for families because there is a breed village so you can come and see all types of horses and get to know about the different breeds, from big too small. EQUITANA is very informative but also really entertaining as there are indoor and outdoor arenas and so much shopping; it's really good fun for the whole family.



Question: What horse breeds will we see at EQUITANA?

Rebecca Stoneman: There are Clydesdale, Brumby, Miniature and Shetland ponies, Palomino (which are the golden horses); all the horses that you can imagine at EQUITANA. You won't be short of horses coming to EQUITANA, that's for sure.



Question: And, can you tell us about the Masterclasses?

Rebecca Stoneman: There is a Dressage Masterclass which is really exciting, Patrik Kittel is an international superstar and he has come to EQUITANA to teach everyone about dressage and his methods. At this masterclass you'll see magnificent horses strutting their stuff.


Question: What does EQUITANA means to the horsing industry?

Rebecca Stoneman: EQUITANA is huge for the horsing industry, it's a massive promotion of the amazing horse – there are so many positive things that come out of riding and owning horses. Over the four days it's our chance to show the world and all of Australia how amazing our industry is.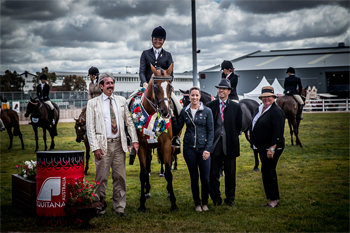 Question: Can you tell us about the Brumby Challenge you and your husband enterted?

Rebecca Stoneman: 150 days ago we picked up a wild Brumby from the Victorian Brumby Association along with 22 other trainers, we had 150 days to train the wild horse and we fell in love with her, so we're going to buy her. Unfortunately after a few setbacks she won't be here at EQUITANA, this weekend, she probably wouldn't cope with this atmosphere but you have to pop down and see what the other trainers have been able to do with their Brumbys, it's absolutely incredible that these wild horses have learnt to trust humans and it's really magical and magnificent what they've been able to do. There is a Brumby Village at EQUITANA where you can meet the Brumbys and the trainers; I highly recommend it.


Question: What does it mean, for you to be an EQUITANA ambassador?

Rebecca Stoneman: This is a dream job; this isn't like work or anything. This is four days of horse-heaven. I am absolutely honoured and thrilled to be here at EQUITANA.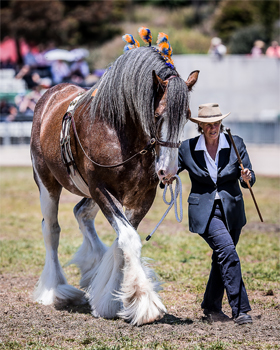 Question: What inspired your passion for horses and horse-riding?

Rebecca Stoneman: My husband actually, he has ridden horses since Pony Club; it was his biggest mistake for him to get me into horses or the most expensive one! He got me into horses, I've ridden a little bit, but owning horses has been a thing that we've done, together.


Question: What do most people not know about horses?

Rebecca Stoneman: Just how awesome they are, basically; you can form partnerships and friendships with horses, it is so rewarding the trust you build and it is awesome. I highly recommend attending EQUITANA to get the horse-bug, like I did.


Question: What is a typical day like, for you?

Rebecca Stoneman: A typical day for me involves feeding the horses as my husband and I have a horse training business called Stoneman Equine where we focus on the racing industry, breaking in young racehorses. I'll be out feeding, put on rugs or help him saddle up. I'm also a model in the city so I have the perfect balance between glamour and picking up horse poo. The day in the life of me involves all different sorts of things but I have the perfect balance.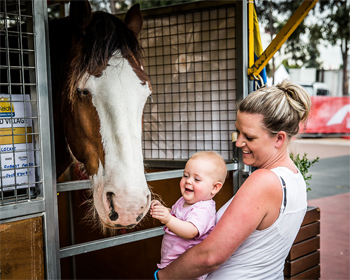 Question: What is 'endurance riding"?

Rebecca Stoneman: Endurance riding is long distance riding, it's like a marathon run but on a horse, which is really cool and we have Arabian horses that do that. At EQUITANA you can come see what they look like, Arabian horses are very fit athletes and it's great to get out in the bush to go endurance riding.


Question: Is there one thing your most excited for at EQUITANA?

Rebecca Stoneman: I am excited about a lot of the EQUITANA events including the Brumby Challenge as I can't wait to see all the Brumbys and the Patrik Kittel Dressage Masterclass will be awesome; I also love the Way of the Horse which is a horse starting competition over three days, I went to the auditions earlier this year and the trainers here doing that are really cool. Then of course, the shopping, there is so much to buy so my credit card will get a bit of a beating but I can't wait.


Question: Can you tell us about the retailers who are at EQUITANA?

Rebecca Stoneman: There are so many retailers and sponsors; way too many to name but some of my favourites are Peter Horobin Saddlery who sponsor me and my saddle, John Deere (think tractors, mowers and all sorts of things), Rowville Horse Trailers and so many different horse feed and clothing brands including R.M.Williams. There is so much to buy, see and do at EQUITANA, you are spoilt for choice.



Interview by Brooke Hunter