Rosie O'Halloran Australian Humanitarian and Charity CEO Interview
In 2009, Rosie O'Halloran ditched the construction degree she was midway through and journeyed to Uganda, inspired by seeing it on TV. Once there, 'I became aware of the challenges [the local] women face," says the Sydneysider, who set up a not-for-profit child-welfare organisation, foundations.(au), and opened a home for at-risk Ugandan kids, all by the age of 24. Back in Australia, she has continued her work and earlier this year co-founded the Institute for Global Women Leaders (IGWL), which is designed to empower young women 'as agents for change". With this grant, O'Halloran will put it towards speaking to 5,000 high school students nationwide about IGWL's initiatives, which will include a 2015 leadership program that will give school-leavers the chance to help victims of human trafficking in Bali while 'building courage and resilience".


Question: Can you tell us about the Australian Humanitarian and Charity?

Rosie O'Halloran: In 2009 I founded foundations.(au), with a vision of creating a world where all children are safe, healthy, loved and educated. I was inspired to do this after my first trip to East Africa in 2009.

foundations.(au) is an Australian based non-profit organisation operating a children's home in Uganda. The home called -our place' first opened its doors in January 2010 and supports a number of orphaned and vulnerable Ugandan children. I opened the home on my second trip to Uganda. -our place' continues to provide a high level of care and support to the children who live there and is supported through Australian sponsors.

The organisation also partners with the local government in Uganda to deliver a primary school education programs. Our most successful campaign was called -Look cool for school'. In Uganda the cost of primary education is free however many of the rural government schools have a rule, to come to school you need a school uniform. The cost of a school uniform is $5, an amount many families cannot afford. foundations.(au) asked for donations of $5 which would buy a child a school uniform and support a local women's tailoring group who made the uniforms. At the end of the campaign we were able to help over 800 children look cool for school.


Question: What inspired you to take on the role of Australian Humanitarian and Charity CEO?

Rosie O'Halloran: foundations.(au)
Growing up I believed that leadership referred to a title or a position that someone, somehow, had earned. Now I believe that leadership is actually a choice and that each one of us has the courage, compassion and commitment to being a leader, it's just about making a choice to embrace the leader within. It was during my second trip to Uganda that I made that choice. I was undertaking some research with a colleague when we came across a little girl, wrapped in a blanket, shivering on a woven mat. She had malaria with no family able to look after her or money to visit the hospital and she was dying. With permission from the local authorities we took her to the local hospital and after she received medical treatment she recovered. That little girl's name is Sarah and she was the first girl I met in Uganda who didn't have a place to call home. I decided to start the children's home after meeting Sarah.

The Institute for Global Women Leaders
When I first travelled to Uganda I met a girl named Abbias and we became the best of friends. She was finishing primary school and together we told jokes and shared our hopes for the future. In May of 2011 Abbias became sick and so foundations.(au) fundraised to take her to the capital to receive medical care. At the hospital though, the doctor sat across from Abbias and her mother and told her she was just a girl from a village and that she didn't matter. Weeks later at age 16 Abbias passed away. I was deeply saddened by the death of my friend Abbias. I began to question the attitude towards women and girls globally - how could someone say to a girl, -you don't matter?' I am dedicated to making sure girls know not only that they matter but they have the power to change the world.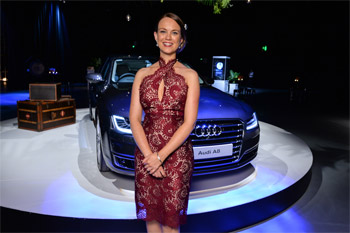 Question: You've recently co-founded the Institute for Global Women Leaders (IGWL); can you tell us about this project?

Rosie O'Halloran: Established in 2014 in Australia, the Institute for Global Women Leaders designs and facilitates global leadership programs for young women. The Institute believes young women are the most underutilised and powerful assets the world has for social transformation and through its programs and research the Institute is making an unparalleled investment in the personal and leadership journeys of young women globally who are trailblazing social change. To better understand the unique challenges and innovative approaches of these emerging young women leaders, the Institute also undertakes research into their leadership practices and impacts.

The organisation has developed a program for school leavers and young women who wish to learn more about themselves and contribute globally. heartworks is a 10-day transformative program designed for women aged 18-26 held in Bali, Indonesia. Comprised of three core components: Travel, Leadership and Contribution (TLC), the heartworks experience brings together women at a critical time in their young adulthood to facilitate personal journeys of self discovery, develop their leadership capabilities and unleash their inner social warrior. Through an in-country partnership with an Indonesian-based non-profit organisation, participants will volunteer at a locally run project working to rehabilitate women and girls who have been rescued from sexual slavery as part of the -contribution' aspect of the program.


Question: How did it feel to win the Audi InStyle Awards Scholarship grant?

Rosie O'Halloran: I think I squealed when Andrew Doyle, CEO of Audi, announced my name as the winner! It felt amazing that InStyle and Audi shared my belief in the potential of women and wanted to share this journey with me. All my work has been in a voluntary capacity so I am just so grateful for this support.


Question: What do you hope to achieve with this grant?

Rosie O'Halloran: This grant will enable me to speak to 5,000 Year 11 and 12 girl across Australia about leadership, contribution and the power of young women.


Question: Can you talk us through the decisions you made in 2009 regarding leaving your construction degree for the trip to Uganda?

Rosie O'Halloran: Late one night in 2008 I was watching TV and most likely was procrastinating on a uni assignment. I started to flick through the channels, and as I flicked something immediately caught my eye. It was a flash of a landscape, a landscape of vast green hills and I was captivated! The next morning I rang the ABC and asked, -Where in the world are those green hills?' The lady on the other end of the phone gave me the name of a village in south-west Uganda, Nyakisru. Shortly after that phone call I was on a plane, headed for the green hills.

That first trip to Uganda gave me a reason to hang up my steel capped boots for good.


Question: How did the trip to Uganda change your life?

Rosie O'Halloran: I came to understood that no matter where we are from, we are all part of the same world and that we can help each and learn from each other. I learnt that no matter how small, an action of the heart can have the most powerful impact on your life and the lives of those around you.

I discovered something bigger than myself and I dived right in.


Question: What are you goals for the coming twelve months?

Rosie O'Halloran: For years I was controlled by a fear of public speaking. I believed that standing on stage and speaking to a group of people would be the death of me. So I am looking forward to facing my fear and moving past it over the next 6-12 months as I speak to young women around the country.

The Institute for Global Women Leaders will officially launch in Sydney in late August and the first heartworks program is set to run in January 2015.

I will be graduating from University at the end of this semester.


Question: What's a typical day like, for you?

Rosie O'Halloran: Right now it's a mix of moving house activities, frantic attempts to finish uni assignments and watching episodes of New Girl with two of my best friends.

I touch base with staff in Uganda daily and I am also working on the upcoming launch of the heartworks program. As unpredictable as my days can sometimes be I wouldn't change a moment!


Question: How can Australians support these charities?

Rosie O'Halloran: We have just launched our social media platforms - Follow us on Facebook, Instagram and Twitter!
Check out our website (www.igwl.org)
Stay tuned, in the coming weeks we will be launching the heartworks program!
You can also make a donation to foundations.(au) via our website www.foundationsau.org


Interview by Brooke Hunter