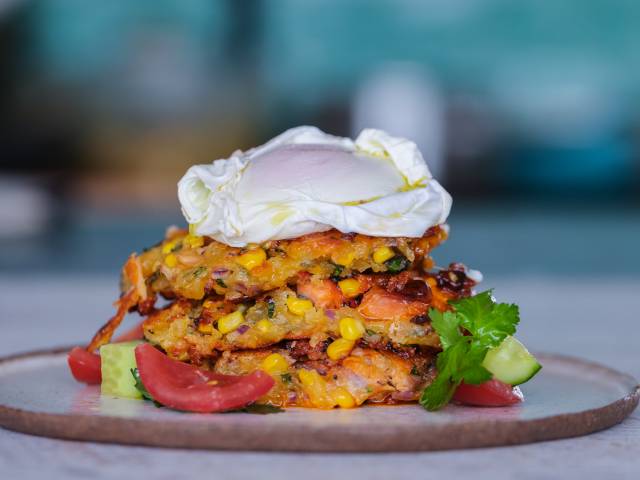 Guy Turland's Smoked Salmon, Parmesan, Corn and Lemon Fritters
Serves: 4 people

Ingredients:
150g Tassal Cooked & Smoked Salmon
3 cups corn kernels, fresh
1 red onion, chopped
2 eggs
¼ cup coriander
1 cup parmesan cheese, grated
Rind of 1 lemon
1 tsp sea salt
Black pepper
1 cup plain flour
1 tsp baking powder
Olive oil

Salad
4 tomatoes, diced
1 cucumber, diced
Juice of 1 lime
4 poached eggs
Lime wedges
Salt and pepper
Coriander

Method:
1. In a mixing bowl or food processor place corn, onion, egg, coriander, salt and pepper and pulse until combined but not completely smooth.
2. Transfer to a mixing bowl then stir through flaked Tassal Cooked & Smoked Salmon, lemon rind, parmesan, lemon rind, plain flour and baking powder until combined.
3. Heat one tablespoon of oil in a pan then add two tablespoons of mixture per fritter into the oil. Cook for 1-2 minutes or until golden then transfer to a baking tray to keep warm until ready to serve.
4. Make a super quick salad; In a large bowl mix tomatoes, cucumber, lime juice and coriander, season with salt and pepper.
5. To serve, stack corn fritters and top with salad and a poached egg.