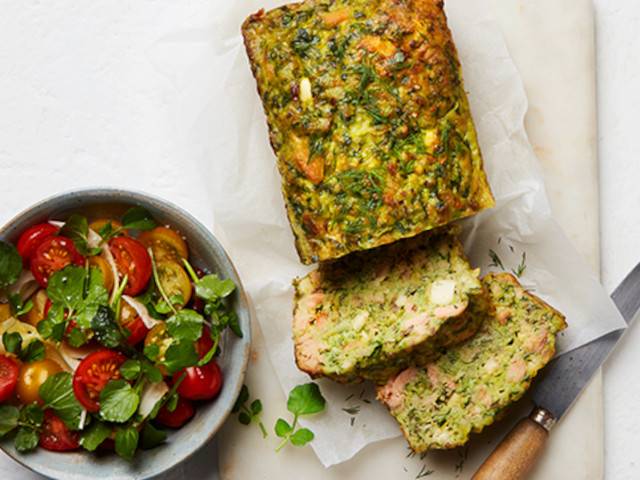 SALMON AND ZUCCHINI SLICE
● Cooks in 60 mins
● Easy
● Serves 6

INGREDIENTS:
300g Tassal hot smoked salmon, torn into pieces
1 leek, sliced
2 small zucchinis, grated
1 cup baby spinach, chopped
½ cup ricotta cheese
½ cup feta cheese, crumbled
6 eggs
¼ cup self-raising flour
1 cup fresh breadcrumbs
Handful parsley, finely chopped
Few sprigs of dill
Salt and freshly ground black pepper

METHOD:
STEP 1: Preheat the oven to 160 degrees (fan forced).
STEP 2: Line a 16cm x 11cm loaf tin with baking paper.
STEP 3: Pan fry leek in a small frying pan until soft but not browned and allow to cool.
STEP 4: Place zucchini in a colander and sprinkle with salt. Stand for 10 mins and then squeeze out excess liquid.
STEP 5: Lightly beat eggs in a medium sized bowl and season with salt and pepper.
STEP 6: Add breadcrumbs, ricotta, vegetables and herbs. Mix well.
STEP 7: Carefully stir through feta and salmon pieces.
STEP 8: Transfer to baking tin.
STEP 9: Bake for 1 hour until set and golden on top. Serve with tomato, rocket and fennel salad.