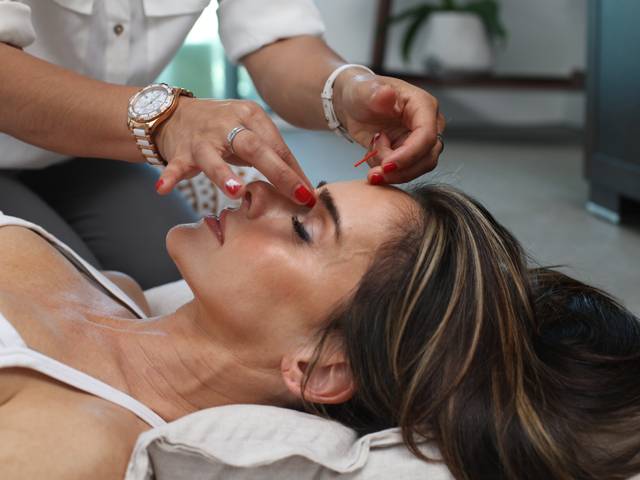 New research suggests Aussies could be ageing earlier, with half of under-40s already showing the tell-tale signs
• 44% of 18-29-year-olds are gaining wrinkles and losing skin firmness
• 69% of 30-somethings are accumulating extra body fat or have a slower metabolism
• 54% of under-30 adults have lower concentration levels and are more forgetful

It's no secret that we are all getting older, but new research reveals that 1 in 2 young Aussies are showing signs of ageing before they've even hit 40 – with a significant percentage already reporting changes to their skin, body, energy levels and mind.

The findings come from an independent survey of 1008 Australians adults, commissioned by Entity Health, an Australian-made line of supplements designed to improve and treat specific skin and health conditions at a cellular level.

Entity Health found that two-thirds (63 per cent) of under-40s – and specifically 69 per cent of those in their 30s – have started to notice the accumulation of extra fat or the slowing down of their metabolism. Under-30s aren't doing much better, with more than half (57 per cent) admitting to seeing the same signs of ageing despite their youth. Our body naturally loses muscle mass as we mature, which slows down our metabolism and decreases how many calories our body naturally burn throughout the day.

Sixty-seven (67) per cent of those in their 30s and 57 per cent of under-30s are already experiencing less energy and stamina. Compounding factors, such as underlying health conditions, poor lifestyle choices, or workplace stress, can cause a lack of energy and fatigue as we age.

Aussies are also noticing their brainpower taking a toll. Two-thirds (64 per cent) of respondents in their 30s say they are experiencing lower concentration or forgetfulness, compared with 54 per cent of under-30s. As we age, our brain cell count decreases, and new neurons aren't created, causing our brains to shrink in size and decrease in functioning capacity.

Reported signs of skin-related ageing, such as wrinkles, dullness, lack of firmness or pigmentation spots, is another indication of young Aussies potentially ageing earlier. Forty-four (44) per cent of under-30 respondents admit to already seeing these changes, compared with 64 per cent of 30-somethings. Cumulative exposure to sunlight and UV light – known as photoaging – is found to be the culprit for 90 per cent of visible changes to the skin.[4] Is the desire for tanned skin and sunbaking to blame?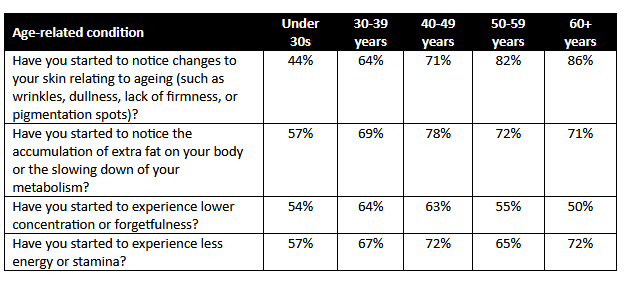 Consulting Dietitian at Entity Health, Teri Lichtenstein, says: "Growing old is one of life's inevitabilities, but there are several ways we can support our bodies to stay stronger and healthier for longer. Staying out of the sun to minimise damage to the skin, eating a balanced diet, and engaging in regular exercise are all ways that can minimise the signs of ageing.

"To give yourself an extra helping hand when needed, consider incorporating condition-specific supplements into your diet. For concentration, look for supplements that contain black maca and bacopa monnieri – a herb used in traditional Ayurvedic medicine that may help to support brain and memory function. Similarly, consider taking a skin supplement that can promote elasticity in the skin, through the antioxidant glutathione."

ConcentriX is a memory-enhancing nutraceutical by Entity Health that improves memory and learning capabilities to support information retention and function through the active ingredients black maca and bacopa monnieri. LumeniX is a skincare nutraceutical that helps to provide a more even skin tone, reduces sunspots, dark pigmentation, and blemishes and improves skin youthfulness and elasticity by harnessing the power of glutathione.

For more information about these products, visit entity-health.com.


Photo by Antonika Chanel on Unsplash