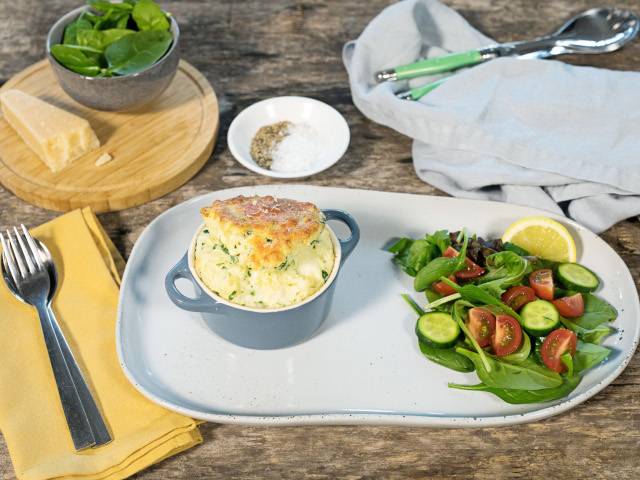 Healthy Recipes for the whole family to enjoy!
Australian Eggs have curated a collection of healthy recipes that can cater to everyone's taste buds. These recipes are a mixture of Low fodmap, Gluten free and Heart healthy, while being sure to be family favourites.

Spinach & Parmesan Souffles – Family friendly

Prep time: 20 mins
Cook time: 30 mins
Serves: 4

Ingredients
• Approx. 2 tbs dry breadcrumbs
• 1 tbs extra virgin olive oil, plus extra to brush ramekins
• 2 tbs wholemeal flour
• 1 cup milk
• Pinch salt
• Black pepper
• ½ tsp grated nutmeg
• 120g baby spinach
• 4 eggs, separated
• ¼ cup grated Parmesan + 4 tsp to sprinkle on top
• 1 tsp Dijon mustard
• 50g goat's feta

Method
1. Brush 4 ramekins with extra virgin olive oil. Sprinkle with breadcrumbs on sides and the bottom. This helps prevent your souffles from sticking to the sides.
2. Preheat the oven to 180C.
3. Heat a non-stick small saucepan and add the extra virgin olive oil and the flour. Beat together to form a paste, then slowly add the milk, beating or whisking until smooth. Once all the milk has been whisked in, grate in the nutmeg and season with salt and pepper. Allow to simmer for a couple of minutes and the turn off the heat.
4. Place the spinach in a bowl and microwave for 2 minutes to wilt. (Alternatively steam on the stovetop.) Squeeze out the excess liquid and chop. Add to the milk sauce.
5. Separate the eggs, placing the whites into the bowl of a mixer. Add the yolks to the milk sauce, along with the mustard, Parmesan and feta. Beat together with a wooden spoon.
6. Using the balloon whisk on your mixer, whip the egg whites until forming stiff peaks. Using a metal spoon, gently fold into the spinach sauce mixture. Spoon into the prepared ramekins and sprinkle with the remaining Parmesan. Place on a baking tray and bake in the oven for about 20 minutes, or until risen and golden brown on top.
7. Serve immediately with a lovely mixed salad.