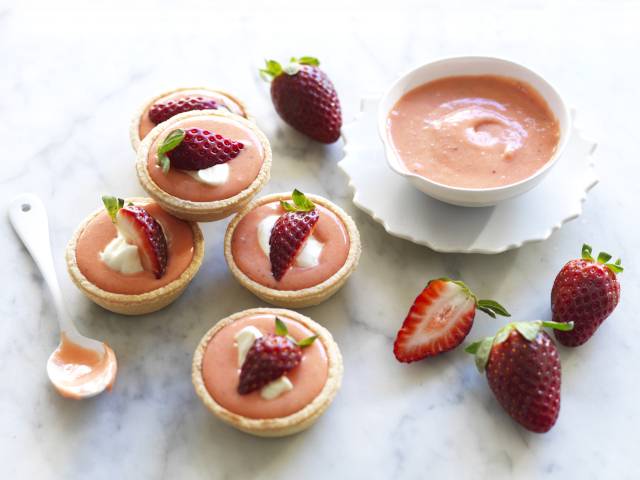 Strawberry Curd Tarts
Australian Eggs have your Christmas Day menu sorted with recipes for any time of day you're entertaining. Recipes include Cheese & Chive Egg Bread, Meringue-amisu, Classic Meringues, Rosewater meringues, Eggnog Ice Cream, Green veggie tarts and a collection of curds.

Prep time: 10 minutes
Cook time: 8-10 minutes
Makes: 2 cups

Ingredients
Strawberry Curd
• 2 x 250g strawberry punnets
• 3 egg yolks
• 1 whole egg
• ½ cup (110g) caster sugar
• 3-4 tbsp lemon juice (approx. 1 large lemon)
• 125g chilled butter, diced

Tarts
• Store bought mini tart cases
• Whipped cream
• Sliced strawberries

Method:
Strawberry Curd:
1. Hull and halve 1 ½ punnets of strawberries and place into the bowl of a food processor. Reserve remaining whole strawberries to garnish tarts. Process strawberries until pureed. Strain through a fine sieve. Discard pulp.
2. Place egg yolks, egg and sugar into a saucepan. Add ⅔ cup of the strawberry juice, and 2 tbsp of the lemon juice.
3. Whisk over medium-low heat for 2-3 minutes, until sugar has dissolved, and mixture begins to thicken.
4. Reduce heat to low and gradually add butter, 3-4 pieces at a time, whisking continuously until melted. Continue until mixture thickens and all the butter has been added. Curd is ready when it coats the back of a spoon. Pour into a clean bowl.
5. Cover the curd surface with plastic wrap to prevent it from forming a skin. Let cool to room temperature then refrigerate until cold.

Tarts:
1. Spoon curd into tart cases and top with whipped cream. Garnish with sliced strawberries

TIPS:
• Strawberries' sweetness will vary from season to season. While curd is still warm, adjust flavour, colour and consistency by stirring in more strawberry juice or lemon juice until it is to your liking.
• Frozen strawberries can be substituted for fresh. Weigh 300g frozen strawberries and thaw in the microwave or on bench top. Process or mash with a fork until strawberries are smooth. Strain through a fine sieve to collect 185ml of juice. Follow recipe as above.
• Make the curd in a nonreactive saucepan, such as stainless steel.
• This curd can be made in the microwave. Follow the method for 'Easy Microwave Lemon Curd'.
• Spoon curd into airtight containers and refrigerate for up to 2 weeks.