A World of Swimwear for Summer 2018
This Summer is set to sizzle with SUNFLAIR®'s swim and resort collections for 2018. Celebrating the sunshine in a riot of colour, elegant cuts, and breath-taking designs. Direct from the catwalks of Europe SUNFLAIR® have created the ultimate vacation wardrobe.
Escape to tropical climes in a collection of elegant swimsuits, bikinis, cover-ups and après beachwear. A summer range that will perfectly transition from the beach to the bar, or pool to the promenade.
SUNFLAIR®'s stunning Summer 2018 season is made up of an extensive 29 capsule collections. Graphic rainbows adorn Magic Pearls, in shards of bright hues. Discover an Aztec treasure in City Inka, with tribal necklaces on monochrome prints. Dive into the deep blue with Sea Dome or go wild in a myriad of colour that is Jungle Glory.
Choose your swim pieces from bikinis, tankinis, swimsuits in modern designs or classic cuts. Layer with a beautiful range of co-ordinating cover-ups, dresses, kaftans, shorts, tops and multi-style resort wear. Complete the look with matching accessories including hats and travel luggage, makeup bags, beach bags, and backpacks.
Multi-award-winning brand SUNFLAIR® is synonymous with quality, craftsmanship, technical design and innovative fabrics. Beautiful styles and complementary collections that can be mixed and matched, creating virtually endless combinations. Looks to suit a woman at every time of her life and shape, from voluptuous to athletic, maternity to mastectomy, body form, and tummy control.
SUNFLAIR® caters for sizes 8 – 28, cup sizes A up to H in virtually unbeatable fits. Collections that demonstrate finesse in German design, cut and quality. Made using the latest in industry advancements and technical fabrics, such as water repellent Euro jersey, a lightweight and fast drying fabric. New bra cups with a -spacer' foam for an extra-soft touch, high comfort and quick drying materials. Plus, LYCRA® Xtra LifeTM and LYCRA® beauty, as well as Sensitive Chlorine Resistant.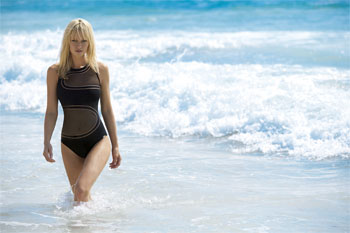 The SUNFLAIR® collections include:
Paisley Marine - Classic nautical re-invented, with the traditional navy and white juxtaposed with chocolate brown and paisley prints. A striking collection, that flatters the form. Innovative nautical pieces perfect for the top deck.
Happy Jeans - Denim fascination is reinterpreted for the beach. A stylish series in denim blue and Pucci style prints in neon pink and yellow. Super cool and super stylish.
City Inka - Aztec tribal necklaces adorn bold monochrome square prints. An exotic collection of complete looks, perfect for dancing on Ipanema beach or lazing away in Cancun.
Laguna Animals - SUNFLAIR® at its best! Exotic feather prints on a vibrant turquoise background. Rich, tribal and animal inspirations combined to create spectacular looks. Elegant cuts and crochet back swimsuits creating a one-of-a-kind, stylish series.
Mirror Ornament - Sports apparel and swim in bold symmetrical graphic prints. Make exercising luxurious and elegant in this stunning attention-grabbing collection.
Garden Dots - Retro pin up polka dots updated with overlaid tropical prints or spiced up with fishnet mesh. A fun and flirty 50's inspired bikini with a baby-doll style dress to cover up. As you exit the pool pop on the cute toweling bathrobe, for the ultimate luxury.
Wild Colours - Bring out your fierce side with this wild collection. Snake and leopard print blended into vibrant flashes of orange, turquoise and green.
Shadow Red - This form flattering collection draws inspiration from the high fashion bandage dress. Using the same horizontal stripes with graduated tones of orange, pink and turquoise to compliment a woman's form, with a slimming effect.
Colour Bang - Optical graphic prints, explode across these digital designs. Flowing Kaftan's and multi-style skirt complete the wardrobe over gorgeous bikinis and swimsuits.
Black Mystery - Harks back to an era of Art deco in sun-ray lines, with this elegant collection of monochrome swimwear in flattering black and white.
East Village - Fabrics inspired by traditional African tribal prints. Rich, opulent and intricate. A stunning collection, perfect for the white sands of Zanzibar.
Girls Garden - Fall in love with this pretty feminine collection of pink, peach and aqua 60's florals. Cute yet grown-up styles for the flirty girl inside us all.
City & Beach - Introducing the SUNFLAIR® Beach Dress Collection, perfect for the long lazy summer nights. After a day by the pool or at the beach these stylish dresses are perfect to throw on and hit the cocktail lounge.
If that wasn't enough, choose from other collections such as Paper Art, Easy Going, Mash Up, Green Gray, Mix & Match, Flower Dreams, New Blue, Scandic Sky, Tropical Rain, Garden Dots, Old Copper, Mumbai Calling, Wild Colors, Shadow Red, Oval Lines, Color Bang and Never out of stock collection.
SUNFLAIR® is stocked in over 80 stores and online across every state in Australia and New Zealand. As well as online at www.azurebeach.com.au
For your local stockist and more information please check the website www.sunflair.com