Sunglasses For Face Shape - Make Sure Your Sunglasses Are Suited To Your Face Shape
When it comes to picking the perfect pair of sunglasses for summer, many people just opt for the colour or style that they like and pay little attention to the shape of the frame. This can become a major problem. It's all good and well going for trendy colours and styles, but if you don't consider how the frame shape will suit your face, you're setting yourself for a fashion disaster. And there's nothing worse than having to put your new shades to the back of the drawer just because they just don't suit you. Choosing the right frame shape is key, and it's not as hard as it might sound. Follow the simple steps the VisionDirect team have put together below and you are sure to find the perfect frame shape for you.

How To Find Your Face Shape
There are four distinct face shapes; round, square, oval and heart. If you're unsure which one you are, just stand in front of a mirror and trace around your face in lipstick. Whichever shape you're left with on the mirror is your face shape. Easy as that!

Once you've got your shape sorted, just follow the simple rules below for your shape to make sure that you pick a pair of sunglasses that compliment you best.

Sunglasses for Round Faces
Many people struggle trying to find frames that suit a round face. It is important to add in angles that are naturally missing and not accentuate the roundness of the face. When picking your frames, follow these rules, like Selena Gomez, and you can't go wrong:

Do – Pick square-shaped or cat-eye shaped frames as they add angles to your face.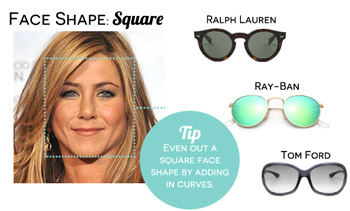 Don't – Pick round shapes. They will only accentuate your round features and remove any angles you may have.

Sunglasses for Square Faces
Choosing the right frame shape can be a little challenging for square shaped faces. It's all about trying to soften the natural angles of your face. As long as you follow Jennifer Aniston's lead and our advice, you're sure to pick a winning pair.

Do– Pick frames that add curves and softness to the face. Pilot and round shapes are a great pick.
Don't – Go for boxy square or rectangular frames as they will only add in angles and throw your face out of proportion.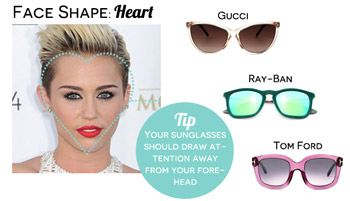 Sunglasses for Heart Faces
There's something super sweet and innocent about a heart shaped face and that's why many celebrities, like Miley Cyrus, end up with the -girl next door' title and then feel the need to rebel and shake off that image. Just follow our tips to pick some sunglasses that are every bit as loveable as you are.

Do– Pick a frame that takes attention away from the forehead. Pilot shapes are great for this or anything that sits wider than the face.
Don't – Pick a small pair of sunglasses. They will only make your face appear larger than it is.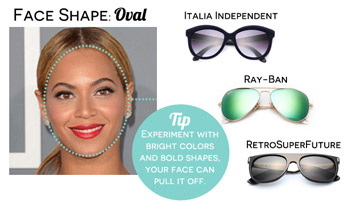 Sunglasses for Oval Faces
If you've been blessed with an oval face shape, rejoice. You're in good company with the likes of Beyonce and the sunglasses world is pretty much yours to rule. There are still a few rules to follow but you're definitely going to want to experiment with your shades.

Do– Be bold. You can experiment with unusual shapes and colours.
Don't – Pick a pair that throws off the natural shape of your face.