Taryn Williams theright.fit Interview
Taryn is one of Australia's most prolific entrepreneurs in the tech start-up and media industries. With over fifteen years' experience in the world of modelling, advertising and media, Taryn has proven herself to be a game changer and one not shy to press the disrupt button.


Taryn's involvement in the industry goes back to when she was fifteen and scouted as a model. She started her first business, WINK Models, at the age of 21 with $30,000 in savings, a response to the inefficiencies in working conditions for models and the lack of flexibility and quality service offered to clients. Ten years later, the agency has flourished into a national business, named in Anthill's Top 100 Cool companies, and represents over 650 talent with turnover in the millions. Taryn has handed over the day-to-day management of WINK so she can dedicate her focus and energy to the growth of theright.fit.

Taryn is a leader in the Australian startup ecosystem and is a regular commentator on the tech industry, entrepreneurialism and business. She is a board director of Tech Sydney and the Digital + Technology Collective (formerly AIMIA). Taryn has achieved numerous award recognitions, including being named a Finalist in the B&T Hot 30 under 30, B&T Women in Media, SmartCompany 30 under 30, Institute of Managers & Leaders and Women's Agenda Emerging Entrepreneur of the Year.




Interview with Taryn Williams, Founder and CEO theright.fit | WINK Models
Question: What is theright.fit?

Taryn Williams: theright.fit launched in early 2016 and is a two-sided marketplace for creative talent and influencers. The platform makes it easy, efficient and cost effective for brands to book campaigns, from TVCs, print campaigns, events and social media executions. theright.fit has over 6,500 talent on the platform and guarantees payment for all talent within 48 hours.



Question: What inspired you to begin theright.fit?

Taryn Williams: I entered the world of advertising, media and modeling when I was fifteen and have always been passionate about making positive change to improve the way our industries work together. A few years ago I decided that we needed to embrace technology in my first business, WINK Models. We built the first industry app, which allowed us to integrate payroll, accounting, and live web updates; it was a six-figure exercise, and we thrived.

I quickly realised how key technology was in allowing us to scale and successfully manage our talent and that's when the idea came for theright.fit.

With the rise of social media and online marketplaces like Uber, Airtakser, and Freelancer, it was clear to me that the traditional ways brands and agencies connected with talent was ripe for disruption. Just like when I created WINK ten years ago, I saw an opportunity to improve the industry I was in, but this time with technology placed solidly at the forefront.




Question: What advice do you have for women who want to begin their own businesses?

Taryn Williams: Spend time mapping out if your idea is going to be financially viable before you get started. Understand the basic unit economics and size of the addressable market. If you're not sure how to get started with this, you can find great consultants who can help! This way, you know if your business model, pricing structure, and growth plans are viable before you spend time, money and resources getting too far into the idea!


uestion: How important is education for entrepreneurs?

Taryn Williams: It really depends on what skill set you are talking about - but I believe constantly learning, developing and improving yourself is important for everyone, not just entrepreneurs. There are so many fantastic ways to access education these days including short courses, free online programs, conferences etc so I think it's highly important to keep looking for your skill gaps and how to fill them.


Question: Where do you find inspiration?

Taryn Williams: From other entrepreneurs who are doing amazing things! I'm lucky to have some incredible people in my world who have founded, grown, exited or listed companies and that really helps inspire me. I also read a lot of biographies and autobiographies.


Question: Do you have a morning routine? Can you share it with us?

Taryn Williams: I sure do! I thrive on routine as there isn't a lot I can control in my life, so anything I can control, I will! I get up at 5.30am each day to go to the gym, then home for my first coffee of the day with music blasting whilst I get ready for work. I live in all black clothing, so everything matches, and minimises the time I spend thinking about things that don't matter like what I'm wearing that day. I'm at my desk by about 7.30 for my first conference call of the day, a stand up with our tech team and NY team. I then clear emails and slack messages from overnight, over my second coffee of the day, before my team arrives and the day get started!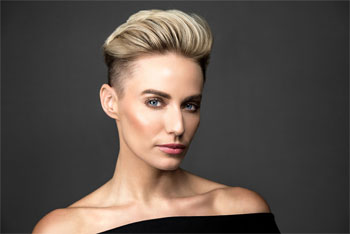 Question: What are your personal goals for the rest of the year?

Taryn Williams: I'm working on being more present and celebrating the incremental victories. I'm aiming to read one book a week for the rest of the year, and cut down from 4 coffees a day to 2, so lets see how we go!


Question: What's next for WINK Models and theright.fit?

Taryn Williams: WINK will continue to grow nationally, and build on our diversity campaign of being a truly representative agency of talent.

theright.fit will be expanding into APAC quickly, followed by other highly fragmented markets. We're also releasing some exciting new functionality, and continue to expand the depth and breadth of creative talent available on the platform. Exciting times ahead!


Interview by Brooke Hunter