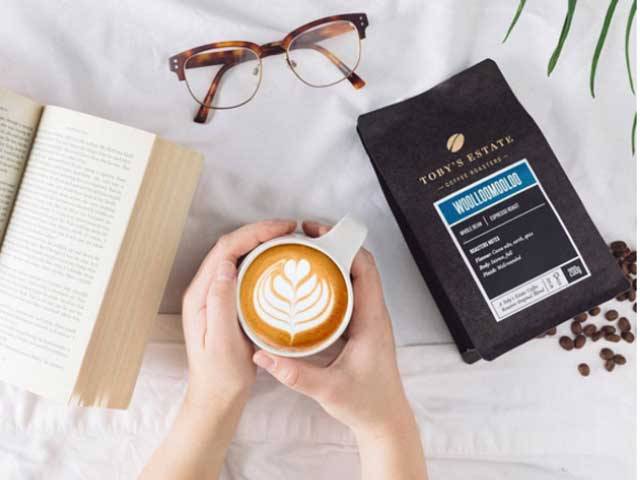 Have you ever wanted to be your own barista?
Australian specialty coffee roaster Toby's Estate invites consumers to enjoy their online delivery service, providing delicious coffee right to doorsteps around Australia.

Born and bred in Sydney in 2001, Toby's Estate is proud to source and share expertly made specialty coffee with coffee connoisseurs and everyday drinkers alike, all available online.

Full of all the professional brewing equipment allowing consumers to enjoy their morning coffee from the comfort of their home. There's an abundance of tools and delicious products for everyone to become their own at home barista; including filtered coffee kits, brewing pots for both hot and cold brews, hand grinders, scales, milk jugs and thermometers.

Espresso and Filter Coffee
Guaranteed to awaken your senses, Toby's Estate serves up a wide range of delicious Espresso blends and single origin coffees for expresso and filter.. They offer 7 different Single origins every month so you'll never be bored. All products are simple to work and cater to all brewing methods and experience levels. With a range that spans over 16 different flavours, there's a coffee for everyone to enjoy.

Single Serve Coffee
Revolutionary 100% biodegradable Single Serve Coffee Bags are packed with Toby's Estate's specialty roasted coffee, freshly ground and nitro sealed to retain freshness. No mess, no fuss, no need for a machine – just hot water and milk.

Cold Brews
For a cool and refreshing beverage to get you through the afternoon, enjoy a Toby's Estate Cold Brew. Available in two different flavour profiles;
Tropic Kool – a rich cold brew with intense sweet flavours of milk chocolate, cookie dough and sultana. Perfect to curb the afternoon sweets craving.
African Mist – A bright blend, vibrant and fruity featuring flavours of stone fruit, milk chocolate and cherry. A clean and refreshing brew perfect for warmer weather.

Teas
Take a break with Toby's Estate's mix of Tea Bags and Loose-leaf Teas, including all organic peppermint, chamomile and earl grey.
Enjoy unique brews of Punjabi Chai, China Green Sencha or Toby's Estate's own Breakfast Blend. The warm and full-bodied teas all feature intense flavours and are the perfect way to welcome the day.

The specialty coffee roasters welcome consumers, no matter where they are, to relax and unwind with fuss-free standard or express delivery on its expansive product range.

To explore and shop the full range visit: www.tobysestate.com.au today.