TOMS Essentials for a European Summer
These summer inspired styles are perfect for a holiday wardrobe and the traveler lifestyle. Featuring our must-have classic alpargatas for all day comfort, day-to-night sandals and vibrant sunglasses, these styles are versatile, lightweight and stylish.

Greek Island Getaway:
YELLOW LEMONS WOMEN'S ALPARGATA ESPADRILLE | $85
TOFFEE SUEDE WOMEN'S HARPER WEDGE | $130
FLORENTIN MATTE HONEY TORTOISE BLUE MIRROR | $110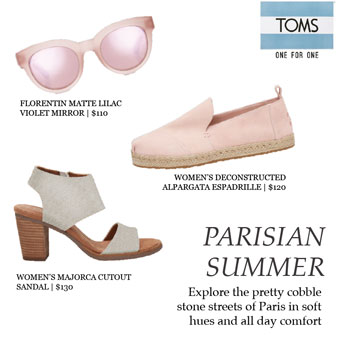 Parisian Summer:
NATURAL YARN DYE WOMEN'S MAJORCA CUTOUT SANDAL | $130
PALE PINK SUEDE WOMEN'S DECONSTRUCTED ALPARGATA ESPADRILLE | $120
FLORENTIN MATTE LILAC VIOLET MIRROR | $110

TOMS was founded in 2006 by American traveller, Blake Mycoskie, who was inspired during a trip to Argentina where he witnessed the hardships faced by children in local villages with no shoes to protect their feet. Blake turned to the traditional Argentine alpargata shoe as a simple, yet revolutionary solution. From there he created TOMS, a company that would match every pair of shoes purchased with a pair of new shoes given to a child in need. One for One. What began as a simple idea has evolved into a powerful business model helping address need, and also advance health, education and economic opportunity for children and their communities around the world. Realising that the One for One model could serve other global needs, Blake launched

TOMS Eyewear in 2011 to help restore sight to people in need with each purchase of sunglasses and optical frames. In 2014, TOMS Roasting Co. launched with the mission to provide jobs and clean water to developing countries with the purchase of premium coffee. TOMS is in business to help improve lives. TOMS identify global needs and create products to help address them. It is this simple idea that makes TOMS more than a company – TOMS is a movement that is continually evolving.