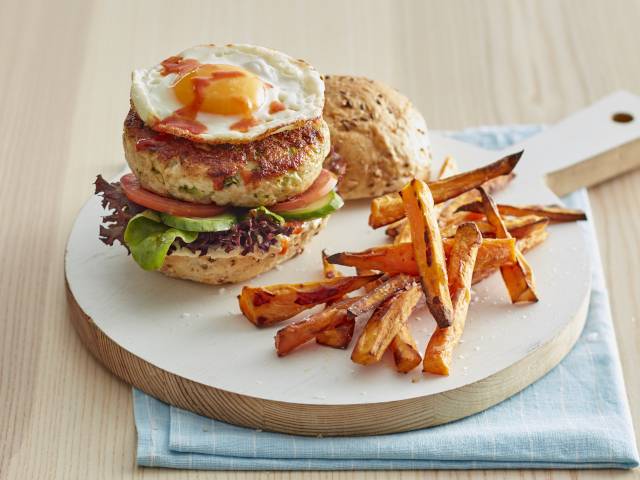 Turkey, Broccoli and Quinoa Burgers
Prep time: 25 mins
Cook Time: 15 mins
Serves: 4

Ingredients
• 150g broccoli, trimmed, cut into florets
• 500g turkey breast mince
• 100g (. cup) quinoa flakes
• 3 long green onions, thinly sliced
• 5 eggs
• 4 wholegrain buns, split, toasted
• 60g (1/4 cup) hummus
• 4 eggs
• 60g mixed salad leaves
• 2 tomatoes, sliced
• 1 Lebanese cucumber,
• sliced
• 1 tbsp sriracha chilli sauce, plus extra, to serve

Method:
1. Steam, boil or microwave broccoli until tender. Drain. Set aside to cool then finely chop.
2. Combine broccoli, mince, quinoa, green onions and one egg in a medium size bowl. Divide mixture into 4 portions. Shape each portion into a 2cm-thick burger patties.
3. Heat oil in a large non-stick frying pan over medium heat. Cook patties for 3-4 minutes each side or until golden and cooked through.
4. Meanwhile, lightly spray a large non-stick frying pan with oil and heat over medium-high heat. Fry remaining eggs until cooked to your liking.
5. To assemble, spread bread roll bases with hummus. Top each with salad leaves, tomato, cucumber a burger patty and an egg. Drizzle with a little sriracha chilli sauce and enclose with bun tops. Serve.