2017 WATC Winner is Brodee Leonard
Wacom Authorised Training Centres (WATCs) play a key role in developing and nurturing creativity and imagination within schools, colleges and universities across Australia.

WATCs allow students to utilize and master the same tools that are the industry standard for creative professionals, granting teachers a richer learning experience in the classroom. As part of Wacom's The Next Level competition, the 2017 WATC winner was Brodee Leonard from Central Queensland University who is currently studying a Bachelor of Digital Media.

The 18-year-old illustrator from 'Ali Curung' (remote Aboriginal community in the Northern Territory) has only been drawing for two years and explains that it is a very new outlook for him.

"I started out self-taught, I drew pages and pages of circles and attempted to shade them to make a 3D effect, at the time it felt amazing to be able to do such a thing, however when you look back on them, you can see how awful they were... but that is what inspired me," says Mr Leonard.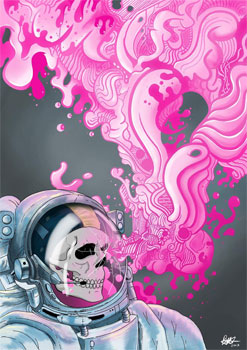 He explains how his winning artwork was inspired by surrealism and illusion – how you can create something that up close looks like a complete mess but as you take a step back, you see a completely different image.

For this young and talented artist, winning the WATC student prize means that his work will be exhibited alongside renowned international talent and that he will receive the proceeds from any artwork sold. "I was thrilled to be one of the chosen 50 artists and winning this prize has been the highlight of my year. It's opened the doors for me to take on more commission work and further develop my skills," continues Mr Leonard.

Wacom have rewarded him with a Wacom MobileStudio Pro valued at $3,499 AUD inc GST and his school will receive a Cintiq 27 QHD Touch valued at $3,699 AUD inc GST.

Throughout September to November, Brodee Leonard's work will be displayed at The Next Level Exhibitions in Auckland, Sydney and Melbourne alongside renowned artists including David Milan, Rik Oostenbroek, Lauren Carney, Merda, Gemma Correll and Sha'an d'Anthes.

Auckland: 29 Sept – 5 Oct @ Silo Park, Beaumont St & Jellicoe St, Auckland
Opening Night: Friday 29th September 6-9pm
Melbourne: 3 Nov – 13 Nov @ Besser Space, 15-25 Keele St, Collingwood
Opening Night: Friday 3rd November 6-9pm
Sydney: 24 Nov – 3 Dec @ M2 Gallery, 4/450 Elizabeth St, Surry Hills
Opening Night: Friday 24th November 6-9pm

For more information visit: www.wacomnextlevel.com