Generating A New Appreciation Of Public Space
From 24 to 26 November, building facades, underground parking stations and concrete walls will transform into colourful street murals as part of Wonderwalls, a three-day street art festival in Wollongong that aims to reshape and redefine the city.

Established in 2012, Wonderwalls has converted Wollongong's central business district into a vibrant creative community. The festival welcomes new visitors, business and skill, which helps to move Wollongong out of its post-industrial decay and into creative, cultural and learning pursuits.

This year's festival will be bigger and better than ever, with leading local, national, and international street artists including Ian McCallum (Queensland), Claire Foxton (Kiama), Lonac (Croatia), Owen Dippie (New Zealand), and Leans (Brisbane) showcasing their talent live for all to witness. The walls being painted will be significantly larger than past years, with most reaching more than 10m in height and 20m long.

Wonderwalls will also give the street art scene a digital twist with virtual reality technology that will bring a fresh perspective to the way art can be experienced. Virtual reality headsets will be provided for visitors and they will be given the opportunity to create their own digital murals.

In addition to street art, Wonderwalls will also host inclusive community events including public discussions with the artists, an exhibition hosted by Ironlak Art & Design, and street parties hosted by the celebrated hip-hop collective One Dayers (Horrorshow/Spit Syndicate) who will be presenting one of their renowned day parties, One Day Sundays.

Festival Director, Simon Grant, said that Wonderwalls forges meaningful relationships that last beyond the festival itself.

'By providing engaging murals and artworks, Wonderwalls generates a new appreciation of public space. Locals often quickly become attached to the murals because the imagery reminds them of something personal, and connects them with their city.

'All murals are within a 1km radius of the CBD, ensuring the festival is walkable. By responding specifically to each space, artists create murals that resonate with the local community's current and future aspirations," said Mr Grant.

For more information on Wonderwalls, visit www.wonderwallsfestival.com

Wonderwalls Festival
24-26 November 2017
Wollongong Streets
Free
wonderwallsfestival.com



Interview with Claire Foxton, Artist, Muralist, Designer
Question: What inspired your passion for street art?

Claire Foxton: I fell in love with street art because of its accessibility. Anyone can enjoy it without having to step inside the confines of a pretentious white walled gallery space. I can make art for the public, not just myself. There's something very gratifying about that.

I also really love the challenge of a new blank wall. Every new wall and environment brings its own challenges like size, surface, accessibility and weather so I have to problem solve before I can even start. And with it being so public and so open to criticism from the get-go, the pressure can be equal parts crippling and exciting. Even after a particular hard job, I instantly get the itch for my next wall.


Question: What challenges have you had to overcome as a female in a male-dominated field?

Claire Foxton: I come from a background of graphic design and fine art so it has been a little daunting entering the world of public art without the same foundations as most of the guys and girls before me - a lot of who come from the world of illegal graffiti. So there has been an internal challenge with that. I've made a conscious effort to learn and be respectful of where this industry came from, and that means accepting that yes it was and still is a male-dominated field. But also, that this doesn't mean I can't succeed in the field.

I've also had to consider how I sell myself as an artist. Because it has notoriously been a male-dominated field, there is some marketability in being female. I know of some female artists who are cashing in on this. This doesn't exactly sit too well for me - personally I'd prefer for my work to be viewed and taken in for it's merit, not because I'm a girl (and who has time to get that perfect selfie anyway?!). But at the same time, I'm also proud to be a female kicking goals in the field and I don't condemn others for creating a brand around their femininity and talent - it's certainly something to be celebrated.

I suppose I'm just conscious of this and I'm making an effort to just stay true to who I am and what my art means to me. It's important for many more females to be coming up through the ranks, and luckily this is happening more and more thanks to other creative industries now feeding into the world of public art. Many of the females I get to work alongside are fine artists, graphic designers, sign writers and illustrators. It's a much more inclusive community now and while we're not exactly -even stevens' in terms of gender balance, it's certainly getting there.

So the challenge for me has really been in where my own values lie and staying true to those. If I see a festival lineup that is extremely male dominated, I don't jump to conclusions and start a ragey rant on instagram. If the artists were chosen because of their work and their suitability to the environment or the theme of the festival then who am I to judge what gender they are and why it isn't balanced? I'd much rather be chosen for my work and not simply to fill a quota or be the token female offering.

I know this is a conflicting answer so I guess I'm still working out where I sit with it all and what it means to be a female in this industry, or if it should really mean anything at all!


Question: What is Wonderwalls?

Claire Foxton: Wonderwalls is an amazing annual three-day street art and mural festival in Wollongong and Port Adelaide. It started in 2012 and the festival has gone from strength to strength. Wonderwalls brings artists in from all over the world and there's art exhibitions, parties, artist talks and discussions, and of course murals happening all over the city. People coming to the festival can walk the trail and see the works coming together.


Question: Why do you enjoy participating in Wonderwalls?

Claire Foxton: It's got such a good vibe and it's awesome to be able to meet the other artists I've spent so much time admiring on instagram! We get to hang out, share a drink and a laugh about the trials of the day. I love being able to chat with the public too. There's always a steady stream of people stopping in to check out the progress and just generally appreciating the colourful contribution to their city.


Question: What are you doing for this year's Wonderwalls?

Claire Foxton: I predominately paint portraits so choosing a suitable person is a very important part of the process for me. I'm working to find a subject at the moment. I love to find an everyday person who has an interesting story that otherwise may not be told. It's important for me to feature someone who is local and somehow connected to the place I'm painting in. Many of my subjects I've painted have either contributed to the community in some way or overcome some kind of adversity in their life. Everyday heroes!


Question: Where do you find your inspiration when creating murals?

Claire Foxton: I do as much research as I can online and through contacts on the ground in the location I'm painting. But I generally always try and find a person with a story that resonates with me. Humans are so inspiring and sometimes it's the ones that don't find themselves to be remarkable that have the most remarkable story. My work is very much about the condition of the human spirit. Selflessness, humility and determination inspire me the most.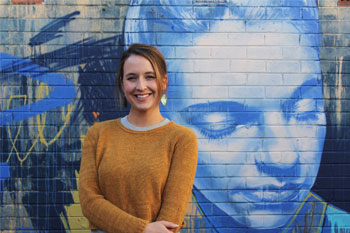 Question: Who are you looking forward to seeing at Wonderwalls?

Claire Foxton: I'm not sure who is coming yet! The full lineup is about to be announced so until then I get to speculate and get pumped for all the possibilities. I'm sure I'll meet more of my idols this year, which is one of the best aspects of the festival for me.


Question: What advice do you have for young female artists?

Claire Foxton: Gender roles are unfortunately ingrained in us from an early age, often subconsciously. It's important to recognise when you tell yourself you can't do something and quickly squash that thought. Also, don't let self-doubt affect your decisions. Say yes to an opportunity before completely talking yourself out of it, and work the rest out later. You'll be pleasantly surprised at just how capable you are when you push yourself out of your comfort zone.

Keep at it. Keep making. Be prolific and don't aim for perfection - it's a trap!