Interview with Alexa Towersey; IsoWhey Sports Ambassador, and Celebrity Trainer & Founder of Creating Curves
Alexa has over 15 years' experience in the health & fitness industry and is a Precision Nutrition Coach and Bio Signature Practitioner, which is essentially spot specific fat loss, an invaluable tool which enables Alexa to create training, nutrition and lifestyle programs that are individual each client and their body type.


Question: What is your favourite IsoWhey product?

Alexa Towersey: I really like the IsoWhey Mixed Greens with Matcha Powder, as I'm always on the run and when you mix it with water or coconut water, you end up with a really quick and easy yet highly nutritious snack.


Question: Can you share with us an IsoWhey recipe?

Alexa Towersey: Of course! The best recipe I know is my Gorgeously Green Smoothie. I blend spinach, kale, arugula, celery, cucumber, parsley, fresh lemon juice, small green apple and blueberries. Add 1 scoop vegan protein powder, glutamine, maca powder and Vitamin C. If it's post workout, I'll add some blueberries and a banana.


Question: Can you tell us about Creating Curves?

Alexa Towersey: My Program 'Creating Curves" works to, in essence, create curves and enhance the shape of female body. Cardio can make you a smaller version of yourself, but only weight training has the power to truly change the shape of your body. Creating Curves focuses on lengthening the front of the body while strengthening the back of the body, and specifically targeting the hips, thighs, booty and core which are females' traditional 'problem areas". This makes it great for women who don't have the time to spend hours at the gym, but still want to improve their posture, help prevent injury and change the shape of their body.


Question: What inspired the creation of Creating Curves?

Alexa Towersey: Women traditionally store fat around their hips and thighs which can be associated with ineffective blood sugar management. Targeted weight training can help this and improve the way your body responds to and processes sugar and carbohydrates. The best way to target the fat is to use moderate weights with higher total volume. When you train with higher volume weights, you have the ability to burn fat and gain lean muscle as women release a higher level of HGH (Human Growth Hormone). In addition if you specifically want to lose fat on your legs, weight training is great because the muscles are large and demand more from you metabolically.


Question: What advice do you have for females who have let go of their new year's fitness resolutions?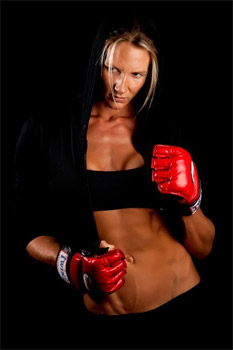 Alexa Towersey: If you have let go of your New Year's fitness resolutions, don't stress too much. We are only a quarter of the way through the year and there is plenty of time to pick them back up again. Often New Year fitness resolutions fail because we implement them when we are still enjoying time off and then when we get back into our routine we stop because we can no longer fit them in.

A solution for this is to find something that you can make time for in your day. Weight training doesn't have to take up a lot of your time because you can do a short, high intensity circuit style of training.


Question: How does strength training improve running performance?

Alexa Towersey: Strength training can improve running by preventing injury, improving power to weight ratio and improving posture and breathing. Runners often assume that weight training will deter their performance because it will bulk them up. This is not the case as it improves the overall condition of the body and can lead to higher endurance and overall performance ability.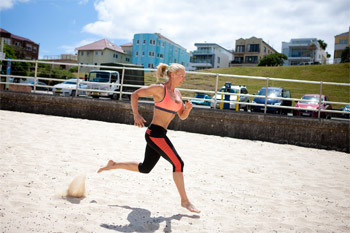 Question: How does weight training prevent running injuries?

Alexa Towersey: Weight training prevents injury because it strengthens areas that are prone to strain. Runners often discover that they have one week side and are unilaterally dominant. This can lead to injury as you favour your weak leg. By working with weights to strengthen this weakness you will prevent future injury. I recommend targeted exercises such as lunges, step-ups, split jumps, single leg off-box squats and single leg deadlifts.


Question: What would we find in your gym bag?



Alexa Towersey: In my gym bag you will find headphones, iPhone with a selection of Spotify playlists, a spare hair tie (cannot have enough of those), shaker, IsoWhey Mixed Greens with Matcha Powder, IsoWhey Wholefoods Brown Rice Protein Balls, and my aluminium water bottle.


Interview by Brooke Hunter