All The Colours Interview
Melbourne's very own progressive-vintage sound-tamers, All The Colours release their debut 'Self-titled' Album on Repent Repeat / Inertia, Friday 7th March 2014.

Having recently completed touring nationally as part of the Big Day Out, All The Colours have finally arrived at this highly anticipated release of their initial body of work. Vol. 1.

The band has spent two years perfecting their new sound, drawing on musical and cultural icons from Sam Cooke to Dave Gilmour, Nina Simone to Josh Homme. The influence of these heavy-handed Men Of History, each with an eye to seduction, has led to a sonically diverse and mature production of songs and melodies. Utilising the strength and scope of two polar opposite lead voices, wailing guitar solos, classic pop mentalities with seductive rhythms settled underneath, All The Colours have created a timeless, industry challenging work of art.

Always presented immaculately in suits, bow-ties, and pomaded hair, All The Colours are notoriously engaging live: their clean cut aesthetic dissolving from seductively suave to wild at just the right moment. Hailed as best performers and most dapper band at recent festivals, their powerhouse performances are a theatrical treat and a return to the lost art of live entertainment.

The band has played festivals Pyramid Rock, Peat's Ridge and this year's Big Day Out while also supporting the likes of Birds of Tokyo, Ladyhawke and Closure in Moscow on national tours. All The Colours have released four singles, Second to None, Love Like This, Shame, and recently Fragile, complete with visually engaging music videos directed by GUY FRANKLIN (Kimbra, Guy Sebastian) and shot by ED GOLDNER.


Question: How would you describe All The Colours?

Jonathan Toogood: You'd happily introduce us to your father, knowing that he wouldn't be aware that once we were both behind closed doors there would be ropes and safe-words very much in use.


Question: Tell us about the self-titled album?

Jonathan Toogood: It's our Vol.1. It's the first batch of songs we created while growing into a family so it's a great feeling to have it released and set free to the world. The idea from the get-go was to create something that was going to be something you could put on anytime throughout the day. There's a lot of mood in the album. You could make love with it dictating the level of intensity. Listen to it with you Grandmother while having some lunch. Come home early morning after a night out and watch the dawn break with it on in the background.


Question: Do you write your own songs? What's your inspiration?

Josh Moriarty: Yes we write our own songs, it usually starts with Josh Mann or myself coming in with a pretty solid idea and then everyone adding their parts. It's an easier and quicker way of getting things done. Inspiration comes from everywhere but I personally find waiting around in extremely banal situations a great time to write. There's a song on the album called 'The Nightmare's Over'. I came up with that riff while I was waiting impatiently for Jono ( Toogood ) to fix the lock on our rehearsal room door, inspiring stuff!


Question: Did you have any pre-conceived ideas about the music industry?

Jonathan Toogood: Maybe. All I know is that if you're not willing to give everything for your art then there is a very high chance you won't be successful.


Question: What music/artists do you listen to when you are not playing your own?

Josh Moriarty: We've inhaled and devoured the classic, Beatles, The Doors, Roy Orbison, it kinda seems like an integral part of learning music, like reading Geroge Orwell or Tolstoy, the Bible, classic literature. Growing up as teenagers in the 90's meant that Nirvana, Smashing Pumpkins, Soundgarden, a bit of nu-metal, all that stuff sinked in too. These days some of our favourite bands are Kashmir, Timber Timbre, the Black Keys, Rage Against The Machine (still!!). I really enjoyed that Mac Demarco album everyone's been listening to, I'm kinda just into more chilled stuff at the moment more than anything.


Question: What's next? Tour/Album/Single?

Jonathan Toogood: We've just released 'Fragile" (YouTube) so check that out first. It's such a lovely song and clip with Josh Mann. Next step is the Album release party. It's going to be late April/early May and will be something you'll want to be a part of (undisclosed location, dress theme, etc.) A proper party! Once we've done that we're off to L.A. for a few months to start work on Vol.2 and do some recording at Joshua Tree. That's the plan thus far. Anything could happen in the meanwhile though.


Question: Why is it important for you to always be presented immaculately?

Jonathan Toogood: It's important that we don't pigeon hole ourselves into a particular 'scene." We want to allow any audience access to our music and performance. Maybe a leaf from our ancestors book whom were such great entertainers… It's also feels so good suiting up before playing. Gets you in character and sets a everything off in the right direction.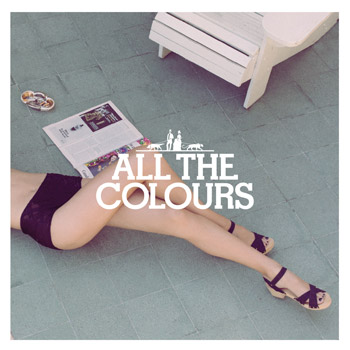 Question: Do you prefer performing live or recording?

Josh Moriarty: I love both equally I think. They are such completely different things, they need different mind sets but both are very fulfilling. We all grew up playing live music, the studio stuff didn't really start happening until the last 5 years so we are fresher to that buzz. I spend a lot of time in studios with Miami Horror and other artists that I work with writing jams and learning production techniques so it was nice to produce the All The Colours album myself and try out a bunch of tricks that I had learnt. We're really happy with the sound of the record, there wasn't really anymore we could do to it, we achieved everything we set out to do on it, now it's time to start something else and develop our studio sound further.


Question: What/who was your inspiration to go into the music industry?

Josh Moriarty: To be honest, Shihad was a huge inspiration on me when I was a kid growing up playing guitar and learning music in Wellington. They were the cats whiskers, everyone loved them, they were the home town rock n roll heroes who were out trying to conquer the world. Everytime I saw them play as a teenager they had such an intense live energy and their albums sounded rockin, it was everything I wanted to hear at that age. The Deftones were also a really big inspiration, their album White Pony made high school so much more bearable, when I heard that in the corner of the library on my mates walkman that was a defining moment for me, I decided then and there that I wanted to do this for a living.


Question: What is the biggest challenge you have faced along the way to your musical success?

Jonathan Toogood: I think the biggest challenge is to remind yourself to enjoy the 'now" and the wins. You get so caught up on progress and the pipe line that sometimes you work yourself into a state of uncertainness when in reality everything is going great. I've only just really learnt that later in my career and it's so bloody important to celebrate the wins when you get them. That's the point of doing this in the first place!


Question: What's a typical day like?

Josh Moriarty: Making jams or playing shows, that's pretty much my life these days. Working on All the Colours and Miami Horror, writing with a bunch of other pals and then touring around the place, that's my day to day. There's also a lot of cigarettes and junk food, I'm a bit of scum bag when it comes to looking after myself.


Question: What has been your favourite part of becoming a music artist?

Josh Moriarty: Getting to do what I love all the time, creating moods and atmospheres for people to immerse themselves in, be that at a live show or on their headphones on the way to work. It's nice to do something that helps people escape the intensities of everyday life for 45 mins.


Question: If you could collaborate with another artist, who would it be?

Josh Moriarty: Top of my list is Bruno Mars and Adele, I love them both. I guess some people wanna work with someone who is similar to them but my desire is to work with pop artists with incredible voices and try write classy pop music, not your average Gaga or Katy Perry jam, something with a bit more soul and feel.


Question: What message would you like your music to say to your fans?

Jonathan Toogood: 'Make babies and look forward to sharing our music with them when they grow up"


Question: What is the story behind the band's name?

Josh Moriarty: It was something we had laying around gathering dust from the old days, we just put the old thing in the wash, popped it on and it fit better than ever. I like the imagery of it; it's not restrictive so it gives us the opportunity to take the music wherever we want.


Quick Quiz

Full Name: Jonathan Toogood
Nickname(s): Billy Morse, Jono, JT, Johnty-boy, Bozo
Star Sign: Leo
Favourite Food: Freshly shucked oysters
Favourite Film: American Psycho maybe, Labyrinth, Dark Crystal
Favourite Actor: Leo – Give him an Oscar!
Pet: Currently Dinah the cat. He's a nasty piece of work.
Person You Would Most Like to Meet: Jesus is he's real.
Where did you grow up?: Wellington, NZ
First Job: Paper boy
Are you a Pub, Bar or Club kind: Bar. Whiskey and Vodka Martini's any night of the week.
What Can You Never Leave Home Without: My pants. At least that's what the police told me last time.
What is the first thing you think of when you wake up in the morning: 'I don't really need to get up to do that. I'll sleep another 15mins"
Who do you look up to: My parents. Don't know how they did it but they did.
What is your top pick-me-up trick: Start singing about mundane things. 'Walking down the hall, singing ma toon. Will be arriving in the kitchen pretty bloody soon"
Car I want to own: Range Rover
Car I own: Range Rover
On your wishlist: As much fine dining as possible. Paid for by someone else.
Prized Possession: My friends and family.