by Gaynor Flynn
She burst onto the music scene in 2002 at just 17-years-of-age, and four years later her defiant rock music has earned her eight Grammy nominations and a swag of awards. Her CD's tend to go multi-platinum and a third album is already in the pipeline, and so at the tender age of 21 Lavigne finds herself at the 'what next' stage of her career. There's talk of a clothing label - of course - perfume is probably not far off and like many a popstar before her Lavigne has also decided to take the rather predictable route into acting. What's not so predictable however is that unlike her poppy peers, the Canadian native was not interested in doing the "romantic teen comedy thing" or even having something especially written for her so that managers and marketers could make the most of the her cross-branding potential. Nope, much like she preaches in her music this girl knew what she wanted and what she didn't want and what she wanted was to quietly learn a new craft away from the glare of too much publicity. She's already managed to clock up three performances and she was recently at the 59th Cannes International Film Festival -where it has to be said she looked far more movie star chick than rock star chick - promoting two of them, the animated family film Over the Hedge and the politically earnest Fast Food Nation. Here's what she had to say about her new career, music and being famous.
Gaynor Flynn
: How does it feel to just be a voice? Is it easy to act and convey feelings through a voice only? Is it liberating or is it constraining?
Avril Lavigne
: Yeah it was fun I found it to be nice and easy, it felt pretty natural for me. One funny thing that kept happening though was because it was just my voice I had to stand still and say it and I'd use my hands constantly and like hit the microphone stand and make noises so Tim (Johnson the director) and Karey (Kirkpatrick) had to tell me to hold still, it was hard. It's hard to be running or falling down the stairs and have to make those sounds come out of your mouth but keep your body still.
Gaynor Flynn
: You have two films at Cannes Film Festival just how far do you intend to take this acting career and what looks better, movie star or rock star?
Avril Lavigne
: Both. I feel so honoured to be here after working on both films, I loved it and I would love to go further and I just think its important for me to do it the right way and just be careful and I want to be smart about it and take my time and wait for the rights parts and the right movies, but I definitely look forward to the future and what it holds for me.
Gaynor Flynn
: But was it your decision or your manager's decision to get into the film work?
Avril Lavigne
: It was a conscious decision of mine
Gaynor Flynn
: You have also done it in an interesting way, in Fast Food Nation you're one of an ensemble cast and in Over the Hedge you're a voice. Its' a very subtle way of getting into acting.
Avril Lavigne
: I wanted to start off small and to learn I wouldn't just want to throw myself into a big part, this is a great first film and then going on to Fast Food Nation was the right thing to do. And I did a scene in a movie called The Flock and I did that just to see how it was and to not jump into it too fast, and I like it and I'm ready and I'm open to doing some more and to experiencing it.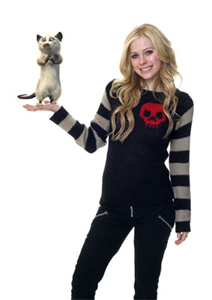 Gaynor Flynn
: Do you think the filmmakers chose you because of your rock persona?
Avril Lavigne
: Yeah definitely I think they thought I'd give my character which is a possum a bit of attitude and that was fun because she's just like a teenager and she gets embarrassed about things that other teenagers get embarrassed about so I could relate to that and that's what I love about acting, its still performing and its delivering emotions but its just different and I'm loving that right now.
Gaynor Flynn
: Were you disappointed that you didn't get to sing in Over the Hedge?
Avril Lavigne
: No that's cool.
Gaynor Flynn
: Are you a fan of cartoons?
Avril Lavigne
: I don't watch TV very much but I didn't watch the Simpsons growing up but then I did. When I was younger I watched the Care Bears, Bugs Bunny and stuff like that.
Gaynor Flynn
: Have you ever studied acting?
Avril Lavigne
: No, when I was younger I did some theatre at school and I really loved it, but my singing career took off and I've been focusing on that for about five years no so I'm ready to try out some other stuff, some new stuff and just have run doing different things.
Gaynor Flynn
: Were you nervous though, about making your acting debut?
Avril Lavigne
: Yes, but excited at the same time and I've made a lot of music video's in the last five years as well so that's kind of been like acting in a way but easier for me because I'm singing at the same time and that takes my fear or my focus off the acting part of it. The most acting I did was in Nobody is Home.
Gaynor Flynn
: What kind of movies do you like?
Avril Lavigne
: Popcorn movies, nothing too serious.
Gaynor Flynn
: Do you have a favourite?
Avril Lavigne
: Little Mermaid.
Gaynor Flynn
: Do you feel you're a role model to your fans?
Avril Lavigne
: I don't feel like a role model cause I'm only 21. I mean I know my fans look up to me and that's why I make my songs so personal, its all about things I've experienced and things I like or hate. I write for myself and hope that my fans like what I have to say. I think I have a strong personality and my songs are about being yourself no matter what and going after your dreams even if your dreams are crazy and even if people tell you they're never going to come true.
Gaynor Flynn
: You're looking very glamourous today, it seems like you have been changing your image recently?
Avril Lavigne
: When I started on the scene I was straight out of high school and a skater and all that. Now I'm 21 and I'm a woman and I love the rock look but I also want to be a little more feminine, so I think I've got a kind of rock glam thing going on.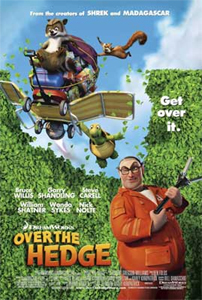 Gaynor Flynn
: How do you cope with your growing fame?
Avril Lavigne
: I just try not to talk about my personal life. I've been singing professionally for a few years now and you just learn to deal with that side of the business. Like in my songs I'll talk about personal stuff but then I don't think I expose too much. I keep some things to myself and I think my fans understand that.
Gaynor Flynn
: Do you regret getting into the business at such a young age?
Avril Lavigne
: I mean I'm only 21 but sometimes I feel a lot older you know cause you have to think about tours, and hiring people and all that business stuff so there's a lot of responsibility but I don't think I missed out on anything major, my childhood at least until I was about 16 when I left home was pretty normal.
Gaynor Flynn
: Are you enjoying your career right now?
Avril Lavigne
: Yes I am I'm very happy right now and I'm writing songs for my next album and I think it'll be kind of different to my earlier music cause I'm really happy, so I think the songs will be a bit more positive.
Gaynor Flynn
: In terms of the future and your new acting career, what kind of roles would you like to go for?
Avril Lavigne
: Well I really admire Winona Ryder and Angelina Jolie in Girl Interrupted, so those serious drama you know not mainstream. So I'd like to do something dark and complicated it would be kind of like my music but in a movie and it would be another way for me to express myself and get stuff out.