THE KEY TO KATE HUDSON: MOTHERHOOD.
Kate Hudson/Skeleton Key Set Visit Interview by Paul Fischer in Los Angeles.
Kate Hudson is back to work for the first time since giving birth to her new son, 6-month old Ryder Russell Robinson, and admits that juggling acting and motherhood is actually proving difficult. "I am sure every working mother no matter what form of work they are in feels the same way. You have a baby, want to be a mum all the time all day long. Then when you have to separate yourself from your child it is really hard 'cause all you want to do is be doing nothing but watching them every second." Kate is taking a break shooting her latest film, the psychological thriller Skeleton Key, at Universal Studios' stage 24. Hudson says that her "priorities as far as how much I work and stuff really changed", since undertaking her new role as mother.
Yet here she is starring in a non-romantic comedy opposite the likes of Gena Rowlands, John Hurt and Peter Sarsgaard. In this New Orleans-set thriller, Hudson plays a caretaker who experiences fright after fright in an elderly couple's home. The always perky 25-year old jokingly says that part of her attraction to Skeleton Key was "I don't have to smile," referring to her recent array of romantic comedies. But Hudson says she doesn't have the need to smile on camera, because "I am as happy as can be so I don't have to smile," she says. "I'm a happy girl but it is nice to exude and funnel energy differently."
While Skeleton Key represents a different departure for the actress, Hudson says she is not giving up the romantic comedies entirely. "Absolutely not, no I am just doing a very different genre, and I feel like I am doing actually more of a genre then I've been doing," Hudson explains. She says that she has always been a fan of horror films, but "I get scared easily, you know. I am sucked in easily in movies, so I am a good and positive audience so you know thrillers always get me." A fan of films such as the classic Don't Look Now and The Sixth Sense, Hudson says that Skeleton Key offered something different for a genre film. "It feels like that heightened sense of reality that you get when you watch thrillers or scary movies. Sometimes they really try to expand your disbelief or belief and this one, no matter what happens in it, seems to always contain an ounce or more of it that could be and very possibly exists. That always scares me more than films like Nightmare on Elm Street."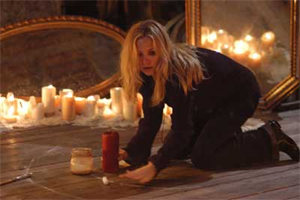 Hudson is confident that Skeleton Key will be genuinely scary when audiences see it unspool in the first quarter of next year. "From what I have experienced I think it will be really, really scary and you can hope that is right, but you know everybody is really excited about this film."
Hudson most recently was seen in Raising Helen, a film that failed to take off at the box office, but when it comes to her failures, she remains pragmatic and philosophical. "Raising Helen had so many things to contest with so either way I think there is always a level of pressure that other people put on you than I try not to bring into my everyday life or my work or the kind of attachment I have with certain films. I think that the minute you are done making a movie it is just all out of your hands until, you can only do as much as you can now. I show up to work everyday, have a great time, and enjoy the people. I work really hard and if I had a crystal ball then I would make all the right decisions and choices, but I don't so I might as well enjoy the process and that is all I can do. I am very proud of Raising Helen and I don't feel like it was a failure for what it did." In fact, comes Hudson's surprise admission, the actress thought it would do worse. "Like I said, you are contesting with a lot and it was an ambitious time to put that kind of movie out, so I am definitely proud of that experience but you do feel pressures and that is ok, because it is part of the gamut I guess. I am willing to take on the pressure and take the ups with the downs."
While trying to balance her career with motherhood, Hudson says that are particular criteria she has for picking a role or a film. "I think it always starts with a script. To me it is not even a part, but sometimes there are scripts that you read and you really just want to be a part of that film."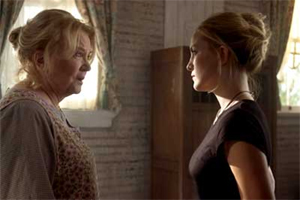 After shooting Skeleton Key, Hudson says that she plans to take a break to spend more time with her son, and after that, "I will probably start work again late Fall."