Brealyn Sheehan Forbidden Fruit Interview
It is always exciting when a singer-songwriter steps up to the microphone and effortlessly blows away the competition. The discovery of an emerging performer who is obviously destined to go far is a rare occurrence and as she gears up for the forthcoming release of her debut EP – Temptation's Door – it is evident that Far North Queensland songstress Brealyn Sheehan is one of these elusive talents.

Celebrating the release of her debut single – Forbidden Fruit – at the end of February, the talented artist has already been turning heads on the live circuit, aptly described by critics as -red velvet meets the wild west'.

Forbidden Fruit is a worthy introduction to the singer, who has been refining her skills as a songwriter over the past few years, getting ready to share her wares with the world. The EP is a heady collection of beautifully crafted songs that will resonate with audiences of all ages. The commonality of the themes throughout the EP are perfectly represented in Forbidden Fruit, with its emotionally laden lyrics and stripped back instrumentation.

'It is about wanting someone that part of your instincts tells you that you shouldn't want," says Brealyn. 'I think a lot of people might relate to this for their own reasons. I was writing about the feeling of being swept up by both my emotions and desire, and how that ultimately made it difficult to resist someone.

Forbidden Fruit started with the dark tones of chord progressions I was fooling around with. I had the drum beat in my head from the beginning, which helped shape the rest of the song. I knew from the imagery the melody brought to my mind that it would be a song about desire, but the lyrics came along a little later."

The single – like the forthcoming EP – were recorded under the guidance of Mark Myers (The Middle East, Emma Louise), which helped bring the sound to fruition in the studio. 'I had a pretty clear vision for this song when I went into the studio," says Brealyn. 'I was clutching the production notes about the feel I wanted the song to have, they said -atmospheric, lush, mysterious and emotional'. Mark was really sensitive to the songs and he understood the atmosphere I was after. He played several instruments on the track and really added the mood I was looking for."

Ever the perfectionist when it comes to her sound, Brealyn was also specific about the percussion and instrumentation in Forbidden Fruit. 'One of my friends Julia Fujita plays musical saw," she says. 'I knew from when I started writing this song, it had to have the saw in it. The double bass, lead guitar and saw weave around each other to create a haunting effect, which was punctuated by the drums. Mark added some extra touches with the keys and a fabulous vintage vibraphone he has in the studio. He also laid down the gently sweeping layers of guitar in the chorus, which we nick-named the guitar orchestra."

Recorded in Big Sister Studio and mastered by Grammy award-winning engineer William Bowden (Gotye, Tim Finn), the EP and its six-tracks are a perfect representation of where Brealyn is at as an artist. Since embracing music as her professional direction, this talented songstress has already earned herself a formidable reputation. Growing up in the sugar community of Babinda, fringed by North Queensland world heritage listed rainforest, Brealyn now bases herself in Cairns and is a regular on the live circuit.

Already she can add enviable festivals such as Wallaby Creek Festival, Cairns Festival and Brisbane Fringe, to name a few, to her gig history. She has also been lauded with accolades, recently being named Best Performer at the Cairns to Nashville Song Contest and as a recent nominee in The Cairns Post HIT awards. Effortlessly moving from genres such as jazz-fused-blues, haunting ballads to splashes of indie guitar and lush vocals, it is evident Brealyn is 100 per cent comfortable in her skin and her sound. She is well-known for her sassy stage presence, something she has managed to capture in her studio recordings, making an almost visual listening experience. Forbidden Fruit is the perfect introduction to her forthcoming EP, a release that is jam-packed with musical gems.

'I'm really excited to be releasing my debut EP," says Brealyn. 'I can't wait to share it with an audience. I never thought I would get a chance to pursue music and this journey has been fulfilling a lifelong dream. I can't wait to continue the adventure with the release of Temptation's Door."

Brealyn Sheehan's debut single Forbidden Fruit is released to radio on Friday 26th February 2016. The Temptation's Door EP is due for release on Friday 15th April 2016.

For more information, please visit www.brealynsheehan.com



Interview with Brealyn Sheehan
Question: How would you describe Forbidden Fruit?

Brealyn Sheehan: Forbidden Fruit is a haunting ballad which was inspired by desiring someone that I thought I should perhaps resist (I should clarify it was nothing immoral), and of the struggle with feelings of attraction, temptation and whether or not I should try and control my feelings.


Question: Did you have any pre-conceived ideas about the music industry?

Brealyn Sheehan: I guess I had some ideas about the industry before I started writing, but it really has been and continues to evolve so things change all the time. There's certainly a lot to learn, especially as an independent artist, which is challenging, rewarding and exiting.


Question: Do you write your own songs? What's your inspiration?

Brealyn Sheehan: I write my own songs, which I've been doing for a couple of years now, and finding my voice and my style which is a continuing exploration. So far I've mostly been writing from my heart and my experiences with love, travel, etc, but I sometimes find inspiration observing others and am also tossing around ideas for other themes.


Question: What music/artists do you listen to when you are not playing your own?

Brealyn Sheehan: My music collection is a little eclectic. Lately I've been enjoying great female vocalists like Brittany Howard from Alabama Shakes and Mojo Juju, and also the recent albums from Nathaniel Rateliff and Marlon Williams. I'm a big fan of Nick Cave ballads, and I've been gravitating towards brass and jazz too the last couple of years. I tend to buy a lot of music at festivals and live gigs too so I have a growing collection of up and coming Aussie acts.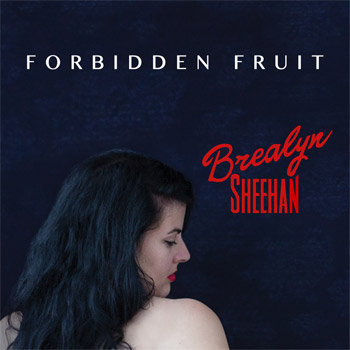 Question: What's next? Tour/Album/Single?

Brealyn Sheehan: The next step is the release of my debut EP Temptation's Door on 15th April and the local launch event here in Cairns. After that I'm going to start planning some tour dates, and hopefully another single a little later in the year.


Question: Was there a moment you contemplated throwing in the towel?

Brealyn Sheehan: I think there are moments when I wonder what I'm doing for a variety of reasons, it can be an emotional roller coaster and sometimes the amount of knowledge I feel I need to grasp can get a bit overwhelming. It's something I wanted to do all my life, but let fear and uncertainty get in my way. Since I started to perform I've never felt so passionate about wanting to pursue something, so it would be difficult for me to stop now.


Question: Do you prefer performing live or recording?

Brealyn Sheehan: I really enjoy both. Recording my debut EP was my first time in the studio, and it was exciting to put the pieces of the puzzle together whilst working with the producer and musicians. I love live music myself, and performing is a chance to give music an extra dimension with a visual presence, get feedback from the audience, especially for new material, and also to meet the audience and other musicians.


Question: What/who was your inspiration to go into the music industry?

Brealyn Sheehan: I've been musical much of my life and learnt several instruments as a child, but was only nudged onto the stage at an open mic for the first time a little over 3 years ago. I've had lots of encouragement so far, both from audience and peers, and I find it inspiring to talk with, watch and listen to people who've been working at their craft longer than me from and industry perspective.


Question: What is the biggest challenge you have faced along the way to your musical success?

Brealyn Sheehan: I'm certainly still on the way, but the bigger challenges are balancing everyday life, day job and pursuing music and hopefully working towards a point where it's financially sustainable. It's probably pretty common, but I wish for more hours in the day to practice and learn etc. I do realise that I'm fortunate to have a less complicated schedule than some, and I really admire the artists who do all that and raise families etc as well.


Question: What's a typical day like?

Brealyn Sheehan: A typical day involves getting up early for work at my day job, fitting in rehearsal or practice and music admin in breaks and after work. I also try and get out to watch gigs as often as I can.


Question: What has been your favourite part of becoming a music artist?

Brealyn Sheehan: For me performing and writing has been pretty life-changing, it's made me happier than I've ever felt (apart from when I've been travelling), and continues to teach me about myself and life generally. I'm also enjoying meeting fellow musicians, and the special moments you sometimes have when someone talks to you about a connection they find with a song or lyric you've written.


Question: If you could collaborate with another artist, who would it be?

Brealyn Sheehan: I don't know if I could specifically choose certain artists, I've been lucky to work with some great people so far. I'd love to do some collaborations though, maybe vocals for someone else's music, or co-writing, and I'd also love to try different styles of music oh, and to work with a brass section!


Question: Do you have a website fans can visit?

Brealyn Sheehan: www.brealynsheehan.com or www.facebook.com/brealynsheehanmusic


Question: Can you tell us 5 things required for a happy healthy & enjoyable life?

Brealyn Sheehan: Time with family and friends, being generous with love.
Finding balance between work/creativity/pleasure/responsibilities etc.
Learning when to go easy on yourself and to let go when you need to ie: relax, stop stressing and try to take care of your health.
Challenging yourself: getting out of your comfort zone to see where it might lead you.
Expanding your horizons: travel and meet people, be open to new things and keep learning throughout life.



60 Second Quiz
Full Name: Brealyn Sheehan (no middle names)
Nickname(s): Bee or Brea
Star Sign: Aries
Favourite Food: Chocolate, Avocado
Favourite Film: Amelie or anything from Wes Anderson
Favourite Actor: Ewan McGregor
Pet: I don't have any pets, just instruments
Person You Would Most Like to Meet: Neil Gaiman
Hobbies/Interests: Sewing, creating things
First Job: Cashier
Are you a Pub, Bar or Club kind: I like intimate bars with live music and cozy corners.
What Can You Never Leave Home Without: keys and phone for on the go recording of melodies and lyrics.
What is the first thing you think of when you wake up in the morning: If the alarm wakes me usually 'oh no, can't I just have another half hour?".

Interview by Brooke Hunter