Meet Bethany Fisher
Starting Over, Starting Now
Bethany Fisher's New Music Video Starting out is here and she's excited to share it with you!
Bethany's shows are high energy, interactive, featuring non-stop singing and dancing for the young and young at heart. Kids are encouraged to be a part of the show through learning dance moves and opportunities to join Bethany up on stage throughout the show. There are lots of prizes to be won throughout the show for the best and most enthusiastic singers, dancers and parent/child combination. Guaranteed to get your toes tapping and leave a smile on your face long after the show has finished.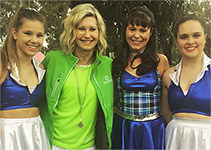 Bethany has performed at some of the largest events and festivals throughout Australia, including pre entertainment at Carols in the Domian, The Ekka, Royal Children's Hospital Good Friday Appeal, Melbourne Day, St Kilda Festival, Summersault, Sunfest and many more. Bethany performs both a standard and Christmas show, both filled with catchy tunes reflecting her natural energy and style. Her shows feature her talented dancers and is tailored to suit your requirements.