Meat Free Week
Serves: 4
Prep time: 30 minutes
Cook time: 20 minutes

Ingredients
1 Tablespoon olive oil
1 Tablespoon brown sugar
½ Bunch coriander, stems thinly sliced and leaves picked
2 Tablespoons soy sauce
2 Teaspoons ground turmeric
1 Long red chilli, thinly sliced
1 Stick lemongrass, bruised
Thumb-sized piece ginger, grated or finely chopped
3 Spring onions, finely sliced
3 Garlic cloves, grated or finely chopped
1 Cup bean sprouts, to serve
100g Thick, flat rice noodles, cooked
400ml Tin reduced-fat coconut milk
400g Tin chickpeas, drained and rinsed
500mL Reduced-salt vegetable stock
¼ Butternut pumpkin, cut into 1cm dice
1 Eggplant, cut into 1cm dice
Lime wedges, to serve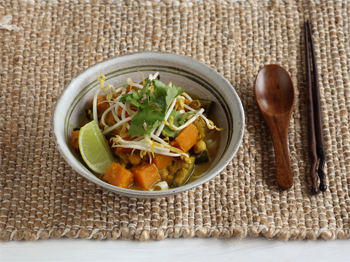 Method
Heat olive oil in the Philips Deluxe All-in-One Cooker over high heat on the SAUTE/SEAR function.
Add spring onions, ginger, garlic, coriander stems, chilli and lemongrass. Cook, stirring, for 1-2 minutes or until fragrant. Stir in the soy sauce, brown sugar and turmeric until dissolved.
Add pumpkin, eggplant, coconut milk and stock. Close lid, lock and set on PRESSURE COOKER function for 12 minutes.
Let the steam off, then carefully remove lid and add chickpeas.
Divide noodles between serving bowls. Top with vegetables and laksa broth.
Serve with bean sprouts, coriander leaves and lime wedges.


Meat Free Week Tips With Callum Hann, Philips Kitchen Appliances Ambassador And Masterchef Runner-Up
Many people want to participate in Meat Free Week, but it can be tricky to think outside of your go-to dinners without your hero ingredient. Preparation is the best way to approach any dietary changes, so I have outlined some key tips to help you get the most out of the experience.

Try new recipes
Rather than recreating your lamb chop dinner without the lamb chops, find some new vegetarian recipes, which you might enjoy so much they'll become a new staple. There is an abundance of blogs, websites, Instagram pages and cook books dedicated to delicious vegetarian recipes.

Seasonal Produce
The highest quality fruits and vegetables are the ones which are grown and produced locally. To make the most of local produce, find the fruits and vegetables which are in season. If you're buying produce which is out of season, it's likely been flown in from another country and the flavour won't be as good for any meals you are preparing.

Buy some fresh herb plants
It's tricky to have your own vegetable garden or fruit trees, but you can buy small herb plants including basil, mint and coriander. These look great sat in your kitchen, but they're also perfect for garnishing or flavouring any meals, and if you have children it's a great way to teach them about how fresh ingredients are grown.

Find the right appliances
There are so many great kitchen appliances to help you create the best meals possible with minimal stress and effort. As Meat Free Week starts, it's a great time to find an appliance which will suit your cooking best and make your time in the kitchen more enjoyable. I use the Philips Deluxe All-in-One Cooker which allows you to slow cook, pressure cook and multi cook.

Eat the rainbow
When you decide to participate in Meat Free Week, it is easy to forget that you also need to make sure your meals are healthy. Chips, pizza and deep-fried foods can all be vegetarian, however this doesn't mean they are healthy. A great way to keep your vegetarian meals as nutritious and healthy as possible is to "eat the rainbow." This means, filling your plate with vegetables, grains and fruits which range in colour, and it will also give you a few "food-gram" opportunities.