Callum Hann's Falafel with Beetroot Tahini Sauce and Shaved Zucchini Salad
Serves 4

Ingredients
Beetroot Tahini Sauce and Shaved Zucchini Salad:
2 Medium-sized beetroot
50g Walnuts
1/3 Cup Greek yoghurt
2 Tablespoons tahini
30g Smooth feta cheese
2 Zucchini, finely shaved into ribbons with a peeler or mandolin
1 Bunch mint, leaves picked
4 Radishes, sliced as thinly as possible
½ Pomegranate, seeds tapped out
2 Tablespoons olive oil
Juice of a lemon

Falafel:
400g can chickpeas, rinsed and drained
1 Bunch flat leaf parsley, leaves picked
1 Tablespoon ground cumin
1 Tablespoon smoked paprika
2 Spring onions, roughly chopped
3 cloves garlic, grated
1 Teaspoon baking powder
1 Tablespoon olive oil


Method
Wrap beetroot individually tightly in aluminum foil. Set Airfryer (I've been using the Philips Airfryer recently and highly recommend!) to 180C and place beetroot inside. Cook for 40-50 minutes or until beetroot are tender when pierced with a knife. Place walnuts in the air fryer for final ten minutes of cooking to toast them.
Wearing gloves, unwrap beetroot and pull the skin off. It should remove easily. Roughly chop, transfer to the bowl of a food processor and blend with yoghurt, tahini, feta and walnuts until smooth.
To make the falafel, combine all ingredients with a pinch of salt in a food processor and blend until smooth. Roll into 12 equal sized balls and refrigerate until ready to cook.
Combine zucchini, mint, radish, pomegranate, olive oil and lemon juice in a bowl and set aside.
Turn the Airfryer to 190C and place falafel inside. Place the timer on for 10 minutes then check. Cook for a further 3-4 minutes if you like them really crunchy on the outside.
Serve falafel with beetroot sauce and shaved zucchini salad.



Notes:
While I love using my Philips Airfryer to make this dish fast and as healthy as possible there's also other cooking methods to creating this recipe if you don't have an Airfryer. See my notes below:
If you don't have a food processor you can use a potato masher to mix all of your falafel ingredients
Use the oven instead to cook your beetroot and falafels. Account for approximately 10 minutes more for the beetroot and the falafels, compared with the Airfryer cooking time.
You can also toast the walnuts in the oven or alternatively, fry them off in a pan with olive oil on a medium heat for a few minutes until toasted.



Interview with Callum Hann
Question: Which of the Philips Kitchen Appliances are your favourite?

Callum Hann: I am constantly looking to create recipes and use appliances which allow you to cook healthy, delicious food quickly and easily. For me, the Philips Airfryer XXL is my favourite Philips appliance as you can perfectly fry anything including a whole chicken and chips with 90% less fat, and it couldn't be easier.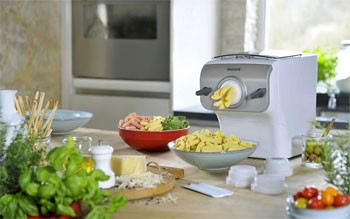 Question: Which of the appliances in the Philips Kitchen range would be best to gift for a Housewarming, Engagement or Wedding gift?

Callum Hann: I think kitchen appliances are some of the best wedding gifts because they are luxury items that individuals may not buy for themselves, and they also encourage a couple to get in the kitchen and cook together and for each other, which I think is very special.

I would gift the Philips Pasta Noodle Maker as you can have fun making a range of delicious and healthy pastas by adding really interesting ingredients and flavours to the pasta itself. Pasta is a hearty, delicious and romantic meal, but it is not often made from scratch as people think it's too tricky and time consuming so this is the perfect gift for a newly-wedded couple.


Question: Can you share some of your best time-saving tips, in the kitchen?

Callum Hann: I think my key tips are around preparation and breaking down a recipe to make it as simple as possible. This can start with your shopping list, it's great if you have an idea of some of the meals you'll be making throughout the week but even if you're not, picking up some staples including veggies, quinoa or couscous will mean that you can cook something healthy and delicious, very quickly, rather than ordering food online.

Before you start cooking, preparation is an important step many people skip. Chopping, cutting, dicing, peeling and squeezing all ingredients before you start cooking means you can add them as needed and clean up while they are cooking, rather than desperately chopping each ingredient, watching the food already cooking, and feeling stressed and in a mess.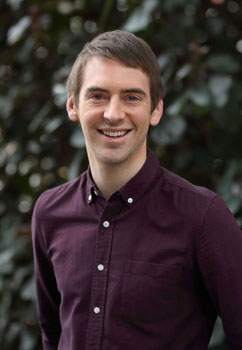 Question: Do you plan your meals ahead or do you create whatever you're feeling at dinner time?

Callum Hann: I love to sit down and think about what meals I want to experiment with or create before shopping and picking out ingredients specifically for a meal, however I don't always plan like that. I find it really useful to plan a few meals at the beginning of the week, and then create food with remaining ingredients at the end of the week. For example, a vegetable stir-fry, mushroom pasta or hearty soup.


Question: How can busy parents save time, in the kitchen, whilst still cooking healthy meals for their family?

Callum Hann: I think using a kitchen appliance which does the hard work for you is a great benefit and tool for busy parents. An appliance such as the Philips Airfryer XXL deep fries with up to 90% less fat, and you can throw in the ingredients, choose a setting and leave it to do all the cooking while you organise homework or start cleaning up.


Question: What's a typical day like, for you?

Callum Hann: Generally I'll get up early and get stuck straight into a coffee and a big bowl of granola that I make a big batch of every few weeks. I then head into my office at Sprout by about 8am and try and get a head start on my emails and other work. Generally the second half of the day I'm in the kitchen – whether it's for a cooking class, demonstration or getting prepped for a catering event. Often these events can be in the evening, so I end up eating at least two meals a day at work. Luckily in my job we usually have plenty of delicious food around to keep me going!


Callum Hann's Wild Mushroom, Thyme and Asparagus Penne
Appliance: Philips Pasta and Noodle Maker
Serves 4

Ingredients
200g Whole wheat flour
1 Tablespoon finely chopped thyme leaves, plus 1 tablespoon extra
1 Egg plus enough water to make up to 90g
2 Tablespoons olive oil
200g Mushrooms, sliced
(try and get a mixture of several varieties)
2 Tablespoons butter
3 Shallots, finely sliced
4 Cloves garlic
¼ Cup skinless hazelnuts, roughly chopped
2 Cups baby spinach
1 Bunch flat leaf parsley, leaves picked
Zest and juice of a lemon
2 Bunches asparagus, cut into bite-sized lengths
40g Pecorino, grated


Method
Fit the Pasta Maker with the penne attachment. Place flour and one tablespoon thyme leaves into the mixing compartment of the pasta machine. Whisk together egg and water. Turn on the machine to automatic and slowly pour in egg mixture. In about three minutes, the pasta will start to extrude. Cut the penne into 4cm lengths and set aside. Bring a large saucepan of salted water to the boil.
Heat olive oil in a wide frying pan over high heat. Add mushrooms and cook for 2-3 minutes, turning occasionally, until golden. Add butter, shallots and garlic. Cook for 1-2 minutes or until shallots have softened. Season with a pinch of salt, then add hazelnuts, baby spinach, parsley, lemon zest and juice then toss to combine. Remove from heat.
Add penne to the boiling water. Cook for 30 seconds then add the asparagus. Cook for a further two minutes before draining. Toss penne and asparagus through mushroom mixture. Divide between serving bowls, grate over pecorino then serve.

Interview by Brooke Hunter