You've never heard an Aussie accent sound so fair as in the new track "Canyon" from Melbourne indie sister duo Charm Of Finches. The pair make haunted tunes about love, grief and whispering trees with tight sibling harmonies and chamber folk sound, and on August 13th they release the fifth single from their upcoming third album. A track with enchanting harmonies at a soothing tempo, you'll certainly 'drift off' with this one.

"Canyon", along with the rest of the album, was produced and engineered by the duo, Mabel and Ivy Windred-Wornes and Canadian producer Daniel Ledwell. Ledwell also mixed the track, while Isaac Barter mastered. Citing influences as Sufjan Stevens, Gillian Welch, Danish artist Agnes Obel and First Aid Kit, the sisters' seamless blood harmonies traverse melancholy and wonder in equal measure.

"Both of us keep a dream journal. One week we both dreamt about leaping into the unknown - one was leaping out of a huge tree, the other off into a canyon. It's strange and beautiful the way your subconscious can show you things through bizarre little dream journeys. This is our little leap of faith song," the sisters say of what inspired the tune.

Their 2019 sophomore album Your Company (released on their independent label Conversations with Trees) won the 2020 Independent Music Awards' Best Folk/Singer-Songwriter Album. Their music has featured on Australian television, and was nominated for the 2020 Music Victoria Best Folk Album Award and 2020 Australian Music Prize. They are releasing their third full length album Wonderful Oblivion in October 2021 through New York-based label AntiFragile Music.


Interview with Charm Of Finches
Question: How would you describe your music?

Charm Of Finches: We like to think of our music as creations of melody and harmony. Like weavings, or paintings, it's about the texture, and the beauty and interest we can create through layering melodies with a texture of layered vocal harmonies and primarily stringed instruments- all in order to service a story. The story might be a narrative, or building an image like a painter does. Our songs also often create an atmosphere, from our attempt to convey an emotion or feeling. Turning an invisible inner landscape into sound.


Question: Can you tell us about Canyon?

Charm Of Finches: This was the last song we wrote for the album. We both keep dream journals, as a way of exploring poetry writing. As songwriters we are always looking for ways to enter into song, approach lyric writing, and connecting with a creative vision. This song is about two particular dreams we each had which seemed to have a common thread- that of leaping into an unknown space not knowing whether we would get to the other side- symbolically a leap of faith. Our album has been an intrepid journey for us. For a start we decided to work with Canadian producer Daniel Ledwell for the first time and see how the dynamic would work. (It worked very well by the way.) Due to the pandemic, we were obviously limited to working online, so we caught up with him over many Zoom meetings and had to throw ourselves head first into engineering from home. Dan was so helpful, and very fun to work with. He also brought in many new production and arrangement elements which has added a new glossy pop-shimmer to our music.


Question: What inspired your upcoming album?

Charm Of Finches: Our previous album "Your Company" came out of a huge time for us, where we were processing grief and personal loss, losing a dear friend to cancer. The song writing was a healing process for us both, and a way to make sense and beauty out of a time which seemed confusing and unfathomable. This is the background to our new album, which arose out of the sense of resolve, calm and new hope.

The sound on our new album, "Wonderful Oblivion", is adventurous, brighter perhaps, and although still dealing often with the realm of feelings, also looks beyond to a connection to a broader picture of ourselves and humanity. It's about taking flight, like in Canyon, to looking at the world and how we all deal with its complexities of beauty and crisis, such as in our song Heavy. This song expresses a constant sense of knowing about the desperate state of our earth and of our addiction to distractions to quell this anxiety about the future. Concentrate On Breathing arose out of finding the calm of meditation during the frustration of an extended Melbourne lockdown, and we have teamed it with the energy of percussion to bring something new to it- perhaps something activating and hopeful.

The album is sonically playful and lyrically it has a balance of internalising and looking outwards - a relationship coming to a close through a long reminiscent walk through the inner west of Melbourne (Treading Water) - a little tribute to our emotional ties to physical places. We chose "Wonderful Oblivion" as the title as it seemed to sum up the overall theme - it's not a negative ignorant oblivion, but a surrender to what is unknown and finding the beauty and transformation in that.


Question: Is there a particular message you hope listeners take from your music?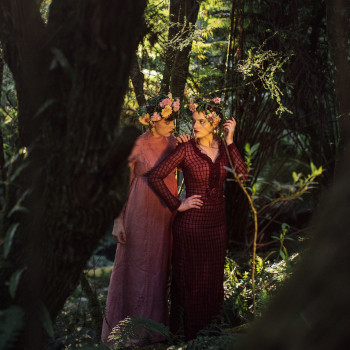 Charm Of Finches: We realise we have no control over how people will feel when they listen to our music. Of course, we love it when people contact us and tell us they feel a true connection to the music.


Question: Do you prefer performing live or recording?

Charm Of Finches: We love both. Playing live has the energy and the immediate response to the music. We love the energy and the spontaneity and connection. Recording is extremely fun though, as well as being intense. We have really loved working with our producers, Nick Huggins for "Staring at the Starry Ceiling" in 2016 and "Your Company" in 2019, and now Daniel Ledwell. There's the whole realm of arranging and producing that we really love and get very absorbed in.


Question: What is the story behind the band name?

Charm Of Finches: We started our band when we were young teens. We kept thinking of names and then looking them up and finding out someone else in the world had already used it. Then we made a huge long list of collective nouns - generally they are very cool and surprising- and found a charm of finches and felt that suited what we were doing. We don't like bird puns about us though!


Question: Being siblings, do you agree on every new song?

Charm Of Finches: We are so used to working with each other where we are constantly providing honest, sometime verging on impolite feedback, so it's not so much that we agree all the time. We do generally share a similar aesthetic with music, art and film. We are good at giving and receiving artistic feedback from each other.


Question: What motivates you most when writing music?

Charm Of Finches: Songwriting has been an amazing tool to process emotions and make sense of feelings during our lives. So that has to be the original motivation, especially for each of us as solo songwriters. As co-writers, we enjoy the challenge, the process and the alchemy! A song is a little creative being you create from thin air, which is pretty amazing really.


Question: Which music/artists are you currently listening to?

Charm Of Finches: Our list changes all the time. We have been listening to Sufjan Stevens pretty consistently though our whole time as a band, though. Growing up we listened to a lot of folk, trad music, and vocal harmonies. We would sing the "O Brother Where Art Thou" soundtrack and sing the different harmonies The Peasall Sisters sang. They were kids when that soundtrack was made so that was extra fascinating to us as young musicians. We have played folk festivals since we were 12 and 15 years old, so we have seen a lot of amazing music from the folk and roots scene. We also get into indie-pop artists like Jesca Hoop, Aldous Harding and Adrienne Lenker from Big Thief, as well as contemporary artists working with chamber/classical music like Agnes Obel and Nils Frahm. We listen to a lot of different genres. We love harmonies, beautiful arrangements and honest, poetic lyrics.


Question: What or who was your inspiration to go into the music industry?

Charm Of Finches: As we have said, we have grown up playing music festivals around Australia and so we have seen inspiring local musicians like The Maes and Rowena Wise. When we were really young we busked every weekend, and when we discovered First Aid Kit we learnt all their songs and played them on the streets! The fact that they started recording music in their teens really inspired us to just get into it and record our first EP Home in 2014, when we were only 11 and 14.


Question: If you could collaborate with another artist, who would it be?

Charm Of Finches: Ha ha! Adrienne Lenker, Sufjan Stevens, maybe some pop artists like Aurora and Imogen Heap who are so unique.


Question: What has been your favourite part of becoming a music artist?

Charm Of Finches: Touring is super fun, and playing festivals where you get to see so many amazing musicians. We also love the other creative parts of the process, like making music videos. We have always made our own videos from the conceiving of an idea to directing, art direction, acting and editing. That's really fun.


Question: What's a typical day like?

Charm Of Finches: That totally depends on what phase of an album recording cycle you find us in. We spent the best part of this year at home, recording from home, having Zoom meetings with our producer in Canada, usually at ungodly hours of the morning. We could be making demos, writing songs, making promotional videos. Right now, in the lead-up to the release of the new album we are making a video series called "Inside the Song". In between cups of tea, we have been writing and recording this series from our lounge room. Ivy does a lot of video editing and Mabel does the sound production side of things. Mabel also teaches songwriting, which is all online at the moment as we are in lockdown here in Melbourne.


Question: What's next, for you?

Charm Of Finches: We are looking forward to finally getting to tour our album. Fingers crossed we can play some local shows before the end of the year here in Victoria. We have big plans for Australian touring next year and then heading over to the UK and Europe for our first international tour.


Question: Can you share your socials? (links please)

Charm Of Finches: Website
Instagram
Facebook
Twitter
YouTube


Interview by Gwen van Montfort