Million Dollar Fish
Fishing is usually associated with blokes - but now there's one Aussie who is helping break down gender stereotypes and is leading the way for female 'fishos' to get out on the water. In particular, she is calling on females to get to the Northern Territory to catch one elusive barramundi tagged with $1million, as part of the annual Million Dollar Fish competition.

Inspired by the constant disbelief and question "she fishes?" from typical fisherman, Chloe Laurence from NSW is on a mission to share her passion for fishing and challenge these stereotypes. With over 12,000 Instagram followers and a popular blog shefishes.com.au Chloe is encouraging more women and children to pick up a rod and give fishing a go.

Most recently Chloe was in the Northern Territory's Top End for the annual Million Dollar Fish competition, where 100 barramundi have been tagged with $10,000 and one barra tagged with a $1m prize. So far there have been 8 lucky $10k winners, including just one female, and Chloe's would love to see a female -fisho' take the top prize.



Interview with Chloe Laurence
Question: What inspired your passion for fishing?

Chloe Laurence: Unlike a lot of people who start fishing from a young age, it was my husband who introduced me to fishing only about 10 years ago. I'd love to say I was -hooked' from the very first trip but it actually took a few trips before I really started to enjoy it and started to see why people get so addicted to it. Now I cannot imagine my life without fishing.


Question: Can you share your earliest memory of fishing, with us?

Chloe Laurence: Whilst I was a bit of a late starter, my earliest memories are early morning starts with my partner and watching the amazing sunrises as we headed out each morning. It was only then that I started to see just why he loved fishing so much and my own fishing addiction started.


Question: What has been your most memorable catch?

Chloe Laurence: I've been lucky enough to catch some amazing fish so it's hard to pinpoint just one. Some standouts have been my two world record Southern Bluefin Tuna, and my first ever Broadbill swordfish, which at the time was a species that only a handful of women in Australia had ever caught before.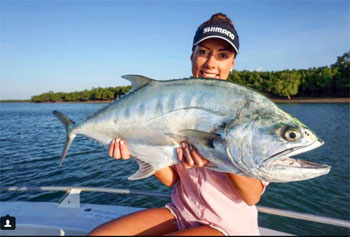 Question: Where is your favourite place in the world to fish?

Chloe Laurence: The Northern Territory would have to be pretty hard to top after our recent visit and the massive barramundi that we were lucky enough to catch whilst taking part in the annual Million Dollar Fish competition. Closer to home the South Coast NSW towns of Jervis Bay, Ulladulla and Bermagui are some of my favourite places to fish.


Question: Can you tell us about the Million Dollar Fish comp?

Chloe Laurence: The Million Dollar Fish competition is now in its third year and has helped to draw people's attention to the fantastic fishing available in the Northern Territory. Each year, 101 barramundi are captured and then released with specially numbered tags - one hundred are tagged with $10k prizes and one lucky barra is tagged with a whooping $1m! If you catch a tagged fish, you keep the cash. Already this season, ten fishos have gone home with $10,000 and the $1m barra is still at large.


This season's competition runs until 28 February and people can register to take part at www.milliondollarfish.com.au.


Question: How difficult is it being a woman in a predominantly male sport?

Chloe Laurence: It certainly has its challenges although it's getting easier and easier as more and more women take up the sport. This is why I named my blog She Fishes, because at the time -She Fishes?' was such a common reaction when I told people how much I love the sport. Young women who were openly keen about going fishing used to be somewhat of a rarity.

It took a long time to be taken seriously and earn a bit of respect in the industry being young female in a male dominant sport. Having those initial challenges was actually the best thing that could have happened to me. It made me more determined to prove people wrong and to break the stereotype of what the -typical' person who fishes looks like.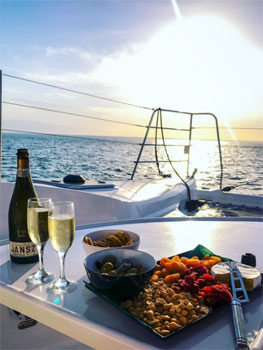 Question: What advice do you have for other females who want to further their fishing career?'

Chloe Laurence: It's really hard work trying to make a full time living from fishing, and I still work 9-5 in a corporate role. That said, fishing has certainly opened up some incredible opportunities for me and I'm hopeful that one day it will become a full time career.

My biggest piece of advice for other females wanting to further their own fishing career is to just get out there and fish hard. Success in fishing is directly correlated to the amount of time spent on the water so you need to be keen and dedicated. Finding a friend or partner who enjoys the sport as well can make it a lot easier to motivate you and help get you out of bed for those early morning starts!

Like it or not but social media is now a really important part of fishing and is a big part of all the major brands' marketing strategies. Start out slowly sharing your successful captures and don't be afraid to think outside the square when it comes to your photos and videos. If you love what you're doing and are producing good content then you will be noticed and success will follow.


Interview by Brooke Hunter