Glossy artist and producer Christian Ruiz has shared Miss You; an effervescent slice of soothing electronic pop. A track detailing unexpected connections alongside calm hooks and airy vocals, as well as Christian's debut single as a solo artist, Miss You is also accompanied by a music video to dynamically transport you into Christian's magnetic creative world.

Miss You bubbles with warm electronic instrumentation, hypnotic rhythmics and Christian's buoyant delivery throughout, morphing hints of The Weeknd, Ryan Tedder and Justin Bieber beneath Christian's fresh charm; a fact made even more cohesive with mastering on the single by Colin Leonard who has previously worked alongside Justin Bieber, as well as Beyonce, Paul McCartney and Migos. Equally melodic, sentimental and irresistibly passionate, Miss You also showcases a resounding narrative, centred around accidental meetings, apprehension and, finally, acceptance, as Christian elaborates, "It's about finding someone you didn't expect to come across, knowing you have a strong connection with them, but being too afraid to admit it and then denying it."

The film clip for Miss You enhances the delicate subject matter and swooning arrangements, with Christian editing, co-producing and co-directing the video alongside cinematographer Joshua Menzel. Perfectly reflecting the shift in mood and lyrics throughout the glistening tune, from gnawing negativity to ultimate acceptance, the clip places Christian firmly on display as he personally moves through the emotive journey towards an optimistic conclusion, as he elaborates, "The basic concept of the clip is me being in a desolate place, struggling to get through life and being transported to a dark place with a build up of thoughts. But it has a positive ending which brings authenticity to the song's honest meaning."

Mixed by Liam Quinn (Rita Ora, Ruel, Illy), Miss You may mark the first official chapter in Christian's solo artistic adventure, but he's certainly no stranger to the musical realms, starting from a young age when he was drawn to teaching himself how to record and produce, before moving on to work as a producer and, finally, arriving at his dream pathway in 2022: creating and releasing his own music. Prior to unveiling Miss You, Christian produced hip hop music, and had travelled to Los Angeles and Atlanta to work with artists and producers, leading to him being offered a contract with the godfather of trap music Zaytoven (Usher, The Weeknd, Drake, Young Thug, 21 Savage). But with a door unexpectedly closing, having to return back home to Australia due to the COVID-19 pandemic, some soul-searching ultimately revealed to Christian an open and extremely ready creative window; and one he is ready to share with the world, as he explains, "It feels exciting and scary at the same time to release something so close to my heart. I hope that people will relate and resonate with what I have created."


Interview with Christian Ruiz
Question: How would you describe your music?

Christian Ruiz: Pop, Rhythmic, Melodic, Sentimental, Nostalgic


Question: What inspired your new song 'Miss You'?

Christian Ruiz: A confusing but exciting dynamic between myself and a certain girl. Knowing that you both have a strong connection with each other but being too afraid to admit it. Realising that we're both mirroring each other and in the exact same situation.


Question: Can you tell us about the music video?

Christian Ruiz: The video demonstrates the message in the song which displays how I clearly feel a certain way about this girl but I don't quite admit it. As I am on my bed unable to sleep you see some notes on the bed which are actually my thoughts about this girl. As I go into the chorus and start to deny how I feel I become overcome with these notes/thoughts as I just can't stop thinking about it. The video ends with me stopping this chaos of notes/thoughts by admitting how I feel and walking into that acceptance.


Question: Is there a particular message you hope listeners take from your music?

Christian Ruiz: I hope that they feel what I felt when I wrote the music and can relate to what I went through. I hope that this brings them joy and helps them with their circumstance.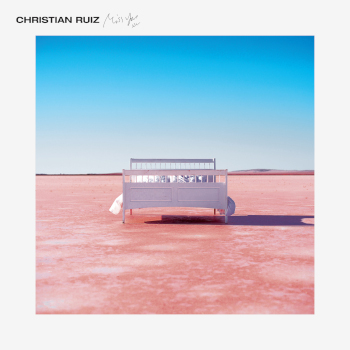 Question: Do you prefer performing live or recording?

Christian Ruiz: My natural habitat as a producer is in the studio! I am very comfortable and accustomed to recording myself.


Question: What motivates you most when writing music?

Christian Ruiz: I am motivated by what is currently in my heart. All of my music is always incredibly honest and nothing is fiction. I find that the best music is written when it comes from the heart.


Question: Which music/artists are you currently listening to?

Christian Ruiz: The Weeknd, Migos, Griselda, Jimi Hendrix


Question: What or who was your inspiration to go into the music industry?

Christian Ruiz: My family is all very musical and I used to love to sing when I was very young. As a kid I couldn't wait to start learning guitar after watching my older brother play after school every day. I finally convinced my Dad to buy me a guitar and I was on my way. I began to play every day after school as well and started to record my guitar. I loved it and kept doing it as I got so much joy out of it. After I finished school I realised that I could have a career in music, that I would be able to do the thing that gives me the most joy in this world every day. So ever since then I've been risking it all to make that happen.


Question: What can you tell us about working with Zaytoven?

Christian Ruiz: I used to watch Zaytoven making beats on YouTube almost every day for years! I would watch how fast he made his beats and then put a timer on and make my own beats. I would try and get my time down to what he would do. When I met him it was very surreal and so exciting to be working with him in person. The hip hop culture they have in Atlanta is completely different to anything in Australia and is very cool to be a part of. It is typical to have 15-20 people crammed into a studio session and everybody hypes each other up. It's a super energetic and amusing working environment.


Question: If you could collaborate with another artist, who would it be?

Christian Ruiz: Santana would be awesome to collaborate with. I loved listening to him from a young age and I think we would pump out a hit together with one crazy guitar solo!


Question: Did you have any pre-conceived ideas about the music industry?

Christian Ruiz: I did think things in the music industry happened a little quicker and you could get further on talent alone. But after years of trying to cement myself in the industry I have learned that it definitely isn't easy and you really have to love it to put in the work and have patience. So it's a good thing that I really love music and will be making it until I die regardless of it being a career. I am here for the long haul.


Question: What's a typical day like?

Christian Ruiz: A day is never typical for me. I work part time as a video editor so on those days I go to work and then after the day of work I come home and make my daily beat and work on music. On the days that I don't work at that job I do a couple of things. I either make videos for businesses and produce music for other artists. Or I'm writing and producing my own music.


Question: What has been your favourite part of becoming a music artist?

Christian Ruiz: My favourite part has been finally seeing my dream and vision of releasing my music come to fruition. I feel fulfilled as I am doing what I was born to do.


Question: What's next, for you?

Christian Ruiz: I will be releasing more singles very soon!


Question: Can you share your socials? (links please)

Christian Ruiz: Instagram
Twitter


Interview by Gwen van Montfort