Antoinette Truda, Deborah Williams and Kristie Jinks Girl Lane Mumpreneur Interview
Antoinette Truda, Deborah Williams and Kristie Jinks are co-founders of Girl Lane, a new range of skincare, bodycare and haircare for girls. Drawing on their expertise in finance, marketing and pharmacy, they had a special interest in protecting the skin of their daughters.

https://girllane.com.au


Question: What is Girl Lane?

Antoinette Truda, Deborah Williams and Kristie Jinks: Girl Lane is a new pharmacist formulated range of skincare, bodycare and haircare designed specifically for tween skin. The range, which includes everything from cleansing wipes to moisturisers, shampoo and sunscreen, has been created using a balance of science and natural botanicals to mimic the natural functions of the skin. Designed for girls, aged 7-14+, Girl Lane promotes a safe, fun, colourful and enjoyable personal care experience as part of a daily routine. At the heart of our brand, we are all about protection, nourishment and empowering girls to be their healthy best, and promoting that an early skincare and haircare routine makes a difference.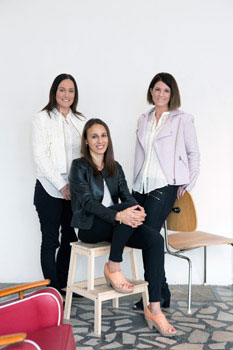 Question: What inspired the creation of Girl Lane?

Antoinette Truda, Deborah Williams and Kristie Jinks: Deborah and Kristie were on a family holiday with their children and got to chatting about different products Kristie had bought her daughters, either for necessity or because they looked "cool". As a trained pharmacist, Deborah began listing several reasons why these products were either a waste of money, not age-appropriate or unsuitable for her daughters' delicate skin. Kristie commented, "Wouldn't it be easier if mums could cut through all the clutter on the shelf and feel confident that a particular product would be suitable, age-appropriate and fun for young girls to use?" This resonated with Deborah's experiences within her own pharmacy and the idea was embraced. But, it became obvious that Deborah and Kristie could not turn this idea into reality without the experience and drive of their good friend Antoinette. It was through this shared passion that Girl Lane was born.


Question: Why did you choose to focus on tween skincare?

Antoinette Truda, Deborah Williams and Kristie Jinks: We all have daughters. They have beautiful skin, but it's young and fragile, and we really believe that an early skincare routine can help strengthen and protect it. It seemed that we were waiting until there was a problem before doing something to assist our largest organ – the skin. We all experienced it as we were growing up, there was nothing tailored to young skin that didn't contain harsh chemicals. As tweens try to navigate through life's challenges, be it friendships, schooling or puberty, they can become self-conscious and insecure as their skin changes. We hope that girls will be able to take preventative action and understand that looking after their skin is a daily, fun routine that they can enjoy.


Question: What's different about your skincare products to other brands on the market?

Antoinette Truda, Deborah Williams and Kristie Jinks: We believe we've found a niche in the market. There's very little out there targeted at tween skin. Girl Lane skincare is especially formulated for girls aged 7-14, using ingredients which mimic the natural functions of the skin to maximise tolerance with targeted efficiency. Our products are pharmacist formulated, so that mothers can have the confidence that ingredients have been carefully selected by a trusted healthcare professional, and a mother. All products are scientifically tested and provide optimal nourishment, as well as being colourful, fun and enjoyable to use, creating an experience girls want and a brand mothers can trust.


Question: How has your pharmacist background helped in developing the Girl Lane products?

Deborah Williams: Having been a practising community pharmacist for 15 years, I've been able to use my skills and experience to develop and formulate my own range of products, containing all the nutrients required specifically for this age group. In my own pharmacy, I was seeing a real drive in demand for skincare suitable for young girls, but was unable to present them or their mothers with a range specifically targeted for their changing skin. So I listened to the requests from mothers and these young girls and have tailor made an effective, high quality range that manages the skin concerns facing tweens.


Question: What advice do you have for other mums who might be thinking about setting up their own business?

Antoinette Truda, Deborah Williams and Kristie Jinks: If you have a passion, you've got to just take the plunge and do it! Stop putting off what you can do today, and make that great idea a reality. Life always gets in the way but if you have the determination and drive to succeed then the rest will follow. Once you become a mum, your ability to get "stuff" done increases significantly, so when you have 10 minutes, you use it constructively and achieve far more than you thought possible.

We are blessed to work as a team of mums at Girl Lane. We all share the same passion and the same dream. We all bring something different to the table, which allows for a more considered approach to strategic decisions for the business. Think carefully about what your skill set is and if you're setting up on a partnership, what you need from the other individuals involved.


Question: What are the positives surrounding mums in their own business?

Antoinette Truda, Deborah Williams and Kristie Jinks: There are so many perks to being a mum and running your own business. Not just the flexibility of being your own boss and choosing your own work schedule, but you also get to be there for your family more often. Starting your own business gives you an opportunity to follow your passion and bring you closer to what you love doing.



Question: Can you share with us something you wish you'd done differently when setting up Girl Lane?

Antoinette Truda, Deborah Williams and Kristie Jinks: We have made mistakes along the way when setting up the business and investing in certain partnerships, however we have gained some great insights through this. So although it would have been great to have had it all go our way, the reality is that we are an evolving business, and learnings are bound to occur. It's how we deal with these learnings that is important.

Most importantly, we learnt that we had to stay true to our brand values and their essence and remain steadfast on how we wanted our brand to be interpreted by our audience. We also know that a quick recovery – moving forward decisively – is integral to keeping the momentum going.


Question: What was the most difficult component of Girl Lane?

Antoinette Truda, Deborah Williams and Kristie Jinks: Finding a good work life balance has probably been the biggest challenge. It's so important to get that right, first and foremost. We want to be a role models for our daughters too, and to show them that their dreams can come true if they work hard for them. We hope to inspire them to pursue their own goals. When the girls come home from school they have our undivided attention and we spend most afternoons focussing on them and their needs.


Question: What's a typical day like, for you, at Girl Lane?

Antoinette Truda, Deborah Williams and Kristie Jinks: Every day is different and produces it's own challenges. Early on, we would all be involved in every meeting, as we had a steep learning curve on what was required in order to manufacture, distribute and market a new skincare brand. Now that we have the understanding and our brand is becoming established, we have each moved into our areas of expertise. Antoinette is strategically building the brand's distribution and strengthening commercial partnerships, Kristie is focussed on execution of operations, marketing and digital strategy, and I (Deborah) spend most of my time in new product development and product training.


Interview by Brooke Hunter